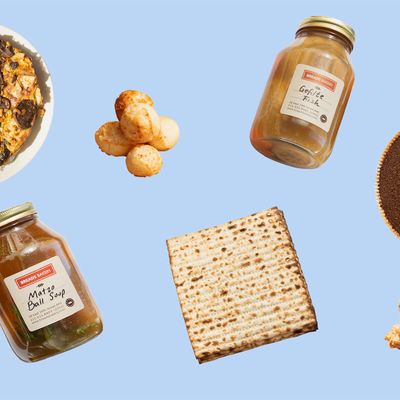 Breads Bakery offers some staples, available for delivery.
Photo: Ashley Solter/Breads Bakery
Like many of my strong, proud, religiousish Jewish friends, when it comes to following the rules, I am filled with contradictions. I light weekly Shabbat candles and would never eat shellfish, yet I can destroy a pepperoni pizza, and the father of my children is the opposite of a nice Jewish boy. Just ask our daughter, who loves to remind her Orthodox Hebrew School teacher that, "Daddy does Easter!!!"
Suffice it to say, with everything we're living through right now, I feel strongly that this Passover, there are no rules. There is no shame in skipping the whole thing, or participating in some messy makeshift virtual seder, or some faint resemblance of a Jewish-y Zoom dinner-y … thing.
If you are actually up for real-deal virtual Seder, good for you! Everyday Jewish Mom has terrific tips for organizing that here. And if you'd rather just be alone, I get it, and there's this solo Seder program for you. But if you're like me, and plan to do a bissel of this, and a bissel of that, depending on how you're feeling that day, here are a few suggestions on how to warm your stomach and maybe even your heart during this stressful and scary plague of our own.
Listen to the rabbi.
I asked Rabbi Aaron Raskin of Congregation B'nai Avraham what the most important, not-to-be-skipped rituals of the Seder really are. He said what matters most is: (1) Drinking the four cups of wine. (Deal.) (2) Eating matzo. (3) Eating the maror (bitter herbs, typically horseradish). And (4) singing the Four Questions.
Invite your inner circle — and then some.
Reach out to your loved ones but also less obvious friends and acquaintances. "If you know someone lives alone and will likely be alone for the Seders, invite them to join yours," says Leah Koenig, author of The Jewish Cookbook. Unlike a dining-room table, which has a finite number of places, a virtual Seder can be virtually any size. So invite away, and make sure nobody you know feels abandoned on the holiday.
Is Zoom definitely the best option?
The short answer is "Yes." Lisette Sand-Freedman, a working mom and business owner, is hosting a Zoom Seder with over 15 family members all over the country, and she's done all the research. "Zoom operates the most smoothly and makes it easy for all generations," she says. "The free version of the Zoom app allows you to host up to 100 guests together for up to 40 minutes." But if you're planning to take your time — and really, do you have anywhere to be? — you'll need to upgrade to the Pro version, which allows up to to 100 guests for up to 24 hours of meeting time. That's $15 a month, so it's your call if it's worth it.
Lindsay Powers, the author of newly released You Can't F*ck Up Your Kids suggests, "Do a dry run beforehand. Certain relatives may not be as tech savvy, and may need more practice dialing into Zoom before the actual Seder begins. Also, doing a test run may be a good opportunity to explain to younger kids how Passover will be a little different this year." Finally, she advises, "assign somebody to be the leader of the Seder to help move things along."
Download a Haggadah.
This is a little extra, but if you're feeling aspirational, and you still own a printer, this free PJ Library Haggadah will make the Seder feel extremely official.
Make a plan for the "big meal."
Real grocery shopping is not easy right now. In fact, it's pretty much impossible. That leaves you with two options if you want to have a holiday feast.
1. You can order a fancy, pre-made Passover dinner and choose to not care about the cost, or any of the bigger questions, and just give yourself permission to enjoy the indulgence and escapism of it all. For this, go to Goldbelly. It has streamlined options from kosher and kosher-style restaurants around the country including our own Russ & Daughters, Breads Bakery, and Liebman's Deli in the Bronx. (Since my daughter only eats gummy bears, pink Trident gum, and Jewish brisket, I've already ordered from Liebman's). One less thing to stress about …
2. Or, you can follow the lead of the great Jewish cook and author of Sababa: Fresh, Sunny Flavors From My Israeli Kitchen, Adeena Sussman. She says to make whatever the heck you want: "Brisket or chicken soup — if you have time, great. But if you're anything like me, whose brain has been kidnapped by focus-zapping demons, make … meatloaf. It's my husband's birthday on Seder night, and that's what he wants, and I'm kind of pumped to make it for him."
Organize your Seder plate.
A proper Seder plate needs five things: charoset, a roasted lamb shank bone (we used a wishbone from a turkey growing up), a roasted egg in its shell, parsley, and maror (the aforementioned bitter herbs or horseradish).
No one has access to all of those things right now. And who can deal? Instead, I'd suggest making the charoset — because charoset is a simple pleasure in an otherwise unpleasurable time — and, if you have kids, just have them draw cut-outs of the rest.
For the virtual Seder, it might be fun to have everyone prepare a different charoset (there so many unique recipes out there) and do a Top Chef–like description of the dish and then a taste test. I'm making a charoset recipe from the Jewish Food Society, a nonprofit organization that works to preserve, celebrate, and revitalize Jewish culinary heritage. It's made with dates, pistachio, cinnamon, and rosewater and looks so good.
An easy charoset recipe is from Chef Jonathan Waxman's childhood Seders:
1 apple

1 pear

1 orange

½ cup walnuts

½ cup fresh grape juice (adults can use Lambrusco for deep color and some fizz).

 

Preheat oven to 325°. Meanwhile, core and dice the apple and pear and mix together in a bowl. Zest and juice the orange and combine with apple-pear. Toast the walnuts on a cookie sheet for around 8 minutes. Let cool and then crush. Add the walnuts to the fruit mixture and then add the grape juice/Lambrusco, combine and serve.
Score yourself some matzo.
Typically, even high-functioning grown-ups like me get their matzo from their mothers. That might be impossible this year. Check in with your local Chabad for affordable and free matzo deliveries. They will likely find a way to get something to you. And if it's all too much, use some cardboard!
Embrace a tradition, even if it's just one.
Think about the tradition that makes you feel warm and nostalgic and do your best with it.
For Marc Glosserman, founder of Hill Country Barbecue Market, one of his favorite traditions is reciting the Ten Plagues: "When my kids were younger, we would make masks for each of the Ten Plagues. Each person in the family would wear a mask representing one of the plagues when we read them aloud during the Seder."
"Make sure to collectively sing an outstanding 'Dayenu,' always a crowd-pleaser!" says Brian Zaro of Zaro's Family Bakery, a fourth-generation family-owned bakery founded in the Bronx by Jewish immigrant Joseph Zaro in 1927.
"I remember our Seders being so 'grown-up,' so I'd suggest downloading a few great kid songs and have everyone sing together and loudly — I think kids probably have a lot of energy to release right now!" suggests his brother, Michael Zaro.
Try this song about this Seder plate. And this song for the Four Questions.
Make a simple dessert.
You can't write a story about festive Jewish food, even in this crazy time, without asking Gadi Peleg of Breads Bakery for advice. "This is a perfect time to get your dough game going," he says. "Try to make a pie. It can be as simple as a graham-cracker crust, which is simply graham crackers and butter. Line the bottom of a pie tin, and you can fill the pie with anything you have: frozen fruit from the freezer, canned fruit, really anything. If it doesn't come out right the first time, try another one — time," he says, "we have."
Greg Rales of Red Gate Bakery says making matzo toffee is a tradition in his family and that "tradition" (told ya, we love it!) will help him feel emotionally close to his loved ones even if socially distant. He relies on one of David Lebovitz's recipes.
Get deep with your Seder mates near and far.
There's a well known Passover expression: "Next year in Jerusalem." Which basically means: Next year, things will be better.
Where there were once smells of our mothers' cooking, now there is trauma in the air. This is not a celebratory time. So feel free to ignore every single Seder hack mentioned above, and do whatever feels right, whether that means doing nothing at all or having a terrible, beautiful, shitshow of a virtual Seder just for the sake of a little connectivity.
Personally, I want to give my kids something to sing loudly, and badly, about. I want a bowl of matzo-ball soup. I want to tell non-kosher stories with my non-kosher baby daddy. I want to drink all the wine because it is a mitzvah, after all. I want to pray.
And I want to wish everyone a healthy and safe holiday.