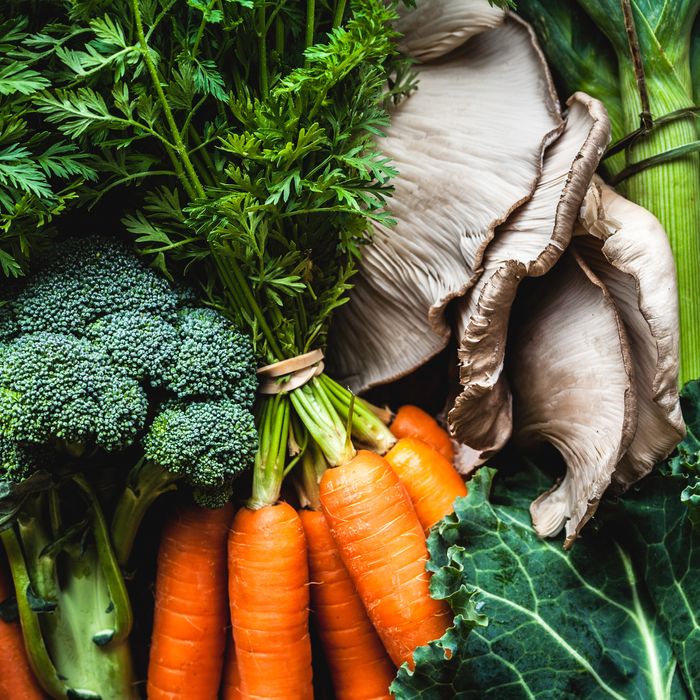 Photo: Enrique Díaz / 7cero/Getty Images
After bringing the restaurant industry to its knees, the coronavirus is now affecting another major part of the food industry: meat suppliers. Outbreaks at factories in South Dakota, Iowa, Illinois, and elsewhere have put the industry under tremendous pressure and may very well affect the supply of meat in the United States — even with an executive order meant to keep suppliers open. That means it's time to start stocking up on meatless recipes, so Grub put together a helpful list of vegetarian and vegan dishes from some of the finest recipe developers out there. Here's what we recommend.
David Lebovitz's Fresh Tomato Tart
This tomato tart featuring a layer of tomatoes over a generous amount of ricotta and parmesan cheese perfectly fits the bill.
Nik Sharma's Roasted Carrots With Garlic and Lime
This particular recipe is a great way to use all the carrots that have been languishing in your fridge for a week or so.
Samin Nosrat's Roman Egg Drop Soup
So you made stock from a quarantine roast chicken. Good for you! Now what to do with it? Use it in this Italian take on egg drop soup made all the richer with a healthy dose of parm.
Julia Sherman's Pappa Al Pomodoro
Salad for President's Julia Sherman also calls this dish — a giant pot of beans, kale, onions, tomato, and basil — "The Best New Look for Stale Bread and Canned Tomato." If you've been quarantining long enough, you'll have plenty of both.
Yewande Komolafe's Frejon (Beans in Coconut Milk)
It's time to take your beans to the next level. Don't be fooled by the simple description above: This bean puree with thyme, bay leaf, habanero, lime, and more is the treatment this pantry staple deserves.
Alexa Weibel's Creamy Chickpea Pasta With Spinach and Rosemary
Even Adam Platt, a self-professed hater of chickpeas, was swayed by this elegant take on chickpea pasta with shallots, garlic, spinach, and herbs.
J. Kenji López-Alt's Rich and Creamy Vegan Ramen With Roasted Vegetables and Miso Broth 
Yes, the weather is getting warmer, but we're not out of the unpredictable spring weather woods just yet. So when the temperature inevitably drops again, consider this ingenious vegan ramen from the author of The Food Lab.
Chris Morocco's Bucatini With Lemony Carbonara
This modern take on the Italian classic is so rich and bright that you'll find that the guanciale the recipe calls for isn't all that necessary. It's got plenty of flavor on its own without the pork jowl.
Laila Gohar's Viral Gnocchi 
As Hilary Reid over at our sister site the Strategist puts it, this potato gnocchi recipe is "simple, almost grandmotherly recipes." And that's the same reason it's gone viral: Anyone can pull it off.
Aaron Hutcherson's Spicy Tomato and Chickpea Soup
This is another extremely pantry-friendly recipe with the option to use canned tomatoes and chickpeas, stock or water, and Italian seasoning.
Athena Calderone's Spinach and Goat Cheese Frittata
If you're starting to experience cooking fatigue, perhaps it's time to consider cooking one big dish for the week. This frittata, which makes great use of spring produce, is big enough to eat for breakfast at least a few days in a row.
Andy Baraghani's Sesame Noodles With Crispy Tofu
If you want a pantry that just won't quit, look into stocking up on Asian condiments, which tend to last a while thanks to fermentation. This recipe makes great use of two key ingredients: soy sauce and rice vinegar, which have a million and one uses in the kitchen.
Priya Krishna's Roasted Aloo Gobi (Potatoes and Cauliflower)
Indian-ish, by recent Grub Diet-er Priya Krishna, is full of amazing vegetarian dishes, but the one that seems to have captured hearts and minds is her take on aloo gobi, which involves roasting hearty potatoes and cauliflower on a sheet pan and then going heavy with the herbs and spices.
Kelsey Youngman's Charred Vegetable Ragù
How to capture the richness of ragù without any meat? Char some mirepoix, portobello mushrooms, and garlic to smoky perfection and throw in tomato paste and dry red wine vinegar for good measure.
Brooks Headley's Superiority Burger
If you miss this East Village gem as much as we do, then you're missing its iconic "burger" most of all. Lucky for us, chef Brooks Headley made the recipe public a few years ago so you can feel superior at home.
Alison Roman's Chickpea Pancakes With Leeks, Squash, and Yogurt
Dig a bit into Bon Appétit's archives and you'll find choice recipes from Alison Roman's early catalog, like these veggie-forward pancakes featuring chickpea flour, one of the few flours that you can still find at the grocery store.
Alice Water's Avocado and Beet Salad With Citrus Vinaigrette
When your homemade salads become too sad to bear, look to this recipe from produce goddess Alice Waters. Colorful, a little unexpected, made with easily-procured ingredients: perfect.
Bryant Terry's Caramelized Leek and Seared Mushroom Toast
Leave it to self-professed Afro-Vegan chef Bryant Terry to take toast to new, exciting, and vegan heights. This particular recipe involves a rich spread made with pine nuts and mustard carefully hidden beneath tender leeks and mushrooms.
Deb Perelman's Stovetop Mac and Cheese
This five-ingredient stovetop macaroni from The Smitten Kitchen is as low-key as it gets — which is exactly what everyone needs right now.
Joy the Baker's Roasted Cauliflower and Plantain Tacos
Normally, we roll our eyes at any mention of cauliflower as a substitute for meat, but in this case, we approve.
Amy Chaplin's Miso Soup With Spring Greens and Herbed Shitake and Oyster Mushroom Soup
This former Angelica Kitchen chef is an expert in vegetarian cooking, thus the double recipe recommendation. Chaplin has a way of making eating your greens less of a slog and more like a thing of beauty.
Farideh Sadeghin's Crunchy Green Salad With Tahini-Miso Dressing Recipe
If you're a fan of texture-rich salads, this recipe from Munchies' Farideh Sadeghin has it all: iceberg lettuce, walnuts, cucumber, and snap peas providing plenty of crunch while avocado, tahini, and miso provide rich, smooth flavors.
Joe Yonan's Mushroom Quesadillas
Now is the time to return to your Quesadilla Years. Washington Post food editor Joe Yonan's take featuring mixed mushrooms and a few pantry staples is on point when you need dinner or lunch to come together in a few minutes.
Susan Spungen's Sheet-Pan Pizza With Asparagus and Arugula 
The beauty of the sheet-pan pizza is how easily you can customize it. This take features asparagus, arugula, jalapenos, and green olives, but you can put just about any kind of hardy vegetable on one of these and it's sure to turn out pretty damn good. Think of this recipe as an excellent blueprint.