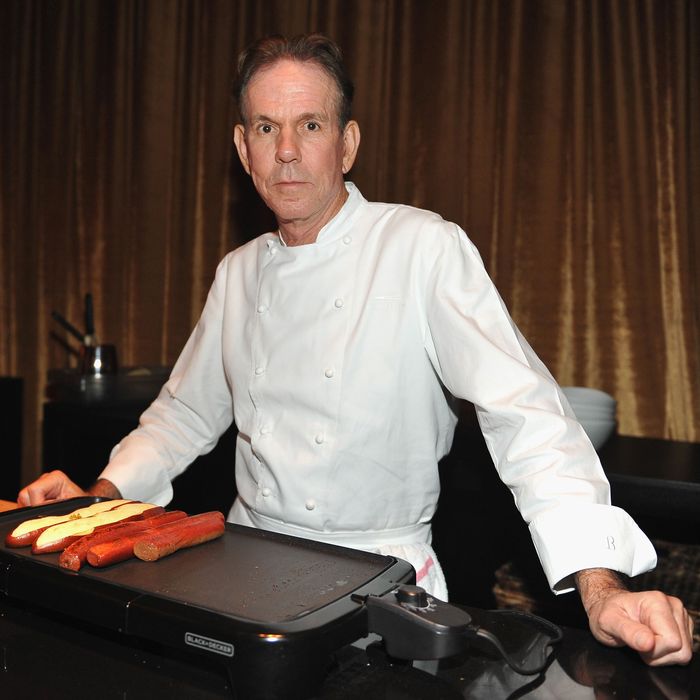 Thomas Keller.
Photo: Donato Sardella/Getty Images
After days of deliberating over a mounting pile of empty Filet-O-Fish boxes and ketchup bottles, Donald Trump has revealed his crack team to rescue restaurants. One of the president's Great American Economic Revival industry groups, it's mostly just executives from the exploitative fast-food industry along with four fine-dining chefs.
The fantastic four are Wolfgang Puck; Thomas Keller, who has faced a discrimination lawsuit and allegations of abuse in his restaurant Per Se; Jean-Georges Vongerichten, a Trump tenant who came under fire for comments about hitting an employee; and Daniel Boulud. They are all the upper class of the restaurant world, all (as it's been noted) white and male, and operate places where you'll easily put down hundreds of dollars if not more for dinner. While the future of the industry remains uncertain, no matter what happens, it's comforting to know that billionaires will still be able to pay too much for caesar salad.
Here's the full list:
National Restaurant Association interim CEO Marvin Irby
McDonald's CEO Chris Kempczinski
Darden Restaurants CEO Gene Lee Jr.
Coca-Cola CEO James Quincey
PepsiCo CEO Ramon Laguarta
Chick-fil-A CEO Dan Cathy
Subway CEO John Chidsey
Bloomin' Brands CEO David Deno
YUM! Brands CEO David Gibbs
Papa Johns CEO Rob Lynch
Wendy's CEO Todd Penegor
Waffle House CEO Walt Ehmer
Starbucks CEO Kevin Johnson
Wolfgang Puck
Thomas Keller
Jean-Georges Vongerichten
Daniel Boulud
M Crowd Restaurant co-founder Ray Washburne
Jimmy John's Founder Jimmy John Liautaud
Kraft SVP Michael Mullen
National Association CEO Wholesaler-Distributors – Dirk Van Dongen
International Franchise Association CEO Robert Cresanti
Inspire Brands CEO Paul Brown