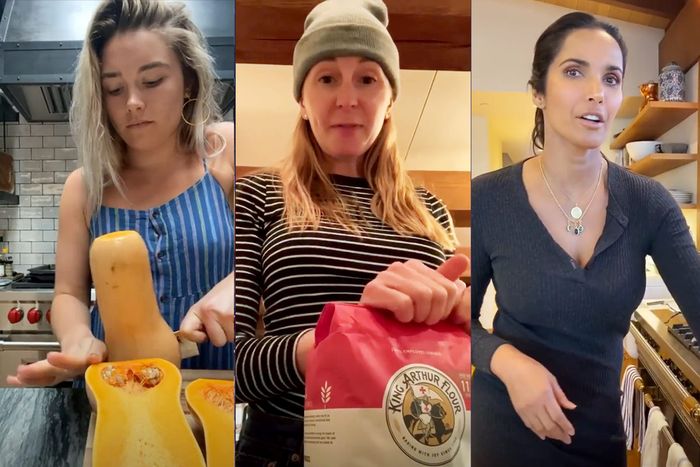 Comforting.
Photo: Instagram
On Instagram, everyone is cooking. For the first few days of being indefinitely housebound, I was cooking, too. I will do so much cooking! I thought. I will make sourdough from the wild yeast in the air of my apartment! But then time kept passing, and I got sadder, and my kitchen started to feel very small. So far, I have harvested no yeast.
Instead, I watch other people cook on Instagram. In normal times, most food Instagram is aspirational, featuring artful platings with no context. A plum galette, from the sky! Now, though, it is gloriously messy because everyone is terrified and most people are home. A lot of those people also haven't totally figured out how to record video on their iPhones, which is something else we all have in common.
Last Monday, I watched an Instagram Story of Christina Tosi making dog biscuits. Generally, I have no particular feelings about Christina Tosi, but laying in bed watching her make dog biscuits, I felt we were very close. Mutual panic really breeds solidarity, I think. Or at least, it does on Instagram. "Do you know Christina Tosi's dog's name is Butter?" I asked my boyfriend. "Who's Christina Tosi?" he said.
I did not make the biscuits, obviously, but I found it soothing to watch someone deeply competent take small steps toward a concrete goal.
What is going to happen? I keep thinking, about the world, and the plodding joy of Corona Cooking Instagram is that you already know the answer: What is going to happen is that a skilled professional will execute a plan, and it might be kind of boring, but ultimately satisfying, which is more than you can say about any other aspect of our current lives.
You can even learn some things, if you'd like, or nothing, if that's your preference. The beauty of the Instagram-chef genre is that, within it, there are so many subgenres. You can learn about fermenting spring vegetables from a culinary professional, or watch a famous British person chop an almost-rotten pepper! Truly, there is an Instagram chef for every kind of mood.
If you want pretend social contact
For the true "reality cooking show" experience, multi-Michelin-starred Italian Massimo Bottura, of Osteria Francescana, streams a new live episode "Kitchen Quarantine" on IGTV every day at 3 p.m. ET. "Wash! Your! Hands! Stay safe! Drink a lot of orange juice!" he will say, Italianly, and then he'll walk you through tortellini alla panna, or Thai curry, or pasta fagioli. His daughter films, and also narrates, and his wife and son co-star, and the result is sort of like an unhinged Food Network and sort of like eavesdropping on a family holiday. Could you follow these instructions? I have no idea! But if you are socially distanced from your own family for the foreseeable future, it is nice to feel like you're part of someone else's. (If you're quarantined indefinitely in a one-bedroom apartment with your own family … well, it's still nice to look at tortellini.)
Alternatively, Kwame Onwuachi, of Kith/Kin in D.C., but most famous to me personally as the best non-winner of Top Chef, takes a more straightforward approach, posting the ingredient list for each recipe — curry beef and broccoli; white-bean-chorizo stew — on Instagram the day before he cooks them on IGTV. What I like most is that he seems pretty bummed out in the videos, because that is also how I feel, and it is always nice to feel that you are represented.
Speaking of reality television, Padma Lakshmi and Antoni Porowski both post regular cooking videos. They are both very good at it, probably because it is their job. Here is Padma making kootu in a casual gown! Here is Antoni making meatballs with chopped-up dates, which is a joke about how nobody knows what day it is anymore. Stars! They truly are just like us, except with better access to coronavirus testing.
If you think talking is too much
One problem with Instagram cooking shows is that you kinda have to listen to them. (You have to find headphones. It's a lot.) That is fine, though, because some of the most soothing and most useful follows just post pictures with instructive captions, like in the olden days. Eric Ripert, for example, posts a lot of very simple recipes that you would most definitely not find at his restaurant, Le Bernardin, such as these methodical instructions for grilled cheese. (I also highly recommend this video of his legendary hand-peeling a butternut squash. The entire plot is that it's a squash.) In Copenhagen, chef Frederik Bille Brahe posts pictures and instructions for wholesome things like porridge and granola. I have not made his pickled zucchini, but I was so moved by the picture that I thought about it. Twice!
Michael Scelfo, of Alden & Harlow in Boston, posts a regular stream of hot meat-and-potato comfort content, and offers meal-planning advice via DM. Quality Bistro's Antonio Mora, meanwhile, makes some — wait for it — Quality Stories, which are all just close-ups of his skilled hands doing things without talking. You don't even necessarily know what he's making when he starts, which gives it a real surprise factor.
Seng Luangrath, of D.C.'s Thip Khao, has started posting pandemic-appropriate Lao and Lao-inspired recipes, including this pad kee mao made with angel hair, and this very persuasive omelet with lime juice.
Meanwhile in Chicago, David Posey, from Elske, has been on a tear of DIY high-end garbage food, like homemade White Castle sliders. (They look very authentic, which is to say that you can imagine eating them in a parking lot in New Jersey.) And if you, like everyone else on the internet, is suddenly obsessed with sourdough, Josh Axler, the baker at Hewn Bread in Evanston, Illinois, posts a lot of helpful bread instructions, which I keep looking at, imagining what it would be like if I also baked some bread, perhaps leavened with the wild yeasts of Park Slope.
If you just want some actual cooking tips
Frank Prisinzano — the original Instacooking pioneer — has a whole bunch of gruff tutorials, which are a nice antidote to people who keep posting inspirational content. Who wants inspiration at a time like this? He doesn't do recipes — he is, we know, opposed to the concept of recipes — and instead cooks while holding forth about How Things Should Be Done. (He's right! Peel your celery!) It is also useful that he mostly does things involving pasta, because that is all we have now. (Sea salt only!) He doesn't mention these uncertain times at all, as far as I can tell, which is a nice relief.
Mark Tuttiett, head chef at Carousel, in London, has a whole bunch of actual recipes in his ongoing Story "Lockdown Cookin" — bang bang noodles, chocolate chip cookies — but I have put him in this category because there's a part where he shows you "how to segment fruits for your breakfast," which is truly mind-blowing. All this time, I have just been dribbling my breakfast fruit down my face. You've got the time: segment!
If you only care about Florence Pugh
Florence Pugh is an actress, but now that we don't have "celebrities" or "culture," she cooks on Instagram instead. That is Florence! The same one from the movie with the killer Swedes! She rises above adversity!.
What she does on Instagram is stand in a beautiful kitchen and make very simple recipes in real time. The secret to two-thirds of her three recipes is that you add chorizo, but she always provides a vegan-friendly alternative, which is that you don't add the chorizo after all.
What's actually great is that she is very low-key about everything. For example, one recipe is that you chop up all the spoiling vegetables in your refrigerator and sauté them in olive oil with some pasta sauce. In all the time she and I have now spent together — the posts are really very long — I have also learned that British people say oregano "oregaaaaaaaahno," and that Florence Pugh has great earrings. This, on most days, is enough.