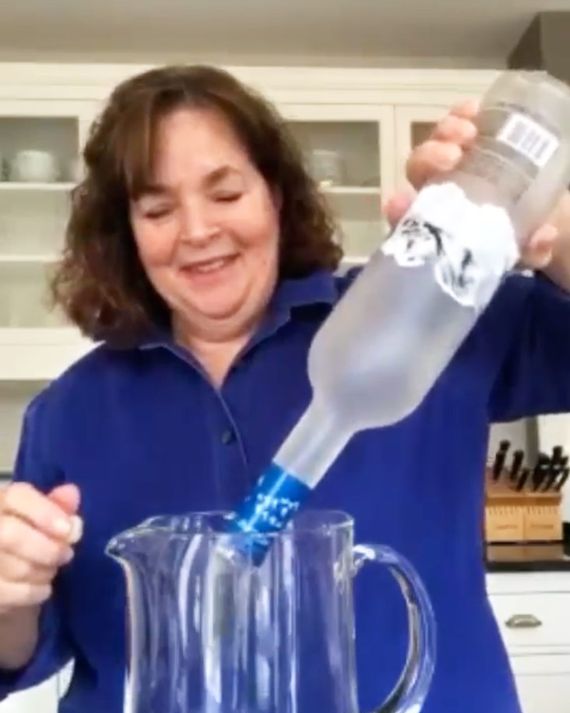 Photo: inagarten/Instagram
At 9:27 on Wednesday morning, Ina Garten posted a cozy video of herself making a giant Cosmopolitan. It is a perfect video, because it looks exactly like normal Ina Garten content — a crisp, white Hamptons kitchen; an equally crisp, jewel-toned button-down shirt — except that she is making a pitcher of alcohol, for one, at nine in the morning. "I like to make a lot of Cosmos," she explains, sounding reasonable, because "you never know who's going to stop by — wait a minute, nobody's stopping by!" And then she chuckles her warm Ina Garten chuckle, and dumps an entire bottle of vodka in a pitcher.
In that moment, she captured the national mood.
Perhaps I should be drinking more? I thought. People who know things about cocktails suggested to me that Ina's recipe was not an especially good one, but if we've learned anything from this global pandemic, it is that you can't take all the experts at face value. So I launched an independent investigation: Is Ina Garten's Cosmo good?
Here's a thing to know first: I have never had a Cosmopolitan before, but as the ennui of quarantine life continues to set in, I will take any opportunity I can to try new indoor activities. I followed Ina's recipe from the video — only cut in half, because I do not have a cartoon-size cocktail shaker, and my only pitcher is full of water, or as I like to call it, nonalcoholic vodka — by watching it over and over and over, like a grown-up lullaby. "You probably have all the ingredients right in your house," Ina told me, but in fact I had none of the ingredients in my house except for limes, so I used an app to order vodka and Ocean Spray cranberry juice and Cointreau. "Oh I don't need your ID," the nice delivery man said, handing me several bottles of alcohol on the street corner. I thought there'd be a bag? Then I went inside and washed my hands.
Luckily, I do own a cocktail shaker, because I had a party once, so I chilled it, and then mixed a cup of Grey Goose vodka, half a cup of Cointreau, half a cup of my Ocean Spray cranberry juice, and a quarter cup of fresh-squeezed lime juice. I dutifully shook it with ice for 30 seconds, and then you're supposed to pour it into a martini glass the size of a small Yorkshire terrier, but I don't have one of those, and I couldn't find it on the delivery app, so I used a wine glass instead.
At this juncture, a lot of recipes would have you add a twist of lemon, but Ina doesn't bother with that, which I respect. It's only 9:27 a.m., after all. The drink itself was … well, it sure was a drink! It tasted very, very alcoholic, and very, very sweet, and I am confident I could drink too much of it very, very quickly.
"There is something that Ina Garten knows about what we want, or who we want to be, or how we want to feel," wrote Choire Sicha in his Eater profile of the Contessa, and this is true; I did want a vat of Ina-approved Cosmos. They are fittingly absurd, in a world that feels unreal and festive, at a time when we are desperate. And there is, again, so much of it!
Is this technically how you make a Cosmopolitan? No, it is not. It was fun, though! And it will be fun again today, and perhaps also tomorrow, and potentially on Sunday.
However, for comparison, I also made true Cosmopolitan, following Toby Cecchini's recipe. Cecchini is the authority on Cosmopolitans, because he is the person who invented them. Apparently, Ina is not the only person who makes her Cosmos incorrectly. "Despite common pop-culture associations, the original Cosmopolitan is a rather dry cocktail," Punch notes in a footnote to his original recipe. Then, I watched a YouTube video of Cecchini making a Cosmopolitan several times, and also a Food52 tutorial about how to make a lemon twist, which works exactly like I thought it did.
The recipes are pretty similar, except for two important things. Cecchini uses "citron" flavored vodka, which is crucial for giving the drink some depth and flavor beyond "sweet." Cecchini also uses double the amount of lime that Ina does, which obviously also helps with the sweetness issues. I mixed all that up, and shook it until my hands got very cold, and then I added my lemon twist. A disappointing thing about this recipe is that it makes a totally normal amount of cocktail, which, after Ina, is sort of a letdown.
What the original version has going for it, though, is that it is truly delicious. You could indeed call it kind of dry, even! It felt very balanced, and did not at all remind me of drinking in college, or on an airplane. Imagine a summer lemonade, or the feeling you get waking up on the first day of vacation, but as a cocktail. This Cosmo is that.
If you want to judge — and who among us doesn't? — then Cecchini's is the superior version, and in most circumstances, it would be the clear winner in this taste-off, mostly because it tastes very good. (On Twitter, Pegu Club owner and bar-world legend Audrey Saunders suggests it's the Citron that makes all the difference, and I can't argue with her.)
But let's not sell Ina short here: She has read the room, and what the room needs, she has decided, is a giant, neon-pink pitcher of Cosmopolitans, for one, preferably gulped down well before noon.