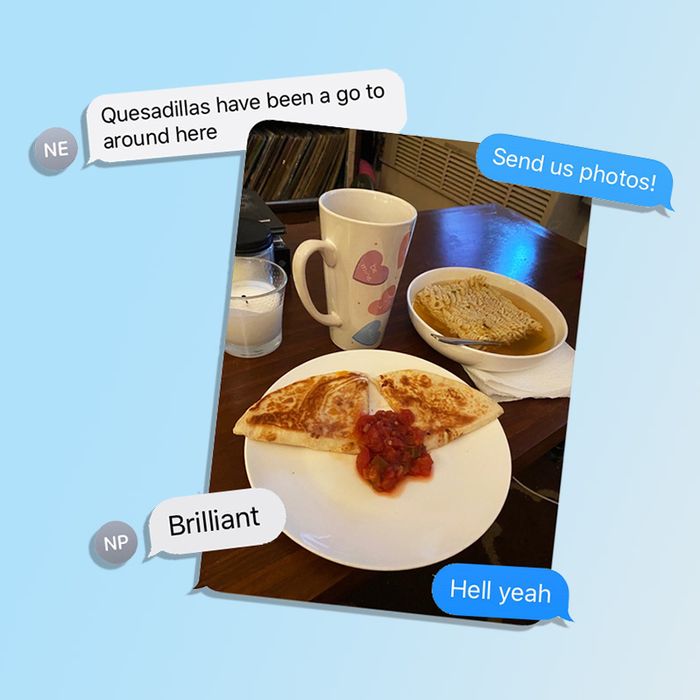 Quesadilla conversations.
Photo-Illustration: Megan Paetzhold
The best food photo I've seen this month is a quesadilla. It doesn't look like the tidy quesadillas you'll eat streetside in Mexico City. It looks like what you'd get a suburban strip mall: a pale flour tortilla, cut into triangles, with chunky tomato salsa for dipping. Next to it was a small bowl of broth with a block of instant noodles. If you had told me the photo was taken in a college dorm, I would probably believe you, except I knew that the person who sent me the shot was not in college. It was from my friend Nate, and it was exactly the kind of food content I needed to see.
Like everyone else, I've watched throughout this pandemic as my various timelines and social-media feeds have become filled with photos of homemade pasta, long-simmered pots of heirloom beans, and endless cross-sections of fresh-baked sourdough. In quarantine, it turns out, everything becomes a cooking blog.
For those of us who are still able to put food on our tables, sharing what we're cooking is a way to connect with all the people we can't see right now. Maybe, in another way, it allows us to celebrate some sort of recreational bounty that we won't be able to enjoy in the future.
My life is filled with friends who send each other food photos. Lex has continued his pre-quarantine texts about baking misfortunes and successes. Andre sends updates on lasagna and koshari. Khushbu, who works at Food & Wine, posted photos of her "staircase meals" that her parents left for her while she self-isolated in the basement. Nate, meanwhile, has recently stocked up on his favorite brand of corn dogs. "Maybe I'll make cornbread cupcakes with little hot dog slices inside," he texted. "Could be a revolution."
Nate's enthusiasm for cooking is matched by a distinct, almost blissful detachment from cooking trends. "I used the mayo method!" he declared after cooking some chicken cutlets. "I can't nail that perfect breading yet," was his follow-up. He explained that another friend of ours had instructed him to coat the breadcrumbs in mayo before cooking the cutlets in the oven. If "mayo method" hadn't been part of my kitchen vocabulary before, it was now.
Our food-specific group chat, along with another friend named Nicky, started when I saw an Instagram Story from Nate's wife, Lea, about a pot roast he was making. "I was proud!" he said when I asked about the post. "Pot roast was always too intimidating." I learned he'd used a recipe from Marcella Hazan that called for a sofrito. Nate had improvised and just thrown in baby carrots. "Yeah, nothing crazy, but I'm trying!"
The conversation has gone on, with semi-frequent updates, since then. "Made some dank spicy tuna melts the other night," is a typical text to get from Nate. "Did a beef chunk stew," is another. Once, after the chat went dormant for a few days, he announced "Making Bloody Marys!" That was it, with no further details until we asked.
There was also the night we got a series of videos because Nate wanted to make chicken teriyaki stir-fry. "I don't think I have any actual Asian vegetables, but just want that flavor," he'd written. "Love teriyaki."
Lea, Nate explained, helped shoot the videos because his phone's camera was broken. "Oops, I burnt the spoon!" was the one of the select quotes shared.
In the end, though, the dish was a hit: "The celery, Brussels, and cauliflower with soy sauce taste like Connecticut chow mein," Nate wrote in triumph. We grew up there together, but I have no idea what Connecticut chow mein is. The messages did make me crave chicken teriyaki, though.
There is nothing performative about Nate's cooking. He cooks the food he wants to eat; he's not worried about appearances. When I point this out, he corrects me: "Sometimes I try to impress Lea." (The first time he ever cooked for her, as I remember, he took me on the shopping trip and we ended up buying Old El Paso taco kits. This is the story I most frequently use to explain him to people.) The most appealing thing about these conversations, to me, is that there's no distinguishing between Nate's ground turkey stir-fry or Nicky's homemade orecchiette in lemon-butter sauce. It's all treated the same. It's food we enjoy.
I think if I asked Nate if he'd ever bought anything from Rancho Gordo, he'd ask me if that was a place where they filmed old Westerns. There is no stress in Nate's cooking, no will-it-or-won't-it-turn-out tension. I ask him about the food he's cooking, because the answer is always uncomplicated joy.
That's not to say he's food-agnostic. We go to restaurants together, and he got very excited back in the old days when he found out there was a new place that would deliver a banh mi to his apartment. In fact, even Nate isn't completely immune to the stray thoughts of a dedicated foodie, or the germ of an idea for a Smorgsburg concept. "I'd love to see the artisan corn dog hit the city," he told me recently, echoing thoughts he shared from back in the days when we were free to worry about such things.