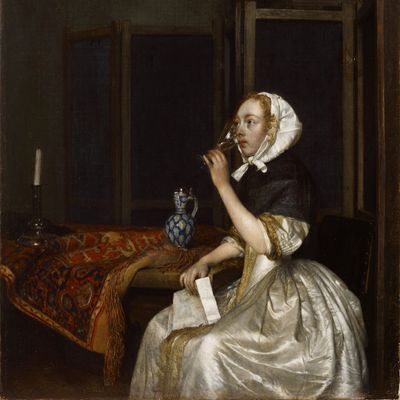 Photo: Fine Art Images/Heritage Images via Getty Images
When the sun goes down, and the streets of New York are hauntingly, terrifyingly silent, I find myself resisting the persistent whisper — "Time for a drink" — that often comes far too early. By my self-made regulations, I pull out the corkscrew only when powering down my computer for the day; this can be late, and I may also be hungry. As my soup is simmering, I survey the bottle options. There is plenty to choose from.
Initially, I failed to hoard. However, when the shelter-in-place order came for us, I was part of the stampede. I stocked my shelves by buying as much as I could afford. I can assure you I was not motivated by my professional obligation as a wine writer. Fortification was necessary, and bottles soon stood along the walls of my railroad apartment, cluttering the bench in my living room, stuffed into cubbyholes in my bedroom, and loaded into two tiny thermo-electric fridges near my desk.
Given my own response, wineshops are indeed essential businesses. I am not surprised that Nielsen reports U.S. sales of alcoholic beverages are skyrocketing and that wine sales are up 66 percent over the same time the previous year.
Wine and vine are symbols; nature meets science, art, and magic. I could argue that they have been the gateways to culture and civilization. There was a time not too long ago when wine was medicine, safer than water. Even if it didn't work out that way, as Camus said in the now-more-prescient-than-ever The Plague, that protection against infection was a good bottle of wine.
When drinking with others (even one other), my game plan is to choose wines that can oil the joints of conversation, wit, gossip, and sometimes argument. But COVID-19 requires more proletarian options. For our quarantine, I selected a broad spectrum that could cover all needs and moods, but nothing fancy. However, I hadn't foreseen one particular glitch in my drinking plans: My boyfriend decided to decamp and shelter in his own home a few miles north. While this was probably wise, I was suddenly, completely on my own.
On the one hand, I'm bizarrely suited to solitude. As a writer, I've never had a problem with solo drinking. Assessing wines, with multiple bottles open, tasting and spitting, by myself is common. When I'm on my own for dinner, I don't abstain; food tastes better with a glass or three. Sometimes there's even a postprandial whiskey. Yes, the buzz is part of the charm, but I have a set of guidelines for solo drinking to keep me on the correct side of tipsy. I wait until the computer is off for the night. I pick something I know to have earnest simplicity. It cannot be expensive, irreplaceable, or so profound that I would be made sadder not to have had someone to share it with. I also cut myself off at half a bottle.
Yet over these weeks, something has gone screwy. Nothing tastes as it should; the wines are too tannic, too fruity, too metallic. I'd open another bottle and another. Looking for the desired deliciousness, I am like a mathematician chewing over a singular problem, trying to come up with the right answer. I knew that anosmia, an inability to taste or smell, a wine writer's nightmare, is one of COVID's first symptoms. I panicked. Had the disease come for me?
It turns out I am virus-free (though, of course, that can change at any minute) and also that I was fooling myself. In all of the years of thinking I was perfectly happy to drink alone, I hadn't appreciated that this scenario was a complete novelty — it rarely happened more than one night a week and was often part of a welcome evening of solitude and personal recharge. Now, required social distancing has offered me my first experience with an extended time of drinking without community: without friends, partners, or colleagues. Without conversation. Without someone to say, "What do you think?"
Zoom sessions are nice in a pinch, but they don't allow for the emotional moment over the same bottle, watching the wine evolve and shape-shift. Drinking wine isn't like reading a book, a supremely solitary experience. It's not like listening to music, where I could be brought to tears or urged to jump with exhilaration — no company needed. Wine, for me, has met its match in captivity. It just isn't as satisfying.
But in truth, drinking alone is not a hardship; it is still a privilege and a luxury. Wine has been going strong for over 8,000 years. Even if, right now, it fails to deliver at full sensorial capacity, I can still contemplate the people who made it, the vintage they made it in, and the natural disasters that had to be overcome to make something beautiful. And, so she persists.