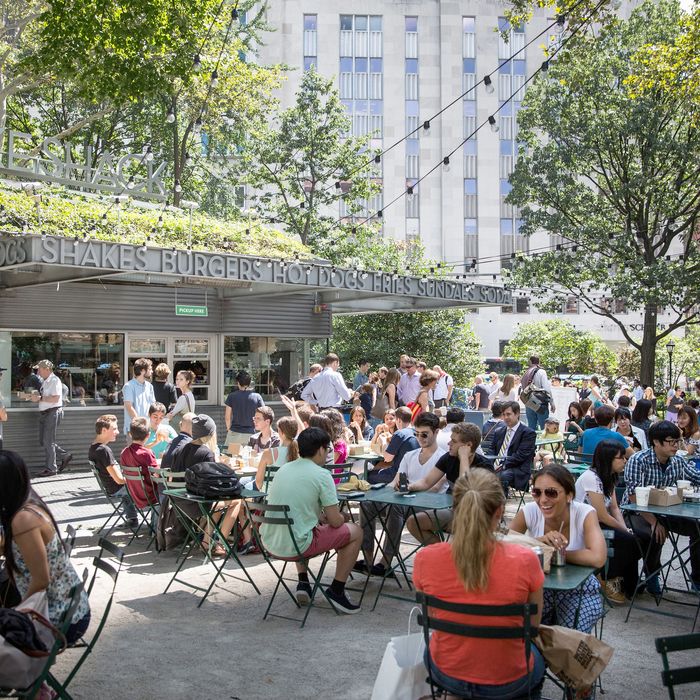 The original Shake Shack.
Photo: Andrew Burton/ Getty Images
Last week, it was reported that Shake Shack was one of a number of large chains that secured loans from the CARES Act, a law that's supposed to help small businesses. For the Paycheck Protection Program, the definition of small business was broad enough — any restaurant location with 500 or less employees — that chains like Shake Shack and Ruth's Chris were eligible. But the $350 billion allocated for the stimulus law, meant to help keep workers employed, quickly dried up, with many business owners reporting they were unable to secure any of the money. After receiving criticism for applying, Shake Shack founder Danny Meyer and CEO Randy Garutti have announced that they'll immediately return the $10 million in PPP money they received.
As reported by NBC News, Meyer and Garutti posted a joint statement to LinkedIn. In it they write that "the 'PPP' came with no user manual and it was extremely confusing" and that they felt "the best chance of keeping our teams working, off the unemployment line … would be to apply now." They also point out that "few, if any restaurants in America employ more than 500 people per location," demonstrating just how broad the law's definition of small business is.
What they didn't know, they write, is that the money would run out so fast. People were raising concerns that the bailout would not be enough for small businesses back in March, when Slate wrote that "since these loans are first-come, first-served, there's a real chance that the cash will run out before everyone who needs a lifeline gets one."
The statement also notes that Shake Shack was able to secure additional capital through an equity transaction, which it announced on Friday was to the tune of $150 million. An additional $310 billion in PPP is "about to be approved," as Garutti and Meyer write, but they note that when it comes to the distribution of funds "this time we need to do it better."