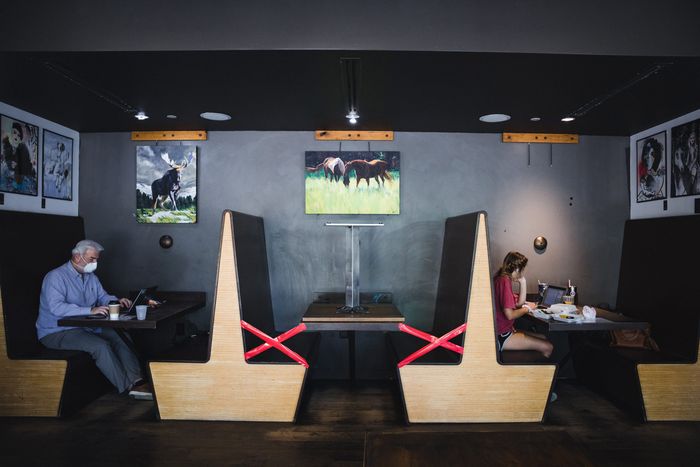 A socially distanced dining room in Georgia.
Photo: Dustin Chambers/Bloomberg via Getty Images
For almost all Americans, the idea of leaving home, walking outside, driving to a business, opening a door and stepping inside that business, then sitting down among other customers to eat food prepared by a stranger remains, at best, a far-off dream. For residents of the few states that are now easing restrictions, however, this series of events is something they can do right now. And, somewhat surprisingly, some people are doing just that.
At a Waffle House in Savannah, Georgia, one regular customer tells the AP that he is "still working from home, and he still thinks it's too soon to return to the office or get a haircut," but he nevertheless stopped in to the restaurant yesterday to eat a waffle and pork chops.
In Texas, where restaurants will be allowed to reopen at 25 percent capacity this week, at least one operator was surprised that anyone wanted to show up. The owner of Parigi restaurant in Dallas says she's already gotten reservation inquiries. Janice Provost tells the Dallas Morning News, "I had people calling asking if we would be open Friday, and I was like, 'Oh my God, what?'"
These early reopenings are an obvious litmus test for how the rest of the country's recovery from the coronavirus pandemic might look, but already at least one influential statistical model has seen the number of projected deaths rise from 67,641 to 74,000 as a result of the openings.
It appears that, despite that dire data point, quarantine fatigue has nevertheless begun to set in for people, with data showing that, over the last two weeks, "more people across the country are going outside … they are doing so more frequently and … they are traveling longer distances."
Be that as it may, any kind of restaurant reopening in New York City still appears to be extremely far off. While more places continue to offer delivery or takeout options, operators know that necessary safety precautions inside dining rooms are fundamentally at odds with the New York dining experience, where packed tables are the norm and many diners will be unlikely to subject themselves to, say, temperature readings before spending $300 on dinner.