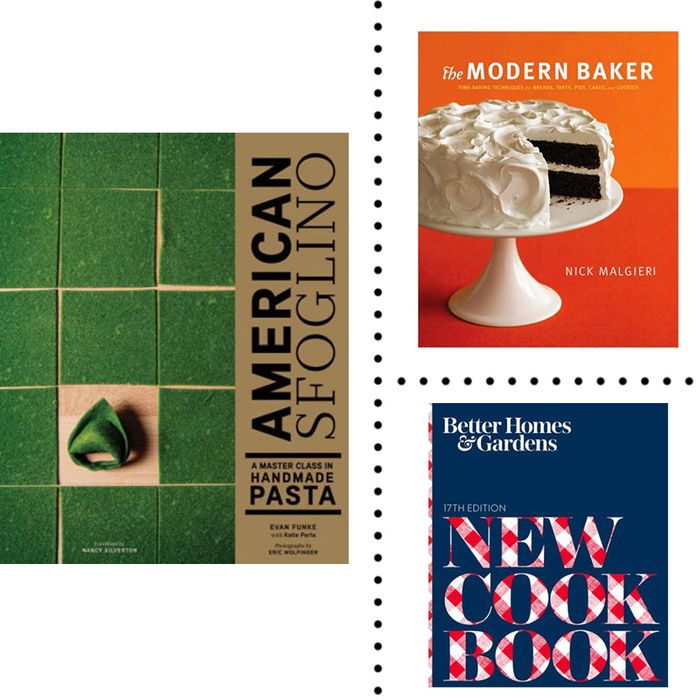 Photo: Courtesy the vendors
With no end yet in sight for the U.S. coronavirus pandemic and more and more restaurants opting out of delivery and takeout, the need to do our own cooking has never been more clear. A few weeks ago, Grub Street asked cooking experts for the cookbooks they're turning to right now and the answers were both surprising and delightful. So, we decided to ask again, looking to chefs for some guidance on the books we all need in our lives right now. Here's what they suggest:
Amy Chaplin
Author and chef-owner, Bramble
Photo: Courtesy the vendor
"My friend and fellow cookbook author Holly Davis sent me a dehydrated sourdough starter from Australia, but with an almost 1-year-old and my wife working full-time from home, it's proven impossible to make sourdough. What I am able to bake in an endless variety of ways is Aran Goyoaga's Banana Bread from her latest book. Her gluten-free banana bread recipe is a real winner and always comes out perfectly no matter what gluten-free flour I have on hand. I've also made it with different spices and sweeteners or none at all; it never fails to be moist, springing and delicious. The book is beautiful in so many ways and there are many other recipes I plan to try once that starter is rehydrated."
Zoe Kanan
Pastry chef
Photo: Courtesy the vendor
"This baking book was written in the late '60s by a Zen priest, so sign me up based on that alone. I'm so charmed by Edward Espe Brown's recipes that I don't even mind that they are all presented in volume and not mass, which I typically advise against when baking. This book champions whole foods and grains, but also states that a lack of access shouldn't keep you from bread-making. He provides clear instructions that feel achievable, and although you won't find any photos, there are sweet little sketches of scenes from the Tassajara Zen Mountain Center. My go-to's are the Corn-Sesame Breakfast Cake, Sourdough Raisin Rolls, Egg Bagels, and Butter Kuchen. There is also a whole chapter of compound butters."
Photo: Courtesy the vendor
"During the quarantine I've been going crazy with this book. I am a terrible baker and it's a way for me and my daughter to do extra fun things together with our Kitchen Aid mixer. We have been trying everything we can. Made palmiers for my wife Tamy's birthday a week ago, working on a chocolate mousse cake next and growing our yeast to make a sourdough! It's a fun way to completely distract ourselves from the craziness outside."
Photo: Courtesy the vendor
"I've been reading and cooking through Evan Funke's book, which guides you through all the basic foundations of pasta making. Just like pastry, the most simple of ingredients — just flour and eggs — can be transformed into so many different shapes, each with its own story and origin, and paired with all different sauces. It's a beautiful book with the kind of comforting food we could all use these days."
Clare de Boer
Co-head chef, King
Photo: Courtesy the vendor
"The dizzying abundance of fresh herbs and unfamiliar sour flavors like dried lime and barberries in this book are fodder for my quarantined palate. The breadth of recipes and the associated cultural/historical context she gives is as close as I can get right now to Iranian immersion. I want to cook each thing on every page and I want to stand in Najmieh's kitchen dipping warm taftun into cool osh. I confess to using an entire jar of saffron since opening my copy. It's transportive, educational, classic. Thank you Najmieh!"
Miro Uskokovic
Executive pastry chef, Gramercy Tavern
Photo: Courtesy the vendor
"I love this book for its creative approach to simple and flavorful cooking where vegetables are the star of the show. This is not a meatless book, but one that uses animal protein as an accent. The Go-To Recipes section in the beginning of the book has some amazing ideas for sauces and vinaigrettes and butters that last in the fridge anywhere between one to three weeks and are ideal meal builders/enhancers. To me, this section alone is worth the price of admission. And who can ignore the now iconic Kale Sauce, emerald green and an effortless way to down your greens. So if you've run out of ideas for all that cabbage and cauliflower in your fridge right now, get this book. It'll be the one you reach for many months along."
Sean Underwood
Chef-owner, The Ryerson
Photo: Courtesy the vendor
"You probably already own this book. It's probably collecting dust on one of your shelves right now. However, in these trying times, we are all searching for comforting, familiar things, and no book is more packed cover to cover with American classics than the BH&G cookbook. Every recipe is made with the home cook in mind and every ingredient is easy to find. It has easy to follow recipes for just about everything you might be looking for. So when I'm in the mood for some classic meatloaf, or peanut butter blossoms — my favorite cookies, the ones with Hershey's kisses in the middle — this is the book I turn to."
Photo: Courtesy the vendor
"This is one of my favorite of Ruth Reichl's addictive memoirs. It's packed with juicy memories of decadent meals and romantic intrigue, and contains some great recipes, too. In her third chapter, Ruth writes about a life-changing trip to Paris — citrus-scented fraises des bois, hazelnut-filled croissants, pale soufflés decorated with sugared violets, endless glasses of champagne, and an almond dacquoise that is a 'promise that something wonderful is about to happen.' I don't have almonds at home anymore, but I recently unearthed some walnuts and went to work hand whisking the meringue for this sticky, flourless cake. No one relishes in food and its infinite pleasures quite like Ruth!"
Photo: Courtesy the vendor
"This is the default cookbook I revisit over and over for ideas, recipes, culture, style and most importantly humor. Every recipe has a story or a small anecdote that is both funny and genuinely earnest. The book has a reputation for being the gastronomic offal bible (it's deserved), but is definitely overlooked for its vegetable dishes, which are equally as celebrated as the snout, tail and spleen. The book has a few loosely tied together themes, my favorite being "Do not be afraid of cooking, as your ingredients will know, and misbehave. Enjoy your cooking and the food will behave; moreover it will pass your pleasure on to those who eat it." A great reminder that agonizing over baking bread and other culinary projects is only worth pursuing if the yield is delight and enjoyment."
Jay Wolman
Head chef, LaLou
Photo: Courtesy the vendor
"This is a classic on my cookbook shelf. Paula Wolfert's humble regional cuisine is endlessly inspiring. I especially love the chapter on duck. That section in particular has inspired quite a few duck confit dishes over my career. I think my favorite being her Ragout of Duck Legs with White Onions and Prunes. I love that the recipes are straightforward and simple."
Things you buy through our links may earn us a commission.