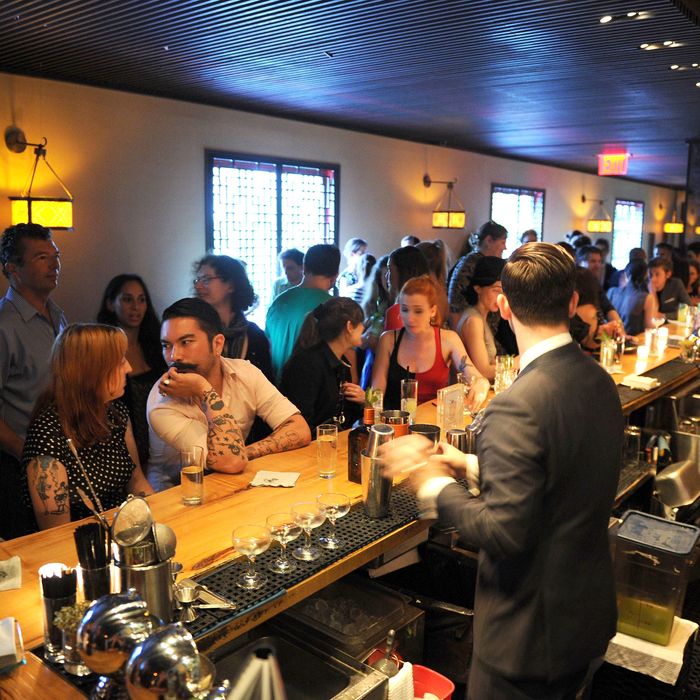 The second-floor bar opened its doors in August of 2005.
Photo: Bryan Bedder/Getty Images
One of New York City's most storied cocktail bars won't reopen. Audrey Saunders wrote a note to friends and regulars to tell them that her second-floor Soho bar, Pegu Club, will close permanently. In the letter, Saunders notes that the bar's lease runs through October, and that she was exicted to celebrate the bar's 15th anniversary in August, but, Saunders writes, the COVID-19 pandemic (and subsequent shutdown) "has taken every bit of the life we had out of us, and a soft reopening following NYC guidelines would not be enough to sustain us entering into the summer months."
It is, of course, impossible to overstate the influence that Pegu Club, which opened in 2005, had on the world's cocktail scene. It was, along with spots like Milk & Honey and Flatiron Lounge, responsible for birthing an entire cocktail renaissance, and the list of bartenders and operators who either got their start at — or at least passed through the doors of — Pegu is a murderers' row of talent that went on to open some of the most prominent bars of the last decade-plus. Every single faux-speakeasy you've ever been to owes at least some of its existence to Pegu's success.
Pegu is also just the latest business to close its doors for good in the wake of the coronavirus-related shutdown that has closed all of New York's bars and dining rooms. As Saunders wrote in her email about the bars closing, "We knew that the day would eventually come when we would have to say good-bye to her, but never did we ever dream that it would be under these conditions."