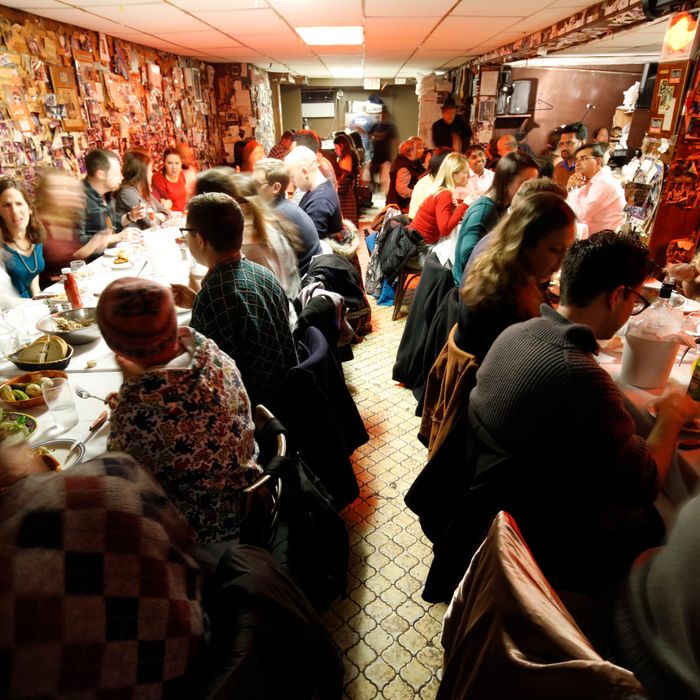 Happier times at Famous Sammy's Roumanian Steak House.
Photo: Melissa Hom
On Tuesday, March 24, the owners of Jackson Heights' famous Arepa Lady decided to shut down their restaurant completely. Their business has name recognition in its community and within the broader New York food world, but limited to delivery and takeout in the wake of the coronavirus pandemic, they were still barely doing any business at all.
"We're doing maybe $50, $100 a day, two or three orders," says Alejandro Osorio, who owns the restaurant with his wife. "It was the two of us, so we technically don't have to pay any salaries. We were like, 'Oh, whatever.' But now we're getting a bit scared."
With the entire hospitality industry effectively in limbo, delivery and takeout were supposed to serve as a vital lifeline to owners who desperately need to make some money. (On March 24, people were explicitly encouraged to do so as a kind of action branded the Great American Takeout.) But across dozens of conversations, operators around the city say that the money simply isn't enough, and that the safety risks to their workers are simply too dangerous.
Xenophobia and rumors caused sales at Chinese restaurants to first slump way back in February. Though there was, as Eater reported last month, an uptick in interest in Chinese food after social-distancing orders, a cursory glance through Grubhub and Seamless for Chinese-American restaurants around the city returns very few options. In Chinatown, the perpetually busy Wu's Wonton King is one neighborhood destination that has closed completely. Others in Chinatown are trying to patch together a delivery business from scratch, which brings its own amount of added work. "You don't just flick a switch," says Rick Camac, dean of Restaurant & Hospitality Management at the Institute of Culinary Education, who also points out that not all food travels well. Even still, the owners of Grand Seoul BBQ on Chrystie Street, after initially closing for a week, reopened on March 21. "We've been getting okay orders," says Debbie Park, whose parents own the restaurant. She and her husband are helping by driving orders to friends outside their delivery zone. The restaurant is two floors, each of which can seat 40 people, and she says on a normal Friday they'd "kind of fill the whole restaurant." Now, though, "I would say we're doing maybe ten to 15 orders a day, and we open at 12 and we close at 8," she says. The restaurant is not breaking even. "Right now, we're just trying to get by day to day."
"Sales have gone down — by 40 or 50 percent. We're trying not to go down to 55, 60 percent. Fifty is already enough," says Jonathan Hernandez of Patacon Pisao, a Veneluzan chainlet with locations in Inwood, Elmhurst, and the Lower East Side. "We're not even thinking about numbers, we're just trying to stay afloat."
Even the restaurant owners that are finding success in delivery say they've nevertheless suffered staggering losses. The Bushwick pizzeria Ops — where, in February, it wasn't rare to be quoted a 90-minute wait for a table — sold out of its delivery-pizza supply on several occasions during its week. Co-owner Mike Fadem says that was because he didn't know what kind of demand to expect. Despite the success, he's only breaking even, a situation that is comparable to the one at his other pizzeria, Williamsburg's Leo.
"We're doing, like, a quarter of the business we usually do, maybe less," Fadem says of Ops. "I think on weekdays it's a quarter, on the weekends it's one-sixth, one-seventh, or one-eighth."
This phenomenon is not limited to independent, standalone restaurants, either. Robert Guarino is the CEO and a founder of the 5 Napkin Burger chain. He says he's seen only a small boost over what his typical delivery business would be, and that it's simply not enough — even as he's been forced to lay off over 90 percent of his staff. "We still have big restaurants with expensive, visible real estate," he explains. "It's enough to keep us afloat for now, but certainly not enough to be a long-term solution."
Another chain that's been hit is Dig, which has closed 21 of its 32 East Coast locations. Founder and CEO Adam Eskin, who has been able to keep on one-third of his staff (thanks in part to his company's Dig Feeds charity initiative), says delivery is down, in addition to the complete elimination of walk-in business.
For many of the people who spoke to Grub, the chief concern remains the safety of their staff. "We couldn't justify asking people to put their lives and their families' lives in potential jeopardy so we could keep our sandwich shop open," says Eric Finkelstein, a co-owner of Court Street Grocers and its sister spot, Hi Hi Room. On Saturday, Elmhurst's popular Thai restaurant Lamoon announced that it would be closing up shop "for our beloved workers' health."
Some restaurant owners made the switch after just a few days, including Ho Foods on March 19. "We were doing okay. But I just thought it was the responsible thing to do," owner Richard Ho says. (The East Village restaurant and its neighbor Kura now provides meals for hospital workers, after being recruited to do so with and by Eric Sze of 886.)
It doesn't help that whatever money these businesses do make can be sliced and diced by the online-delivery platforms that many diners use. Delivery services have been reluctant to waive the fees they charge restaurants, which can be from 15 to 30 percent. "Many restaurants lose money on their deliveries," according to the New York City Hospitality Alliance, a nonprofit organization advocating for the hospitality industry. "We cannot urge restaurants to offer delivery and tell New Yorkers to order in during this state of emergency if it will hurt restaurants while providing delivery companies a profit windfall."
Some services have been more helpful than others: Postmates unveiled a Small Business Relief Pilot in San Francisco that will waive all commission fees for businesses that are not currently delivering on the platform and want to drive revenue as on-premise dining is impacted. (The plan hasn't rolled out to other cities yet.) DoorDash, which also owns Caviar, is waiving fees for new restaurants through the end of April. (Caviar has also distributed hand sanitizer and gloves to their couriers. The gig workers these services rely on have found themselves on the frontlines of the pandemic.)
On Monday, GrubHub announced an initiative pushing restaurants to offer customers a discount while still charging restaurants commission fees based on an undiscounted total. (The same day, the mayor's NYC Food Service Establishment Advisory Board sent a letter to Mayor Bill de Blasio calling out these services and urging him to use his emergency powers to cap fees at 10 percent of orders and not to allow adding arbitrary service charges and fees. In the letter, they write "the excessive third-party delivery fees by companies like Grubhub/Seamless, which usually range from 15% - 30%+ of a total order, amount to a windfall during this emergency when restaurants can only offer takeout and delivery.")
Being open for delivery, though, wasn't anyone's idea of a permanent solution. Alas, owners and chefs have been hoping for a bailout from the federal government have found themselves disappointed by a stimulus bill that critics say doesn't go far enough. While businesses that already let workers go will be eligible for the plan's forgiveness loans if they hire workers back, the loans won't necessarily be enough if the shutdown goes on for months. Rent is due, bills still have to be paid. The owners of Arepa Lady don't know how they're going to pay April's rent, let alone May's or June's if they remain closed for several more months. "Honestly, I don't know," Osorio answers when asked if they'll be able to reopen.
"Some combination of the city and state is going to have to help with rent relief — this is not enough to pay our overhead," says 5 Napkin's Guarino.
The fear isn't only about what's happening now, either. With official projections that the country's unemployment rate could soar over 30 percent, many owners are also worried about whether there will even be a dining public to serve. "In the Bronx, I depend on the neighborhood and there's a lot of working-class people," says Antonio "Tony" Vilchas, who runs Mexicocina in Mott Haven. (He has a second location in Prospect Heights.) "Being in the area I am in the Bronx, I would say 25 percent of my customers are Mexicans. They're not ordering any food right now. Maybe out of that 25 percent, only 5 percent have ordered food in the last week and a half. They're afraid of spending money." Vilchas adds, "People are out of jobs, they're not working, so they're not going to be buying food at the restaurant."
"I'm not worried," he says, "I'm petrified."
Hannah Howard contributed additional reporting.