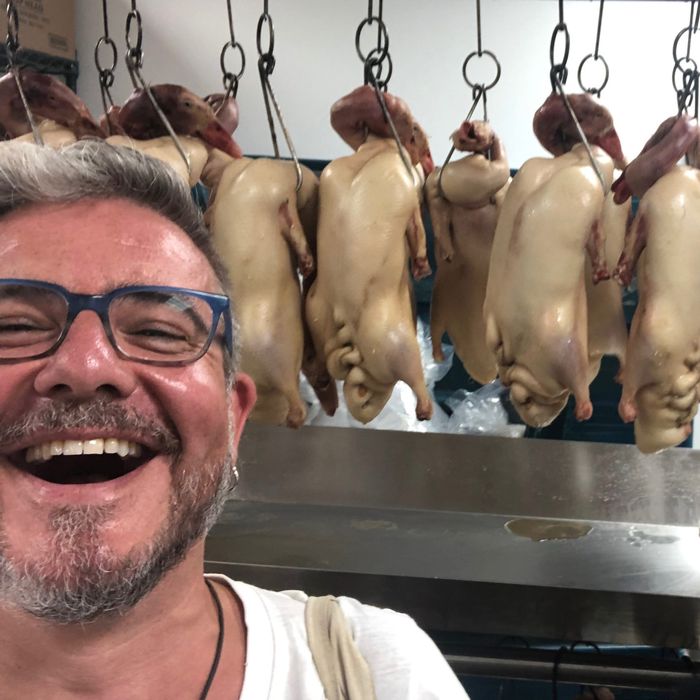 Deven DeMarco, left, in happier times.
Photo: Deven Demarco
Over the last quarter century, Deven DeMarco has worked at spots including the East Village's Frank, where he cooked in the '90s; Big Gay Ice Cream, as an events manager and catering director; and at the original M. Wells as a manager. Most recently, he was a captain at Hutong, the midtown branch of the high-end Chinese chain, until the restaurant shutdown put him out of work. Now, he's in the midst of a crisis unlike anything else he's seen before in his extensive career. Here, he discusses what it feels like to fear for the very existence of an industry to which he's dedicated his entire working life.
I've worked in restaurants my entire life. Since I was 13. I moved to New York in 1994, and took my first kitchen job in the city at Frank. That was '96. My first boyfriend and I lived on Suffolk near Delancey, on the Lower East Side, and I stood on my roof and watched 9/11. At the time, the restaurant where I was a sous-chef was on 12th and A, and we never really recovered.
Things changed then, and I just don't know — how are we going to do that on a much bigger scale now? What are we going to do? How are we going to test everybody? Are we going to open up at 25 percent capacity, then 50 percent, then 75 percent? Even then, are people going to come back? Will they want to go out and celebrate, or will everybody be too scared to sit in the same room? Are they going to be just as racist to Chinese people as they were before?
A lot of the coverage early was Chinatown shutting down and the effects on Flushing and those are really the cultural touchstones for the city, and I feel a little funny saying, "Here we are, a shiny dim sum palace in Midtown." But it's still our livelihood. To watch everybody stay away from my boyfriend's place, because it's Thai, and my place, because it's Chinese, is heartbreaking.
I have had unemployment before, so as soon as this went down I filed on March 16. I need to pay bills. I have a lease to renew. While I have been in this apartment for 10, 11 years, I am just desperate to stay in my landlord's good graces.
Unemployment can only do so much. I had reactive arthritis a year and a half ago, and was unable to walk for about six months, so I was living on a credit card. My ER visits were not covered; I paid for those on the card. I've tried to be fastidious about reaching out to my credit-card companies. I'm really fucking lucky that I've had HIV for 20 years so ADAP will cover so many of those things, but paying into my insurance — I'd bought in through work — from there is money I don't have. I've received no notice about termination of benefits or COBRA coverage yet. I was told, when our shifts were being cut, not to worry because the hours needed to qualify for coverage were from a six month cycle. I've been trying to care of my boyfriend, who is undocumented and still working, and I'm trying to take care of my brother, who is a chef in West Palm, Florida. There's not enough money there to cover them, too.
I have a friend in the hospital right now dying. They discovered, when he went in for COVID-19, that he has lung cancer. I don't know if I'm going to be able to see him without an antibody test.
I think I had the virus — I had no taste or smell in early March and the next week I started to hear that was a telltale sign. I've still tried to be very careful, I've tried not to order from Amazon because they're fuckers. (I got a mask in the mail from a sex shop.) I do go to the market. I went to the doctor's office in the West Village for my blood work earlier this month, the first time I really left anywhere beyond my neighborhood in Astoria. I managed to get a slice from Joe's, and that was a salve.
I usually go for blood work and tests once a month. I first started to feel sick the night in March when we had the emergency declared, and I was planning to go into the office later that week, but when I called, my doctor was like, "There were so many people here." I decided to wait. I'm fine, I've been undetectable for years, but it's still something I have to keep on top of. Trying to get my medication so I didn't have to go out was huge. Biktarvy is in high demand, though, so I couldn't get three months of it. I stayed away until, you know, I just couldn't.
At the restaurant, it's a weird situation because it's a group of people here working for a company based in Hong Kong and London. Much of what we do is anathema to them. One of my co-workers and I discussed putting together a fundraiser, and we did it together.
I asked everybody to share it. I asked the person who does our PR on Instagram, "Can you post this instead of the dan dan noodles? Can you put it on the website so there's some sort of awareness?" There are people that need this money. There are single moms, there are parents. Two of the women I work with had been hired as servers and were promoted to captains. They were doing all these training shifts, making less money at the time, and then there weren't any shifts at all because there weren't any guests.
I've asked them if we can get some actual support, and no answer. I didn't even get a response. I didn't reach out to the director of operations directly, but they saw all of the messages posted on our employee forum on 7shifts. By the time we set ours up, there were already hundreds of fundraisers that had sprouted up and I just haven't done much with it. Everybody was out of work. We have made less than $400, and that's fine. It will still go to whoever needs food in their kitchen.