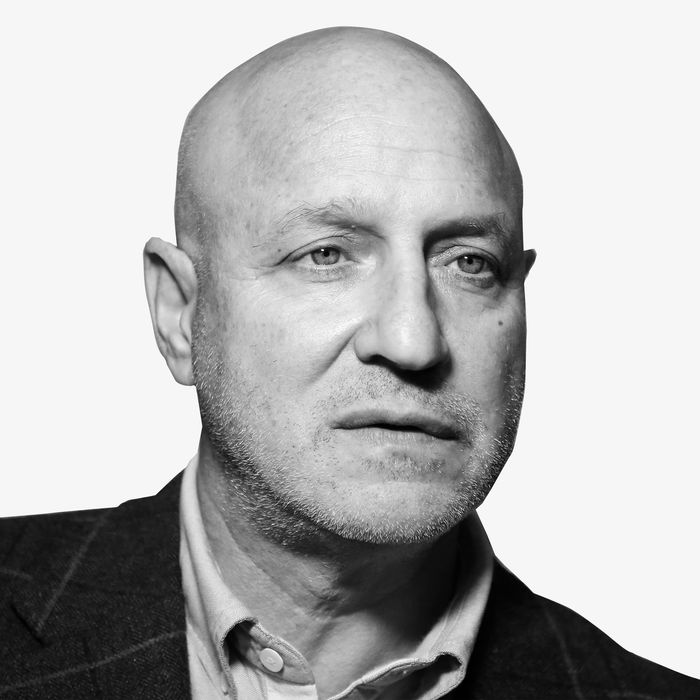 Tom Colicchio has been one of the most outspoken advocates for the hospitality industry.
Photo: John Lamparski/Getty Images
For better or worse, prematurely or maturely, conversations around COVID have recently tilted toward reopening. When? How? Who? (With 1.4 million people unemployed in New York State, the Why? is obvious.) But for the 321,000 chefs, restaurateurs, and restaurant workers, many of whom have been out of work since mid-March, everything is still cloudy as hell. The future is obfusc. We all have to eat, but no one knows how, when, or even if we'll do so in restaurants again.
A survey of a handful of the city's most successful restaurateurs finds them in different states of suspended animation, with their hopes for an unknowable future in varying shades of gray as they hold two very different challenges in hand: (1) how to survive the way things are, and (2) how to prophesy the way things might be.
Some operators, like Simon Kim of the starred-up steakhouse Cote, quickly adapted to a takeout model. Others, like Jon Neidich of the buzzy brasserie Le Crocodile and several other high-profile projects, are limping along with an atrophied flow of hotel guests and hospital workers. And many, like Daniela Soto-Innes of Cosme and Atla, or Tom Colicchio of Craft, have closed completely. What they all have in common is that they eye the future with apprehension.
Right now, everyone's wondering, if and when restaurants do reopen, will anyone show up? But on some level, we already know the answer: With social distancing still a part of our collective consciousness, and a cure for COVID-19 a distant dream, most people will not show up. "It doesn't matter if de Blasio says we can open," says Colicchio, who is sheltering in place on the North Fork. "Is he going to tell people they must come in and spend their money?"
And that's just patrons. What about the employees? Kim wonders, "How many of my workers will want to come back? For many of them, the $600 a week in unemployment is more than they could make with us."
Pretty much all restaurateurs are resigned to the fact that when restaurants do open, they'll do so under the weight of the 50 percent capacity rule that immediately preceded their closure. To some, that makes reopening a nonstarter. "Fifty percent capacity is just not feasible," says Neidich. "The dining business is based on getting as many people into a room as possible. There's no way around that."
For Neidich, and, truthfully, for most restaurateurs, even short- to mid-term viability rests on what accommodations might be made with the landlord. "If the property owners don't get a helping hand, which will allow them to give us a break, there's no way we will be able to continue," he told me. According to Kim, "There are going to be a lot of uncomfortable conversations with landlords." (As Dylan sang, "Dear landlord / Please heed these words that I speak / I know you've suffered much / But in this you are not so unique.") Perhaps the only shred of hope, absent any kind of governmental help, is that they realize both sides of the market equation have cratered. "It's not like there is a long line of restaurants ready and eager to move in if we fail," Kim points out.
During this purgatory, it's hard to know how to even separate tactical questions — rent, occupancy — from existential ones. When I spoke to Soto-Innes, she wondered whether her brand of hospitality can even function in a world now defined by distance: "To be able to work in a place you love so much and seeing it completely change, it changes you," she says.
On some level, hospitality requires love, yet love means contact, and there is danger in contact. "Social distancing is not a thing we do for a living," Soto-Innes says. "It's a completely different system." As it is, Cosme is scheduled to reopen for takeout and delivery on May 1. But, she says, "it's different now that someone can't hop in their car and drive in from Jersey." More saliently, "Who knows how many of those people who were coming in, or who could order delivery, have jobs anymore?"
As for Colicchio, he spends his mornings on phone calls with folks at the Independent Restaurant Coalition and Food Chain Workers Alliance, advocating for better governmental relief for restaurants. "The Paycheck Protection Program," he says, "just doesn't work for restaurants. It's a waste of time." For instance, he explains, "I've got money from the government in my bank account right now that is next to worthless." That's because the forgiveness of PPP loans is predicated on retaining employees on payroll, and that ship has long sailed for the vast majority of restaurateurs. What's worse is that loan forgiveness is pegged to two months from the date of origin of the loan, which means those loans will ripen for collection — June, for most — when most restaurateurs still won't have the income they need. "Now," Colicchio says, "if we change the date of origins to when I open, and I have, say, four months of protection once I open the doors, that makes sense." But, Colicchio points out, little about the governmental response thus far has made sense. "People don't know how bleak it really is," he concedes. "A lot of restaurants are not going to come back."
In some ways, as Colicchio sees it, the restaurant industry was already fatally injured but, like a wounded buffalo, nonetheless limping along. "The restaurant market in New York was oversaturated. It's been the case for a while," the chef says. Onerous labor laws and increased minimum wage, paired with the public's unwillingness to pay more, had formed an inexorable pincer, with restaurateurs caught in between. "People want us to buy better food from local sources and pay higher wages and pay more insurance," Colicchio continues, "All these things are great, but they have to come from somewhere. Do you have any idea how slim our profit margins are? The only thing I can do is raise prices, but I can't. That's the definition of stagflation."
A recent survey by the James Beard Foundation found that approximately one in five restaurants will come out the other side of the pandemic. Colicchio predicts "it's way more than that." But at least when they do open their doors, it will be into a world that recognizes what a dangerous game, and what a tenuous position, they're in — and perhaps that might be worth paying for. "Maybe," Colicchio says, "they'll realize just how fragile this industry actually is."
This post has been corrected; it originally misidentified one of the organizations with which Colicchio has been coordinating.