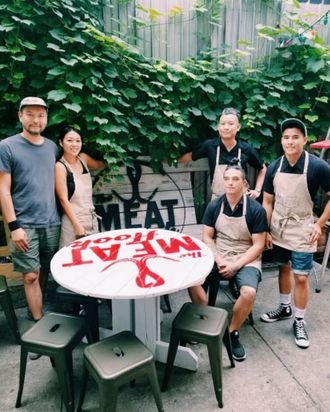 Quan Ngo, on the far right, at Di an Di.
Photo: dianddi.nyc/Instagram
Since mid-March, New York's unemployment system has been overwhelmed by the staggering amount of people filing for benefits. Across the country, a record 10 million people filed for unemployment in March, including 6.65 million in one week alone. Those people include the many who found themselves effectively laid-off after New York's restaurants were ordered to shut down, only allowing for takeout and delivery. (The industry reportedly employs 650,000 individuals in this state alone.)
It has not been an easy process for many people, especially those who have been unable to get through at all, despite weeks of trying. One such person is Quan Ngo, a sous chef at Greenpoint's popular Vietnamese restaurant Di an Di. He spoke with Grub Street about what the unemployment application process has been like and the mounting frustration he feels.
I filed my claim the day after the restaurant shut down. I thought it went through. The day after, they told me to call the number and finish the claim. When I called them that first time, they were busy or they couldn't pick up. That's when this started.
At first, I was like, "Okay, that's fine." I put it to rest for a couple days, and then afterwards I was a bit annoyed. I kept on calling, calling, calling. No response. I kept on seeing people like me were having the same trouble, and the number of people filing was only rising. A lot of people trying, the web servers getting more and more strained, nobody really being able to get in. Now it's been three weeks, and unfortunately I'm still going through it.
I laugh when you ask me how many times I've tried calling over the last few weeks. I called daily. I called right at 8 a.m and sometimes wouldn't even get through. Nothing. Not even a message like "Hey, we're busy, it's a voicemail." But I would actually say that going onto the website was the biggest pain in the ass. You would go in and you'd try to get to the section with the forms, and the servers are busy. There's no direction on where to go, and when I try to find this form and find where to sign up, there's no real way to because everyone is trying to use this same website.
Eventually, they set up different days for people to apply, designating certain days for people with specific names. So each day Monday through Wednesday is designated for certain letters. My day is Tuesday, "N" through "G." I had already filed my claim, but yesterday I filed again under Pandemic Unemployment Assistance, which is part of the CARES Act. I filed that and never got a response back. All I know is, I completed the form.
Yesterday, I think I called 75 times. I started right at 8 a.m. when they open. I thought it would be a little easier to get through. Still no. I just kept on having to call, and there was nothing.
Sometimes you get something, like a voicemail saying you should file online. But with lots of claims, you just get an email back saying you need to finish the claim by talking to a representative at a specific phone number, and it's the same phone number everyone gets — so you never actually get to a representative.
That's the thing that sucks about it. You're constantly calling, and you don't know anything. I don't think I've heard about anybody getting through. I know two people who've gotten their benefits: Di an Di's chef de cuisine and my brother.
I'm okay with my finances for the moment. I have savings, so that kind of helps. But I know people who, if this lasts a couple weeks and there's no response, will be kind of left in the dust, not knowing whether they can actually get help from the government or not.
The one thing that has been helping is, Di an Di has a fund for its employees. It's been doing a pretty good job in the short term, even just in terms of morale. We're able to pay people at least right now, which is something the government isn't really doing.
Realistically, I'll probably have to file again next week. I hope I can get it done, but it's getting to the point where I'm three weeks in and still doing this and honestly don't even know if I'll get the funds. I don't know if I got in at the wrong time or what. I feel like I'm never going to know when I'll get this finished. Even right now, I don't know if they got the forms, and I haven't gotten any response from them. It's still up in the air.
Then, when you get approved, when do you actually see the assistance? I don't know. I wish that there was some transparency. I know they are always backed up and that the system wasn't meant for this kind of volume. I can see why we're stuck with this worst-case scenario, but just tell me if I'm not going to get the funds this week, or tell me if I am.
Going through this for so long, there's a sense of hope that always gets crushed.