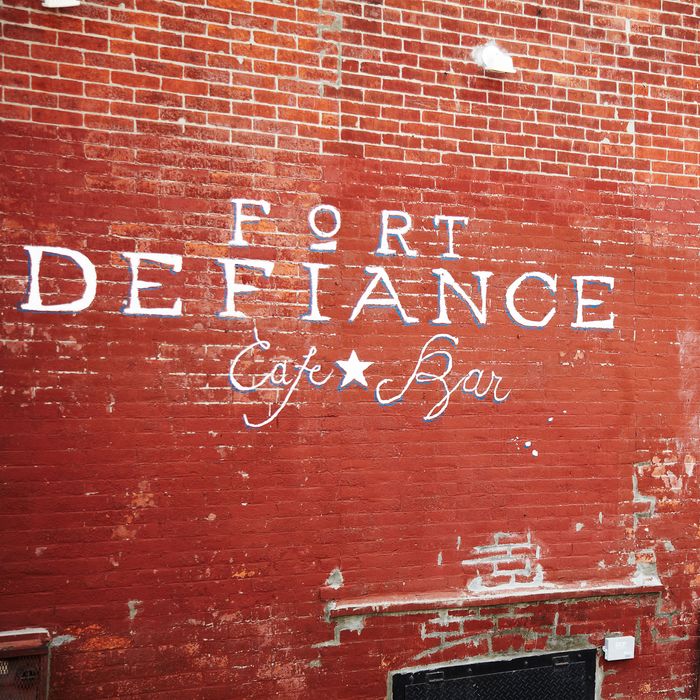 At Fort Defiance, in Red Hook, you can get a CSA box and bottled martinis to go.
Photo: Eric Isaac/Getty Images
Like most restaurants peppered throughout Crown Heights, Francisco Antón's tapas bar La Ñapa caters to its community's wants and desires. When it opened nearly a year ago, that meant offering puffy golden arepas and glistening grilled shrimp smothered in tamarind sauce.
But when lockdown became all but guaranteed in the pandemic-stricken city, and customers' collective anxieties spiked as hoarders began to strip grocery stores' refrigerated aisles of staples like eggs and milk, Antón and his family expanded their delivery and takeout options from fish tacos and burgers to paper bags full of riojas, chalk-white lima beans, and wedges of manchego.
"I watched a lot of stuff from China, I tried to see their lifestyle throughout the virus, and I saw they had these vegetable boxes similar to those in Latin America," he said. "I thought it would be convenient to offer vegetables, and give us some sort of reason to stick around and survive all this madness."
With coronavirus continuing to put an indefinite hold on dining out, restaurants across the city have attempted to scrape by for the last month with delivery and takeout menus. But in the throes of survival mode, awaiting bailout loans and pursuing additional cash to stanch further losses, restaurants and bars are also blurring the line between hospitality and retail, offering themselves as another source of produce and pantry staples to the city's new population of home cooks, many fearful of possibly contracting COVID-19 during their next elbow-to-elbow supermarket run.
St. John Frizell, the owner of Red Hook's communal haunt Fort Defiance, switched from food delivery to selling specialty groceries in a final attempt to keep his doors open. While offering bottled Manhattans and Negronis, plus family-style roast chicken meals and shorter delivery windows, each attempted adjustment in food delivery amid the shutdown seemed to cost him another $1,000. At the same time, COVID-19 infections ravaging the city made it questionable in Frizell's eyes to have more than one person working inside the building. After shutting down his restaurant's delivery and takeout operations entirely in late March, he reached out to his vendors that were still operating, like Lancaster Farm Fresh Cooperative in Lancaster, Pennsylvania, who had "farmers sitting on all this produce" that they were eager to offload to consumers.
With zero grocery experience, Frizell converted the restaurant into a makeshift warehouse, stuffing his walk-in fridges with Pat LaFrieda meat and Cabot mild cheddar. Through an online ordering system, he began offering contactless pickup on Van Brunt Street three times a week for CSA vegetable shares that cost $28 — a slight markup that Frizell says is "just enough to keep the lights on" — along with a rotating array of supplies befitting an acclaimed restaurant: frozen Scottish salmon from Pierless Fish, coffee beans from Counter Culture, and, of course, raw littleneck clams. So far, Frizell has prepared on average 90 orders per pickup date, a number he expects to grow as he continues to settle into this new industry. "We're kind of flying blind right now," he says, "but I know that I'm burning through whatever inventory I bring in, so I have to trust that it's better than nothing at all."
Meanwhile, Henry Rich and Halley Chambers are assuming the worst financial outcome possible — specifically, that none of the recently announced small-business loans they applied for would come through. So, they have begun to convert their zero-waste wine bar Rhodora into a neighborhood provisions store. Sales of natural wines and tinned seafood so far have brought in around $1,000 a day, while newly conceived weekly wine bottle clubs and CSA shares garner an additional $3,000 of weekly revenue. This week, they're adding Sey Coffee, cheese from Cato Corner Farm, and Soom tahini, among other pantry staples, to their shelves.
"We'll sell as long as it's not against our mission," Rich says. "We're not gonna be selling individually portioned cheese — we'll sell the big blocks of cheese. People can do as they wish." But, he noted, even if they do reach weekly sales of $15,000, which would enable them to cover fixed costs and fees including rent, utilities, labor, and caviar delivery throughout the shutdown, debt overhang still awaits them on the other side. "Our main goal is to not gather more debts in this period of shutdown," Rich says. "If the debt burden gets too large, there's no chance of reopening."
Others operators are simply using groceries as another source of revenue to supplement their takeout options. With Hill Country Barbecue Market in Manhattan currently averaging only 20 percent of its usual sales numbers, customers buying new offerings like whole limes with their brisket, or orders of six-packs plus toilet paper and raw potatoes, are "the equivalent of selling them an extra dessert or extra round of drinks," director of culinary operations Ash Fulk explains.
In Bushwick, Roberta's continues run deliveries for its Bee Sting pizzas and romaine salads, but co-owner Brandon Hoy says that with customers increasingly cooking to pass the time during the pandemic, it made sense to muscle in on Fresh Direct's turf by selling their spaccatelli and meatballs, too. Now, a storefront catches stroller-toting parents' eyes with dry pasta, mozzarella, and other ingredients made in-house. "When you don't have dine-in service," Hoy says, "you don't need 700 pounds of pasta."
Antón of La Ñapa similarly notes that what began as a possible supplement to his diminished food sales has increasingly revealed people's growing appetite for preparing recipes at home. Between April 3 and April 9, he says the store sold 1,400 pounds retail of vegetables, milk, eggs, cheese, grains, and pasta, and sales have increased 20 percent week by week since March 18. "You have no choice but to operate, Antón says, "and find out how you're gonna be able to fit into the need of the community at this moment."