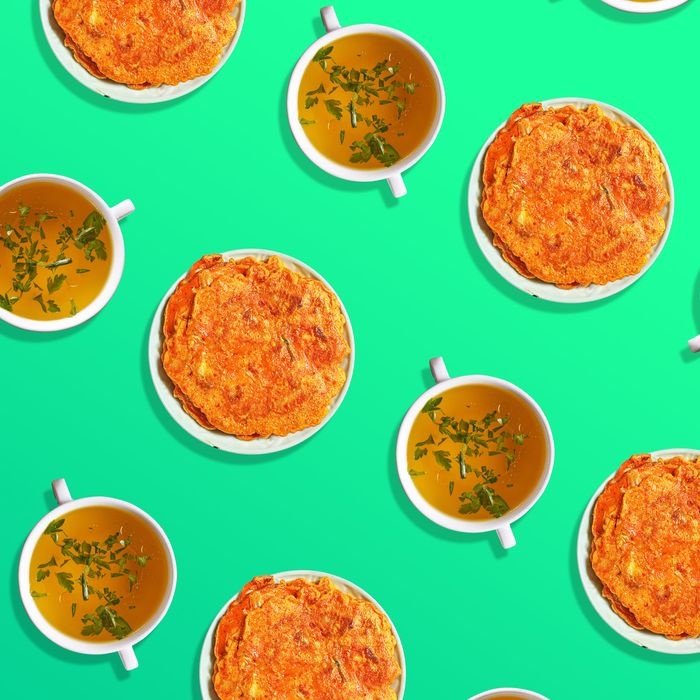 Photo-Illustration: Megan Paetzhold. Photos: Getty Images
Last week, New York and Grub Street asked some of our favorite past Grub Street Diet subjects to keep one-day diaries of what they eat while self-quarantining, which we'll be running over the next few days. Here, director, writer, and producer Lulu Wang walks us through her Monday, March 23.
The beginning of my day usually starts with a hot lemon water and I make myself coffee at home now. I just do a black coffee pour over. And then I have some apple with peanut butter and some chicken broth. I made my own chicken broth.
Normally, when I'm in the writer's room, when I'm working, I wouldn't have time to do all this, but now, since we're limiting shopping trips, and I also couldn't find any broths at the supermarket, I made my own chicken broth with a whole chicken and chicken feet, and then I froze a bunch of it. So yeah, I'll have a bit of that in the morning. It's a lot of liquids and then apples with peanut butter.
My brother, who's a chef, was at the last farmers' market like two weeks ago. We were both afraid that it would be difficult to get produce, so he also bought a bunch of apples for me. He's a sous-chef at Auburn on Melrose and they closed and laid everybody off. Right now, they just started a curbside-takeout situation, and they have a GoFundMe for the employees because everybody's out of work and nobody can pay rent. Luckily, my brother's young and he has no kids or anything, but a lot of the cooks and waiters and dishwashers have kids and families to feed, so it's really, really difficult.
For lunch I made a bunch of Korean kimchi pancakes that I also froze. I heated those up. They were good because I put a lot of kimchi in there and scallions so it's mostly about that. I did that with a bit of scrambled egg and that was my lunch.
I think that I was built for quarantine in the sense that, as a writer, I self-quarantine a lot anyway, so I'm used to being home alone and making all my own meals. I'm very aware of not wasting anything. I've had to go, Okay, that's right. I can ferment all of the greens into some kind of kimchi. I can pickle all my other vegetables, my carrots, and cauliflower. That's what I was doing for the last two days: just fermenting and pickling everything in the fridge that was ready to go bad.
I'm really appreciating things that my immigrant parents did when I was growing up, things that I didn't really understand, and things that I don't practice myself because as a young person who's working all the time, I was just like getting Sweetgreen or going out to dinner with friends.
I had a tamale from Broken Spanish as an afternoon snack before dinner! It was mushroom, kale, and cheese. Broken Spanish sells homemade tamales curbside every week, and they're easy to freeze so we filled out the order form and picked up a bunch. It's really important to support local business during this time.
For dinner, I had zha-jiang mian noodles with sauteed mustard greens and some of my pickled veggies. My brother made a bunch of zha-jiang sauce, which is ground pork with scallions and sweet-bean sauce and tofu curd. It's a pretty standard, like a Chinese bolognese, basically. He made a big batch of it and brought a bunch of it over and I froze a bunch of it and then I ate a bunch of it over noodles.
The thing I didn't figure out properly was dessert because I tend not to keep a lot of sugar in the house so that I can be healthier. Obviously, before self-isolation quarantine, with COVID, if I really was craving dessert I could just go out and get it. I'd usually drive to Somisomi and get soft serve. They have these amazing black sesame and ube flavors. They were surprisingly still open, but I did not want to take the risk and I really, really wanted dessert, so I took my cashew yogurt that I usually have for breakfast and I put some strawberry compote from Botanica on top and that was my dessert. Then I also put one of the Luxardo cherries that I usually use for my Manhattans on top. It was actually pretty good.
It's obviously pretty awful and really scary that Asian-Americans are being blamed for this virus and it's one of the things that my family is really concerned about. On top of the virus itself, they're really scared for me and my brother to go out in the world, particularly if we're alone because of the news of these attacks. It's pretty awful. It's hard to know what to say because, on some level, for the people who behave that way, the hate was always there. It's completely not rational, right? We know that the disease doesn't pick sides; it doesn't discriminate.
*A version of this article appears in the March 30, 2020, issue of New York Magazine. Subscribe Now!