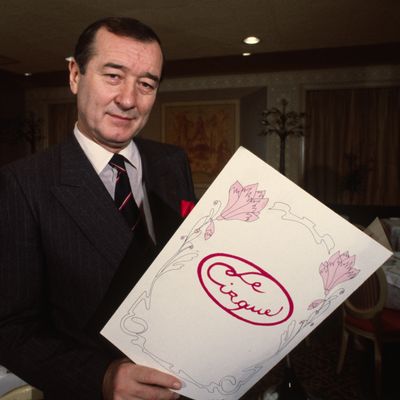 Photo: Santi Visalli/Getty Images
Restaurateur and titan of the gilded age of fine dining Sirio Maccioni has died, according to a report in Italian newspaper la Repubblica. He was 88.
Born in 1932 in Montecatini Terme, Italy, Maccioni got his start on the New York City restaurant scene working at Delmonico's before becoming the maître d' at cafe society icon The Colony, where he welcomed guests like Dick Cavett, Frank Sinatra, and Grace Kelly.
But Maccioni is best remembered for opening his restaurant Le Cirque in March 1974, which, as Helen Rosner wrote in The New Yorker, was "one of those restaurants where titans of industry and well-preserved A-listers triple-kiss the dapper European stationed at the lectern." During its 43-year run, including two moves and a temporary renaming as Le Cirque 2000, the restaurant employed the likes of Daniel Boulud, Andrew Carmellini, Jacques Torres, and other chefs that would go on to great acclaim.
The restaurant's reputation for snobbery eventually caught up with the Maccioni family, however, and most famously in a review from former New York Times critic Ruth Reichl, who dined at the restaurant as both a "commoner" and a powerful restaurant critic and experienced two very different meals. Reichl ultimately downgraded the restaurant from four to three stars for service that was "sometimes extraordinarily professional, caring, sophisticated; at others, brusque to the point of rudeness."
In the years leading up to its 2017 closure, the restaurant would face bankruptcy filings, class-action and sexual-harassment lawsuits, and more negative reviews, including a one-star treatment from critic Pete Wells. Still, the Maccioni family wielded the restaurant's fame to great effect, using their name and prestige to open doors and new locations in Las Vegas, New Delhi, Mumbai, and Abu Dhabi, and in 2014, Sirio Maccioni received a Lifetime Achievement Award from the James Beard Foundation.
And the Maccioni family seems to believe that the legacy established by their patriarch has staying power. They're planning a fourth run of Le Cirque in New York for late 2020, even as similarly exclusive and storied restaurants like The Four Seasons and Gotham Bar & Grill close their doors.