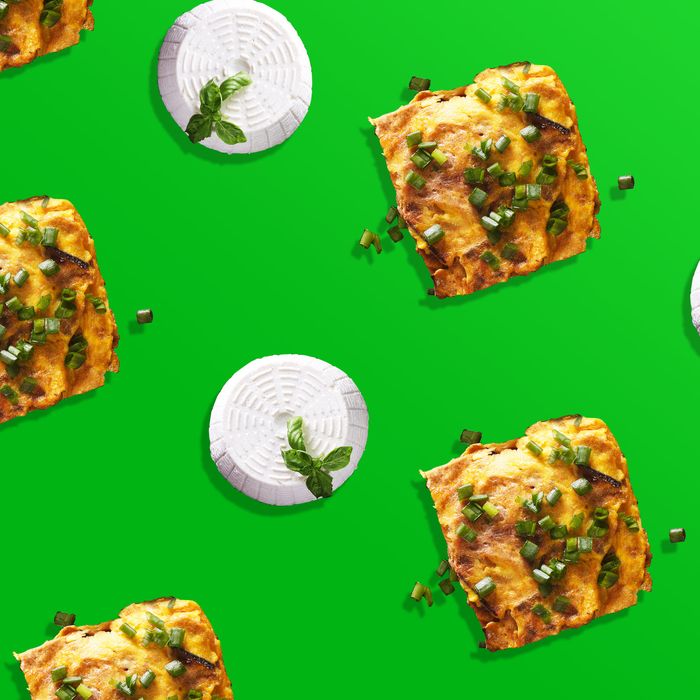 Photo-Illustration: Megan Paetzhold. Photos: Getty Images
Last week, New York and Grub Street asked some of our favorite past Grub Street Diet subjects to keep one-day diaries of what they eat while self-quarantining, which we'll be running over the next few days. Here, author, political activist, and food-world authority Julia Turshen walks us through her Monday, March 23.
I was awake from like 4 a.m. until 6 a.m. with anxiety spirals (anyone else??), but I managed to go back to sleep, and we didn't get out of bed until about 9. My wife Grace and I have ditched setting alarms in the morning in the name of getting as much sleep as we possibly can. Our two dogs have been sleeping in, too, for which I am very grateful. I have been doing this quick stretching routine on our bathroom rug in the morning. It's mostly me, in child's pose praying that the world gets better soon. So I did that. I went downstairs and brought our dogs into the backyard. One of our dogs, Winky, is recovering from two knee surgeries she had earlier in the year, so she has to be on a short leash. We were all confused because it was snowing and last week it was 70 degrees. Nothing makes sense, but I tried to appreciate how beautiful the snow was. We came back inside, I give the dogs their pills, and then Grace came downstairs. She fed them their breakfast and I made myself coffee. I have been using a metal coffee cone (like this one) for a while now. I made a single, strong cup and made a little extra to have in the afternoon. I am always thinking of future me and what she might want to eat or drink.
I had my coffee with a little half-and-half in a mug that has pictures of me and Winky on it, a holiday gift from my wife (and, yes, we also each drive a Subaru and moved in with each other after our first date … in fact, we are basically still on it … which is all to say, we agree with this article). I also drank a big glass of warm water with a splash of apple cider vinegar in it because it felt like a healthy-but-not-overwhelming thing to do. I took my daily dose of Vitamin D, and ate a small piece of coffee crumb cake that I made a few weeks ago and froze, which at this point feels like five years ago.
The crumb cake will be a recipe in a new cookbook I'm working on, and was inspired by the one our friend Georgine used to make all of the time. She was our friend that we met through volunteering and she passed away a year and a half ago at the age of 90. She used to tell us that "baking is my Valium." She was the first person I ever interviewed on my podcast and I decided to relisten to it this morning. It's surreal but wonderful to get to hear her voice.
I did that while answering cooking questions via DM on Instagram. Turnips seem to really throw people. Cut them into wedges, coat with olive oil and salt, and roast at 425 degrees F until they're browned. Or steam them and then mix with equal parts butter and miso. Or quick pickle them using a simple brine like this.
After some emails, a quick work call, and FaceTiming with my brother and niece in Ohio, I threw a bunch of leftovers into a skillet and called it lunch. There were some roasted root vegetables, a little blanched spinach, and tiny bits of shredded beef and black-eyed peas I stewed together the other day with some hot peppers. I put it all in a bowl and topped it with some arugula pesto. The vegetables and pesto were from two nearby farms, Long Season Farm and Tributary Farm. I generally feel very fortunate to live near great farms and to be able to buy directly from them, but lately I'm just extra, extra thankful. They're taking serious precautions and making it possible for our community to safely get a lot of fresh stuff these days.
Grace and I have both worked from home for years, so the whole at-home-together-all-day thing is nothing new to us. But lately I've been having a lot of trouble focusing on my work projects. I decided to set one attainable goal for the day, and so from 1 p.m. until 2 p.m., I set a timer for 20 minutes and turned on the "Instrumental Chill" Pandora station, which is what I do when I need to help myself concentrate. Each time the timer went off, I paused and pet our dogs. Then I went back to work. It helps me get a solid hour of focused work in. I'm a big proponent of working smarter, not longer.
Mostly I just consider myself the most productive procrastinator I know. I am always doing something, it's just rarely the thing I most need to be doing. While I worked, I had a tiny bowl of granola with some whole milk, and I threw in a few chocolate chips. It tasted like I crumbled a chocolate chip cookie into the bottom of a glass of whole milk. It was perfect.
At 2 p.m., I threw that little bit of extra coffee over ice, filled the rest of the glass with chocolate oat milk, and got on Instagram Live with my friend Thérèse Nelson. We talked about calling older people we know and asking them their favorite things to eat when they were young, plus we discussed a bit more about collecting family recipes for family cookbooks. It was so nice to feel connected even during all of this isolation.
After "class" Grace and I made the dough for a batch of this easy, homey, wonderful bread, and while it rested, I realized I didn't eat enough for lunch. So I made a single portion of matzoh brei for myself, which is one of my top-five comfort foods. To make it, I crumble a big matzoh cracker into small pieces and put them in a sieve and rinse them with hot tap water to soften them. Then I crack an egg in a bowl, mix it with a fork, add the softened matzoh and cook it all in some sizzling butter in a small skillet. I sprinkle brown sugar around the edges so it melts and cook the whole thing, stirring, until some bits are crisp and others are still a little soft.
I slid it onto a plate, sprinkled it with flaky salt, and just as I sat down to eat it, one of my best friends FaceTimed me to discuss how to line a loaf pan with parchment paper since she was making banana bread. I put Hope, our other dog, on the screen so my friend's adorable toddler could see her. Everything with coronavirus has been so scary, but I've never been this in touch with my family and friends, and that's been really nice.
After my snack and a little bit more work, I put on a sports bra which, IMO, is the hardest part of exercising. Then I cued up today's video from my friend Tanya. She runs 30 Minutes of Everything, which I have been attending regularly for years now. Last week she quickly pivoted her business to video. While I miss my usual classmates, I'm grateful to be able to keep moving throughout all of this. I've also been getting very creative with the movements — I've used a Dutch oven as kettlebell; I've picked up our dogs for squats. Just making it work. While I did that, Grace baked the bread dough in buttered bowls. The house smelled so good.
I took a quick shower and then set out to make a version of my Turkey + Ricotta Meatballs from my book Small Victories. I didn't have all the ingredients on hand, but I improvised. I made ricotta using some whole milk and vinegar. I wouldn't advise anyone under normal circumstances to make their own ricotta for these. Why bother? But seeing we didn't have any and I've got … time … I made some. I saved the whey to do something with the next day. Not sure what quite yet, probably just a smoothie or maybe I'll make some cornbread with it.
Anyway, I mixed the ricotta with ground turkey I had taken out of our freezer in the morning, plus more of that arugula pesto instead of the fresh herbs, garlic, and grated Parmesan (it was super-easy and did the trick). While I rolled out the meatballs, I FaceTimed my parents. "Our daughter, the cheese-maker!" my mom yelled to my dad.
I roasted the meatballs and we ate them with a big green salad and thick slices of our homemade bread. I poured myself a small glass of red wine and settled in on the couch to catch up on Modern Family with Grace. I grabbed one of our last mini Häagen-Dazs ice-cream bars from our freezer. A few minutes later Grace had one, too. She pretty much only eats the chocolate from the outside and gives me the vanilla ice cream that's left. Hope and I split it.
In the four corners of our home, we are safe and warm and okay, and for that I am so grateful.
*A version of this article appears in the March 30, 2020, issue of New York Magazine. Subscribe Now!