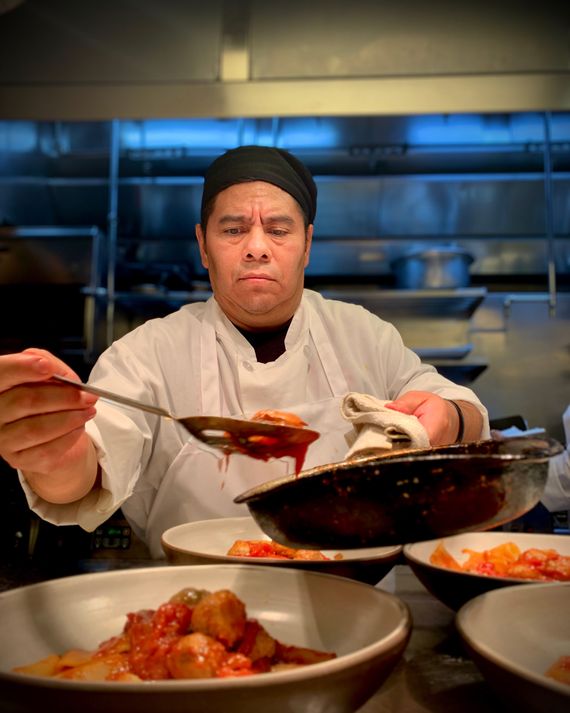 Jesus Roman Melendez cooking at Nougatine, where he worked for 20 years.
Photo: BETOX004
The chef Jean-Georges Vongerichten is the obvious face of the restaurant Jean-Georges and its more casual café offshoot, Nougatine. Vongerichten is the person on TV, on cookbook covers. He's the person who is prominently featured when one of his restaurants lands a glowing review. But when a customer orders a dish like Nougatine's tuna tartare, it is not Vongerichten who has butchered the seafood, or thoughtfully arranged the delicately cubed fish, or carefully sliced the tiled radish garnish. Instead, those jobs were almost certainly performed by a cook like Jesus Roman Melendez, someone whose name you wouldn't know unless you worked in the hospitality industry or knew someone who did. But it was Melendez, those who knew him say, who served as a backbone of one of New York City's most acclaimed restaurants.
Melendez worked at Nougatine for 20 years. He arrived in New York from his native Mexico City in 1994 and went to work at Vongerichten's restaurant about six years later. He worked at Nougatine until it shut down owing to the coronavirus pandemic. On March 20, he started coughing. On March 25, his family tried to check him in to Queens General, but he was sent home. After that, his condition worsened. "He couldn't talk, he couldn't breathe, he couldn't eat, he couldn't walk," says Melendez's daughter, Yustin. On March 27, Melendez was admitted to Queens General. (His wife, Miriam Reyes, had also contracted the coronavirus and was hospitalized.) Four days later, Yustin got the news she dreaded. "I got the call at seven in the morning from his doctor saying he had passed away because his heart stopped," she says. He was 49.
When Yustin set up a GoFundMe to help pay for her dad's funeral, she says she didn't expect to raise the $5,500 she had been quoted by funeral homes. "I didn't have that money, I didn't know what else to do, and my mom was in the hospital. I didn't think we were going to reach the goal, to be honest," she says. Within a few hours, donations came pouring in not just from friends and family but his former co-workers. She has raised nearly $20,000. "They were just saying these kind words, how much they loved working with him, he was an inspiration, how good of a guy he was."
"When I heard about Jesus's death, I thought about all the other people who I have worked with. There are a thousand of those guys who are just the nameless, faceless workhorses who don't get the love they deserve," says Dean Sheremet, who worked with Melendez for two years and is now head of food and beverage for the Edition Hotels.
Fine-dining kitchens are known as brutal, sometimes vicious work environments. The back of the house at Jean-Georges is no exception, yet when asked about Melendez, his former co-workers shower him with compliments. They call him "very unfuck-with-able," "a machine," "a rock star," "a beast in the kitchen," someone who was always there to offer "a lot of encouragement" or step in when other cooks got overwhelmed.
"If Jean-Georges wasn't at Jean-Georges, things just went on as normal," says Matt Crowley, a chef who worked there as a line cook from 2011 to 2012. (He's also my brother.) But, Crowley says, if Melendez wasn't in the kitchen, "it very severely impacted the restaurant functioning for the morning, which goes in hand with this whole thing, that it's laborers who create and sustain" these high-grade, high-priced establishments.
"He deserves to be put on a pedestal," says Amelia Rampe, a food editor who worked at Nougatine in 2014 and 2015. "I don't know a cook who went through JG who doesn't have affection for this guy. Jean-Georges doesn't run without Jesus and the rest of those guys," she says. (It's worth noting here, of course, that Jean-Georges and Nougatine are in the Trump International Hotel and Tower. Working there took on a different tenor after the election of Donald Trump, whose administration has been hostile to immigrants, particularly from countries like Mexico.)
Before getting a place on the line at Jean-Georges, cooks started at Nougatine, which means they started with Melendez, who helped train them. He was one of a few Latin cooks and butchers who, co-workers say, looked after younger cooks. "He taught a lot of people how to do their job," says Jose Felix Hernández, an expeditor who worked with Melendez for 13 years. "He knew everything from every single dish. When the chef was not there in the morning, cooks would go to them and ask him if the food tastes good, if it is missing something."
As his co-workers tell it, Melendez was also there to mediate situations between line cooks and sous-chefs when temperatures were rising and helped communicate for co-workers who only spoke Spanish. (The last time Hernández saw Melendez, he says he was helping a dishwasher explain to the chef that he was sick.)
"I think everyone has pretty much the same story about him because he was so consistent in the way he treated people," says Olivia Razzano Pucciariello, who is now a sous-chef at Vongerichten's ABC Kitchen. "These are all the things everybody said about him while he was still here."
Everyone who knew him also talked, of course, about his talent as a cook. "He was a master at making the best French toast in New York City," says a former food runner who asked to remain anonymous.
When Pucciariello got promoted to the upstairs kitchen, cooking for the Jean-Georges dining room, Melendez still looked after her. "If he saw me do something and he thought there was a better way, he jumped right in and showed me the best way to do it," she says. "This happened a couple times. And no doubt it was the best way every time."
As the former food runner puts it, "many line cooks that learned from him are now in the biggest kitchens all over, and he was a mentor to many — not just cooks but front-of-the-house people, too."
"He was an animal in the kitchen, and he had such a great heart for food and family and people and culture and welcoming people in," says James Martin, a Chicago-based chef who remained friends with Melendez after working with him in 2009 and 2010. "It is such a serious restaurant — he really made the light shine in that place."