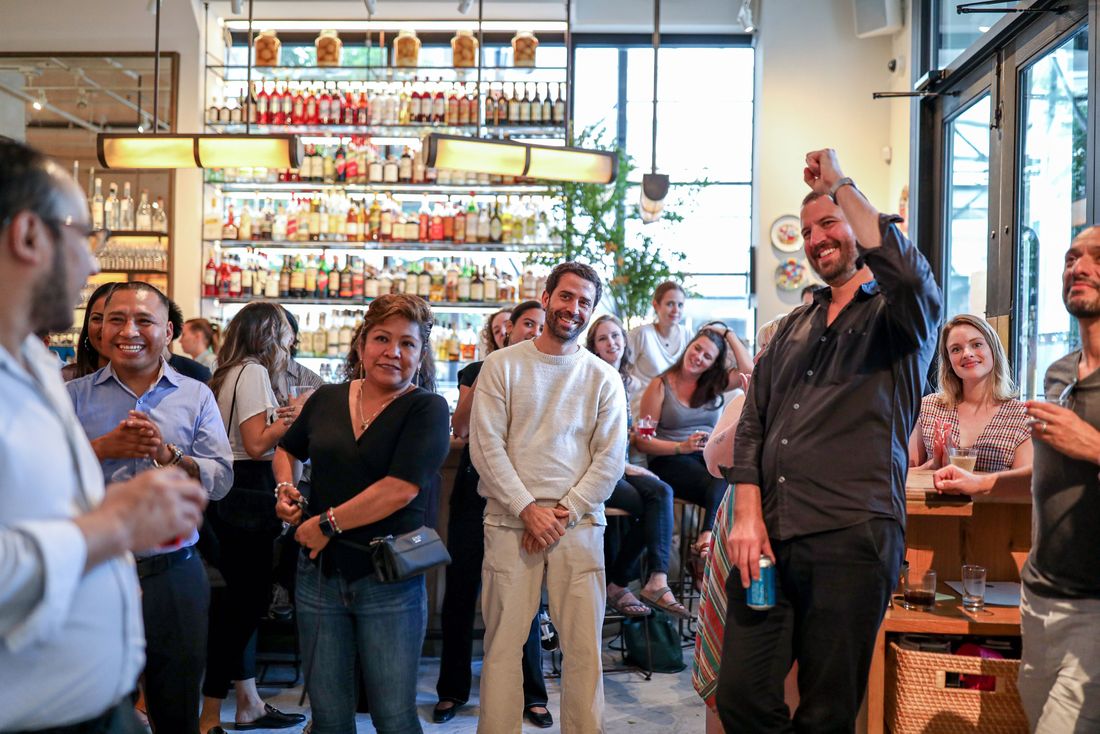 Mattos, center, at a staff party in August at Café Altro Paradiso.
Photo: Courtesy of Ignacio Mattos
We're committed to keeping our readers informed. 
We've removed our paywall from essential coronavirus news stories. Become a subscriber to support our journalists. Subscribe now.
This article was featured in One Great Story, New York's reading recommendation newsletter. Sign up here to get it nightly.
On Friday, March 13, as the coronavirus bore down on New York City, there was no reason to expect Estela would be busy. For the past week and a half, Ignacio Mattos's celebrated restaurant on East Houston Street had been eerily slow with diners increasingly worried about sitting near each other in enclosed spaces. Earlier that day, something jarring had happened: A series of iconic, successful New York restaurants had closed. Eric Ripert had shut Le Bernardin, his three-Michelin-star seafood temple, and furloughed his 180 employees; Danny Meyer's Union Square Hospitality Group had closed its 19 restaurants and laid off 2,000 employees. The previous day, the city had mandated that all restaurants cut capacity by 50 percent. At Estela, this meant its usual 13 seats at the bar were reduced to six and its 42 dining room seats to 21.
But there Estela was, humming with frenetic energy. Before the evening was out, the restaurant would serve 112 people. To fit them into half the space, managers rearranged reservations and asked customers for flexibility in giving up their tables for other diners when needed. Beautiful plates of cured fluke with uni, burrata with salsa verde and charred bread, and fried arroz negro with squid and romesco came out of the kitchen. Guests were understanding if they had to walk around the block or have a drink at the bar downstairs before their seats were ready, and the restaurant did what it could to keep the tables turning smoothly. "We'd splash them a little after-dinner drink and move them to the bar," Mattos later said.
There was an end-times fizz in the air, as if diners were seeking out one last hurrah before retreating into masked isolation. "People were like, 'I'm going to get out of the house, have an amazing meal, be around people I like, and have a good time. God only knows what's going to happen tomorrow,' " said Estela server James Hardeman, who was on the floor that night. "It was mind-boggling how much people were drinking. A table of four I had, industry people, had several rounds of cocktails and several bottles of wine. At one point, I was like, How are they still okay? They said, 'We've had an incredibly stressful week. There needs to be some wild abandon.' "
A few bottles in, it was possible to imagine, for a moment, anyway, that things were back to normal. "Honestly, it felt like another night in New York City," Alex Sandoval, a junior sous-chef who was working that night, said. Mattos, who had created this small gem of cooking and gathering and making merry, had missed that Friday at Estela — he was home sick. "I wasn't feeling good … I worried I had symptoms." It would be the last full-throated night, perhaps ever, at the restaurant that had defined his career.
Two nights later, Mattos made the excruciating decision to send an email informing his staff of 200 that he was closing all three of his restaurants. Hours after that, Mattos learned his agonizing had been moot: The city had just ordered all restaurants and bars to shutter. He would soon be faced with the question of what would happen to all of those who depended on him for a paycheck and, beyond that, to the skein of farms and fishermen and suppliers and customers and investors and other chefs — to everyone who made up his community, so much of what made his beloved adopted city itself.
When Mattos and his then-partner, Thomas Carter, a former sommelier at Blue Hill at Stone Barns, opened Estela in 2013, it was an instant success, a place where other chefs loved to eat. Set in a narrow, charming room in Nolita, it was refined but unfussy, as much wine bar as restaurant.
Other than a distinct lack of discernible Latin American influence — despite Mattos's upbringing in Uruguay and his long apprenticeship under Argentine grilling icon Francis Mallmann — the food was Mattos's life on a plate. There was the ingredient-driven approach of the influential Bay Area kitchens he'd spent years in at Chez Panisse and Zuni Café; a Mediterranean focus and simplicity (his Italian-immigrant grandmother had been the dominant cook in his home); and a humbleness drawn from his childhood, parts of which had been spent on his grandfather's farm outside Montevideo.
The farm was a place where, if you wanted milk, you milked the cow yourself. Summers meant making fruit preserves, wine, tomato sauce, and marmalade "nonstop," Mattos said. "I have a bittersweet taste with it, 'cause I kind of wanted to play and I had to work." When a pig was slaughtered, Mattos, after hearing the animal die, would have to stir the blood while it was hot to keep it from coagulating. When a cow was pregnant, he'd have to do rectal palpation, sticking his hand deep into the animal to see how far along it was in its gestation. "It's not cool; there's nothing chill about it. And when your arms are short," he said, trailing off. His grandfather always had tasks to be done and was always "collecting data" about whether Mattos was doing them.
"When you see anyone doing a laborious task," Mattos's friend Laila Gohar, an artist, said of him, "the more laborious and hands-on it is, the more likely he is to jump in."
"It's a part of me I really dislike," Mattos said. "My mother would make me go and pick stones from a field if I had nothing to do. She said, 'You go pick stones. I want to see how many piles you have.' How ridiculous. I'm talking hectares. She'd go over and make sure I have the piles."
For a time, Mattos had wanted to go to art school, and his platings showed an eye for composition with a pristine geometry and a fondness for circles. There was a daring aspect to his cooking, though he'd dialed back the punk-rock shock instincts that had led him, when he was chef at the avant-garde Isa in Williamsburg, to serve a fried sardine skeleton. And there was also Mattos's own enigmatic contribution, the way he could combine common ingredients into something thought-provoking, pairings that on the face of it wouldn't work but in fact were delicious and surprising, as well as his strategy of physically layering the elements of a dish so that a simple–looking surface veiled some hidden ingredient.
In his Estela cookbook, he likens the effect to "finding a twenty-dollar bill in your shirt pocket." He became known for dishes like his steak tartare (actually bison), which was flecked with pickled elderberries and chips of crispy sunchoke, and his endive salad, with its whorl of citrusy chicory spears giving way to an understory of walnuts, croutons, and Ubriaco Rosso cheese, with which guests were encouraged to fill the leaves, taco style.
Operating an independent restaurant in New York City is a bit like picking stones: It rewards compulsion and obstinance, and it is a punishing activity in the best of circumstances. Profitability depends on a small set of variables within a restaurant's control, including the cost of food and wine, labor, and rent. Minimum wage has nearly doubled in the past few years, which means the labor costs for front-of-the-house employees have doubled. And rents have kept rising. Four years ago, David Chang, one of the most successful restaurateurs in America, wrote of a looming "restaurant apocalypse": Noting that most restaurants don't make it to their first birthday, he complained that diners weren't willing to pay what restaurants should realistically charge and that "it's legitimately one of the dumbest businesses you could possibly get into."
"It takes very little for everything to crumble," Mattos said. "The margins are very thin. The space for error is tiny."
By way of example, one couple who ate at Estela the night before it closed spent $151.34, not including tip. Perhaps they marveled at spending $20 for an appetizer composed mostly of burrata, or an $18 endive salad, but the restaurant's rough costs for that meal were: $21 for food, $16 for wine and a cocktail, $49 for labor (from servers and sommeliers to cooks and dishwashers to salaried employees), $11 for rent, $14 for maintenance and operations (everything from HVAC maintenance to nightly cleaning teams to government-regulated maintenance of ducting and filtration systems), $17 for a miscellany of guest-facing expenses (from reservations and POS systems to flowers to upkeep and replacement of furniture, flatware, linens, and the like), and $12.34 for sales tax. If the restaurant was able to hold down all its costs to those numbers, it and its investors were left with $7, a
5 percent profit.
Yet despite its tiny size and location a flight up from the street on a forgettable stretch of East Houston, Estela made money. Mattos and Carter had thrown the décor together on the cheap, the off-center address made the rent slightly more affordable, the restaurant had industry buzz, and it gained wider renown when the Obamas ate there in 2014. Later, Estela would be named one of the 50 best restaurants in the world, and a few months ago it earned Mattos his first Michelin star. It was "a unicorn," he said.
Even as Mattos expanded his empire, opening Café Altro Paradiso in Soho and, on the ground floor of the Met Breuer, seafood-focused Flora Bar, his company, Matter House, remained a small operation. Mattos bought out Carter in 2018, after Carter was accused of harassment by several employees. Nor was it as profitable as outsiders might assume. Altro had gotten off to a rocky start — with a too-expensive build-out, neighborhood construction just as the restaurant was launching, and poor early reviews from critics, who were disappointed to discover comforting Italian food instead of Estela's bold juxtapositions.
More than four years after its opening, Mattos said, Altro had found its groove, but he still hadn't received a penny from its operations. Flora Bar, which this magazine declared the best restaurant on the Upper East Side, had to contend with being located underneath a museum that closed just as dinner service was getting under way. The size of Matter House left it without the buying power or economies of scale that larger restaurant groups enjoyed. And Mattos didn't charge as much as he might have. "That's what New York at its core is meant to be," he said. "You have to have room for places where young, creative people can go. That kind of shit really bugs me. I feel a sense of duty to make this place accessible."
In January and February, Mattos and his team had been watching what was going on in China and Italy and understood it was something that inevitably would happen in New York, too. Matter House placed mass orders for hand sanitizer and antibacterial wipes, and by the end of the first week of March, the restaurants had instituted new precautions. The kitchens at Estela and the company's two other restaurants switched out the metal spoons they used to taste food for compostable, single-use wooden ones. The regular wipedowns soon included door handles after any customer used one, employee lockers, tablets, pens, menu covers, and tables after any changeover.
Mattos's restaurants were particularly suited to the new regime. Well-run restaurants can be among the cleanest spaces anywhere, but even before the crisis Mattos was extreme in his attention to kitchen hygiene. He was famous among his staff for having an eye that detected dust and dirt invisible to everyone else. "I see things I wish I couldn't see," Mattos said. The refrigerator would get pulled away from the wall every night; the ice machine would get broken down every night. "Once, two years ago, I told him I wash my hands 40 times a day," Jeremiah Cymerman, an Altro server, said. "He just lit up. He said, 'This is why we're brothers.' After that, every time we'd encounter each other at the washing sink, we'd smile."
It was still possible in early March to hope that the spread of the virus and its attendant economic damage could be controlled by these kinds of measures, that this crisis would be only as bad as Hurricane Sandy in 2012, when some restaurants in vulnerable areas were quiet for a few days and shut down briefly. Even 9/11 had had only limited repercussions for the industry. It was tempting, at first, to ascribe the slowdown in business to the stock market's recent lackluster performance, rather than to the creeping pandemic.
Then, on Monday, March 9, Danny Meyer temporarily closed the Modern at MoMA after learning that Rick Cotton, the executive director of the Port Authority, who had just eaten there, had tested positive for COVID-19. It turned out Cotton's infection likely occurred after he'd eaten at the restaurant, and it would reopen on Tuesday the 10th, having undergone a deep clean. But the episode got the industry's attention.
As the week progressed, Mattos put more and more precautionary measures in place. Kitchen staff who already washed their hands frequently now did so every 15 minutes and later started wearing gloves. "It was getting clinical," said Sandoval, the Estela cook. "I'm a little ashamed until this coronavirus happened," Mattos said, smiling over FaceTime, of his obsession with handwashing and cleanliness. "Then I'm like, 'I'm ahead of it, I know how to do this, let me tell you how,' and not looking like a freak."
Mattos's restaurants eighty-sixed many of the small rituals of restaurant going: Employees no longer folded the napkin of a customer who stood up to go the restroom; coat checks were eliminated. Even the formatting of certain dishes was changed. Normally, at Estela, the mussels escabeche was served on toast cut into four bites; now the mussels were put in a bowl with a spoon, and the toast on a side plate, so you could serve yourself without putting your hand into a communal bowl.
"Pandemic hospitality" is an oxymoron. Now guests were invaders, people from the outside coming into the staff's spaces. In meetings with managers, employees gamed out scenarios: If we see someone with symptoms of not feeling well, how do we approach the situation? (Tell your manager.)
By Thursday, business was down 30 percent at all three restaurants. The same day, Mattos got a call from the Met: The museum, like many of the city's other major cultural institutions, would be closing. Flora would remain open, but with the museum closed, it got close to no walk-in traffic. At Altro that Friday, traffic was down 50 percent. Estela, it turned out, was an anomaly.
On Saturday, management was still feeling out the staff: Who was comfortable working, who wasn't? But by Sunday, the health concerns were inescapable. Mattos waited until dinner service was over that night and then, at 10:25 p.m., hit send on the email to his staff of 200. In both English and Spanish, he told them the news. "We are acutely aware of how much this will affect each of you … Thank you all for your hard work. Thank you for making these restaurants so special. Thank you for making them magical. Thank you for everything."
"Everyone in the restaurant got this look on their face," Sandoval said, "like, What do we do now?" Back and front of the house came together. Some people cried. "When everyone realized their livelihood was gone and there was zero answer for that, that was the hardest moment of the night. It's hard to watch your peers be in pain."
Mattos lives alone in a Spartan apartment with brick walls and wood beams. He prefers tea — "with a lot of honey" — to alcohol. He likes to cook for other people but not particularly for himself. When he does, the food tends to be simple, like jarred tuna with beans and avocado or soup. "I could eat soup every day," he said.
One morning in late March, he told me he'd slept four hours the night before, staying up to watch a pandemic documentary and to read Hannah Arendt's Eichmann in Jerusalem: A Report on the Banality of Evil. When I asked his friend Laila Gohar whether she thought social isolation was hard for him, she said, "I don't think he's lonely at all. He's very solitary, and he's always with his thoughts."
"There's a story from Chez Panisse that if they're interviewing a potential cook, during the interview, they start shucking fava beans, and if the interviewee doesn't start shucking favas too, they don't get the job," Cymerman, the Altro server, said. "I feel like I understand Ignacio better through that story. He's always trying to understand the world around him in ways that aren't so literal. He's looking for clues that will help him understand things."
Mattos is not entirely at one with the English language, and "for years I thought it was a translation thing," a staffer said. "But when he speaks Spanish, it's as mysterious and esoteric as in English." Punctuating an idea, "I've heard him say, a gazillion times, 'It's like, I don't know, you know?' "
"Words kind of fail him," Gohar echoed. "Food is the way he communicates with us." She connected the elusive quality of his speech to the way he likes to hide ingredients on the plate. "He wants you to discover what he's trying to say."
Mattos is well aware of this quality in himself. On Instagram recently, he captioned a photograph of a composed plate from Estela — a still life of duck breast alongside beets, greens, and a piece of blue cheese — with a quote from Ludwig Wittgenstein's Tractatus Logico-Philosophicus: "What can be shown cannot be said."
"I have a grandmother, she never told she love me, so I give up a long time ago. It's not that important to actually say things. I think actions are more meaningful. As important as language is, when you show kindness and goodwill and good intentions — you make mistakes, but you're trying your best — it shows."
The morning after Altro closed, Mattos was back in the kitchen. A rump staff was working reduced hours to wind down the business, help the employees who'd just been furloughed, and figure out what was next. Some managers focused on getting information to those employees about how to file for unemployment, delegating to a handful of bilingual ex-staffers the job of communicating with the Spanish-speaking-only workers.
The following day, Mattos started a GoFundMe for his former employees, which quickly raised more than $85,000. The company also set up an email address for staff to send anonymous tips about colleagues who were in need but weren't likely to say so, like a server assistant whose girlfriend had just had a baby.
Along with Sam Lawrence, his culinary director, and Zack Zeidman, the chef at Altro, Mattos had to focus on what to do with all of the restaurants' food. Mattos's cooking relied heavily on fresh produce and other perishable items, and there was a sizable inventory that wouldn't last. Days before he made the decision to close, Mattos had been anticipating worst-case scenarios. His chefs had started to sketch takeout and delivery menus, while his managers had begun the process of setting up Caviar delivery, with the idea of either augmenting dwindling revenues or replacing them. In the most optimistic scenario, Mattos thought that if he could keep the kitchens going in all three restaurants, he might be able to continue to employ as many as 50 people.
But it quickly became clear that, with the Met Breuer closed, preparing takeout from Flora Bar would be difficult. At the same time, Mattos was struggling with the public-health ramifications of delivery. Was it the right thing to do? Was there a safe and sustainable way to do it? He decided to put off the decision. Instead, he and his chefs cooked for their staff.
The three chefs made several Uber trips to Estela and Flora to retrieve food and bring it to Altro. Before the shutdown, Mattos still constantly tasted the food his chefs made and oversaw the development of new recipes, but he rarely cooked himself. Now, for the first time in years, he got behind the stove of one of his restaurants. For three days, he cooked alongside the two other chefs, not for a demo but for themselves and their larger restaurant family. "It felt really good to cook," Mattos said.
"We were all pretty emotionally broken at that point, even if we didn't realize that," said Lawrence. "We started cooking, then realized it was bringing us a lot of comfort. I think Ig needed it. I did too."
David Landgraf, Matter House's director of operations, recalls watching "beautiful pork chops and 16-ounce steaks and duck" — normally featured menu items — cooked down into ragùs to preserve them for staff. The chefs were making meals that could feed families: squid-ink black-rice soup, braised vegetables, a root-vegetable purée, a bean purée, lamb ribs, salads of herb and bulgur and beet and fennel, chicken salad. They put the food in bags along with ricotta and burrata and crème fraîche, bread, condiments, chocolate and walnut torta, citrus fruit. It was a combination of food people could eat over the next few days and food they could freeze to eat later. "We did 120 bags of food the first day," Mattos said. "When you think that God's Love We Deliver provides 8,000 meals a day, you know what? Respect."
They mapped out routes to the three areas of the city where most of the staff lived. A manager with a truck made 17 stops north of the city. Someone went to South Brooklyn, someone else to apartments in Bushwick. The drivers wore gloves, and a few people who came downstairs to get the food were wearing masks. Some workers said they felt undeserving and urged the managers to give the food to those more in need. "It was a beautiful thing to see," Mattos said later. Nothing, he would tell me, has been as gratifying for him, since the shutdown, as cooking alongside his chefs for his work family.
Almost as soon as the shutdown began, fellow restaurateurs were making baleful prophecies, saying the industry was "doomed." Advocacy organizations with names like the Independent Restaurant Coalition and ROAR (Relief Opportunities for All Restaurants) formed, and federal and state legislation aimed at helping small businesses, including independent restaurants, was drafted. On March 24, a group of chefs published an op-ed in the New York Times lamenting the 10 percent profit margin in their industry. ("Those are great margins," Landgraf said the next day. The Matter House restaurants yielded a profit of about 4 to 7 percent.) Tom Colicchio, one of the op-ed's authors, predicted that 75 percent of New York's fine-dining restaurants would never reopen. When Floyd Cardoz, the pioneering chef-owner of Tabla and other New York restaurants, died of COVID-19 on March 25, it seemed a dark portent.
Beyond the immediate question of near-term viability, chefs and restaurant owners have been having searching conversations about what restaurants might look like in the wake of a pandemic. There was a sense that diners would gravitate to more comforting food and that the long death dive of fine dining would only accelerate, but there were also real questions about how people would feel about restaurants of any sort. Would there be less tolerance for cramped spaces?
And even if consumers tolerated them, would new regulations require more spaced-out tables? Even small changes of that sort could be devastating. "If you have a model where rent is 8 percent of revenues," Landgraf said, "and you have to reduce capacity by 30 percent when we come back, then rent becomes 13 to 15 percent of what we're able to bring in." It wouldn't be possible, necessarily, to just pass along the cost to consumers. Would people really be willing to pay $40 for a plate of pasta? Landgraf has been using his newfound free time to clean up Matter House spreadsheets and revise training manuals, but, he said, "restaurants may never be able to operate in the same way, so it seems like a laughable busy exercise to keep my mind occupied."
To the Matter House staff, the potential loss of the restaurant feels more than economic. "I've always felt strongly, especially in a city like New York, that restaurants can become people's families," Kim Whorton, a sommelier at Altro, said. "Staff, yes, but even a lot of our guests. I've seen entire families start and grow, from dating to them bringing in their kids. To lose that and possibly not get it back … "
The employees were staying in touch with one another in texts, group chats, and video calls. "I FaceTime with at least one of my co-workers every day," said Lauren Schofield, a pastry cook at Flora Bar. "I've talked about, 'How was it for you applying for unemployment? Was the website working for you?' I think I applied for unemployment." A few employees were baking bread and selling it over Instagram. Schofield was baking for herself, including a focaccia made using some of Flora's sourdough starter, which she'd taken with her. Mainly, the workers were waiting to see what would happen. Flora, which employed 40 percent of the company's staff, seems the most uncertain. It's a management deal, and the Frick was scheduled to take over the building even before the coronavirus came along.
Landgraf sends frequent emails to Matter House's furloughed employees with updates on filing for unemployment, on applying for COBRA, on the new advocacy groups, on pieces of potential legislation that could help restaurants and workers, encouraging them to call their representatives in Congress.
Soomin Yoon, an Estela cook who made $18 an hour and worked five nine-hour shifts each week, is eligible for three months of unemployment at $450 a week. He's back in Virginia with his parents right now, but he's thinking that with his savings, he can afford to keep his apartment in New York this month and one more. "But that's probably the max before I start to realize I'm hemorrhaging money and can't recover, even if I start making money again. I can afford to pay May's rent, but the clock is ticking down."
He added, "Many people not from this country, some on J-1 visas, aren't afforded the luxury of signing up for unemployment." His co-workers from places like Canada, Australia, Guatemala, Mexico, and Honduras have no local safety net, and "in my experience, have already dipped into their savings to make it here — to make the dream come true and live in New York. From my most recent conversations, it's either find some other way to fund themselves or break the piggy bank and go back home. It's heart-wrenching to see people you worked with not get support."
The employees' livelihoods weren't the only ones at stake. Restaurants exist in a much larger ecosystem downstream from suppliers, farmers, and fishermen. Chef Collective, one of Matter House's suppliers, has pivoted to home-delivery retail, but co-owner Chris Killoran said the company is making 10 percent of its former revenue for three times the work. Chef Collective, in turn, works with dozens of small-time suppliers. Some may be nimble enough to find a new business model, but Killoran thinks larger ones that specialize in cheese or other more perishable goods will likely be wiped out.
Mattos is spending April doing what little he can, bugging his contacts to get in touch with their political representatives and using his social-media accounts to push the new home-delivery services that wholesalers like Chef Collective are starting, but everything is a stopgap at best. A lot of his frustration comes from being in limbo: waiting for politicians in D.C. and Albany to make decisions. Waiting to find out if New York will delay the sales-tax payment he'd soon owe. Waiting to find out if he could get certain loans. He was finding that the crisis was revealing people's essential character. He'd reached out to his landlords, and they had promised to work with him. Meanwhile, one of his investors, who'd never even been to the restaurant, "sent me a very unfortunate email. It was shocking, demanding, like, 'What's going on with my money?' You get to see who's who."
Before the shutdown, Mattos had planned to go on a several-week trip, first to Australia for some dinners, and then to Brazil for the 9th birthday of his son, Paco, who lives for most of the year with Mattos's former wife. When I spoke to Mattos on Paco's birthday, his mood was dark. He was supposed to be with him in Rio but was not. He was trying to manage his feelings because he was going to be talking to Paco that night on a 30-person Zoom call to wish him a happy birthday, and his son tended to be able to pick up on these things. Social isolation was hard for Paco, Mattos said. "He's a hugger."
But the next day, Mattos sounded more optimistic. He'd spoken with a friend in New Orleans who'd gone through the devastation of Hurricane Katrina and had to close for 18 months. "In a way, we still have power," Mattos said. "Down there took it really hard. It was a good reminder that panicking and freaking out is not going to help." It wasn't in his nature to sit passively and wait for a miracle. He'd felt the need to do something, and he began talking to a charity in the Bronx about using his kitchens to feed people there. He was seeing silver linings. People were cooking more for themselves; he hoped it would cause them to better appreciate the value of what was on their plates. He hoped the pandemic would awaken people to the terrible class disparities that keep so many service-industry workers marginalized. He was looking forward to distributing the GoFundMe donations.
"We love what we do, taking care of people. It's in our DNA," he said. He hoped to do it again.
*This article appears in the April 13, 2020, issue of New York Magazine. Subscribe Now!