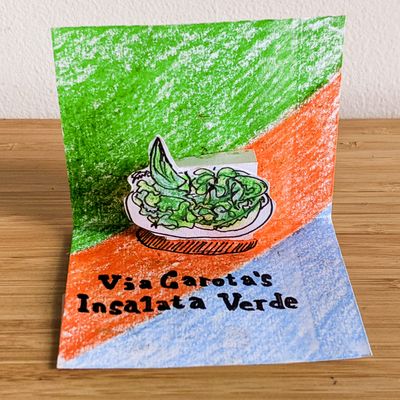 Photo: Joshua David Stein
Just before COVID-19 arrived and weaponized all human interaction, I was part of the team at New York Magazine putting together this year's "Best of New York." As Rob Patronite and Robin Raisfeld noted, this eventually became 101 Things We Hope to Eat Again Soon. Sadly, I fear, many of those elegies will end up eulogies. Restaurants are always one step ahead of the hangman and even with government aid, I fear the enforced hiatus might prove fatal. This is heartbreaking for a thousand reasons. Most importantly, the collapse affects the millions of people whose livelihoods — and lives — are now endangered. Secondarily for me because, even if some of these restaurants do return, I already desperately miss them. The prospect of, for instance, never again enjoying Rawia Bishara's eggplant casserole at Tanoreen or the face-numbing but heartwarming drypot at Málà Project is too depressing to contemplate.
I live for New York restaurants, the reassuring pleasure of returning to old favorites and the bracing joy of discovering new ones. I've always loved New York restaurants and though I'm a food writer, I guess, I'm mostly a restaurant guy. Now I'm stuck at home like everyone else, an unwilling conscript into the Holy Alison Roman Empire, and I miss restaurants a lot. Not just the food — though I'd trade all the beans in my pantry for just one mustard-laced tuna melt from Golden Diner — but the millions of brushstrokes that make up a restaurant, the static electricity of a room, the charge of human interaction, or, hell, even the cheerful succulents and Millennial pink décor. So I decided to start making restaurants myself, tiny ones, out of paper, at home, alone.
Creativity in captivity is — can be — incredibly life-affirming. So far, I've launched a podcast (it's about a lost tooth) and a zine (it's about fine dining during the end of the world). I've written an album of songs about COVID-19 (they're mostly about washing your hands and, of course, loneliness). Creation is an antidote to the destruction around us.
Pop-ups in particular are curative. With a pop-up, the stakes are low and the mechanics are clear. Little else in our lives is certain, but a carefully scored, patiently glued tab crossing a gully will yield a flap that, as the page opens, will greet you each and every time you expand it. This reestablishes at least some order in the world.
And you need practically nothing to make it so. Like the arte povera artists before me, I've used just what I had lying around: my sons' colored pencils and markers, their sparkly Elmer's glue, a stack of 3-by-5 notecards once used for their math homework, and an X-Acto knife. I've found a lot of inspiration in the plastic mat I use so as not to cut up my kitchen table: It is self-healing.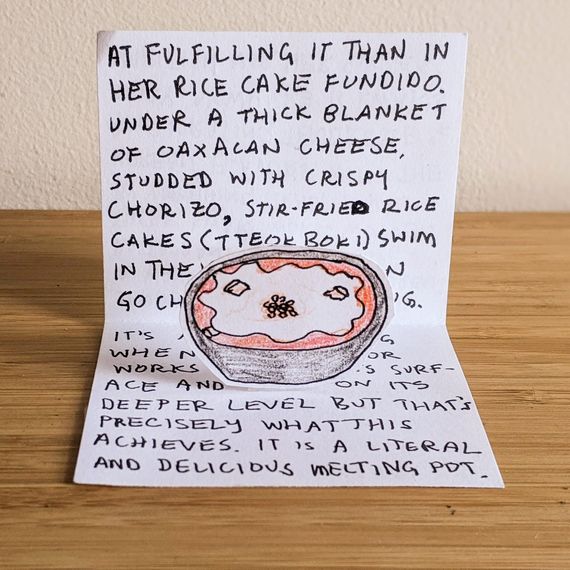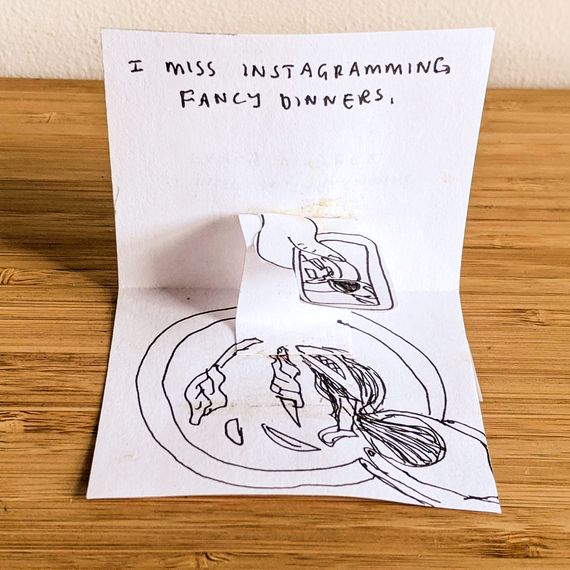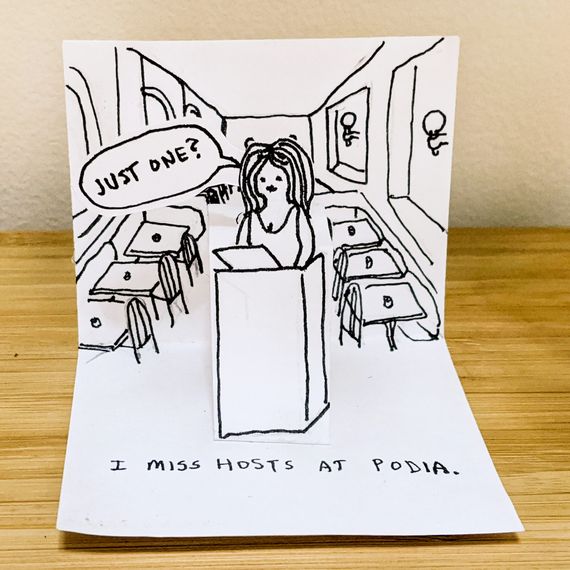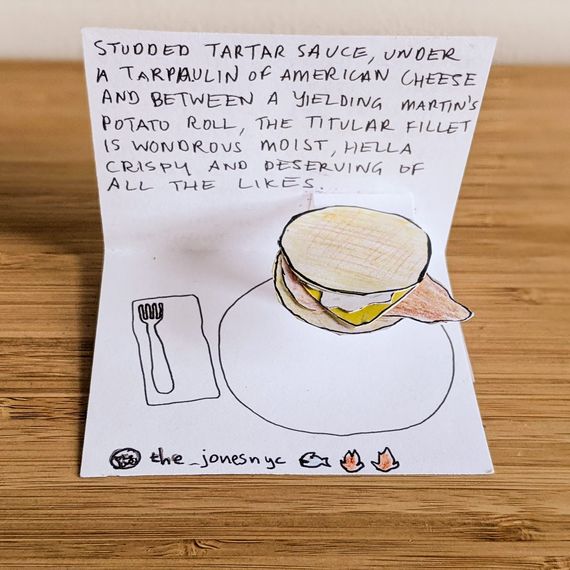 It's a remarkably simple past time but there are a number of easy-to-use tutorials online and one incredibly useful book called Pop Up Design and Paper Mechanics by the great British paper engineer Duncan Birmingham, on which I've relied for the more complex shapes. (The box-form of I Sodi's Lasagna took all of last Friday night to master.)
What's even better is that such slight-of-hand yields not-half-bad recreations of my favorite moments and places. Would that I could waltz back into Mama Fina's under the spring sun and order sizzling squid sisig, or Mama's Too to drink from the loving cup of pepperoni, or weave back through the warren of Chinatown streets until Nom Wah comes into view in its cautious little corner, but I can't. Until such time that I can, I'll make do turning two dimensions into three, and transforming wishes into slips of paper bearing all my hopes and prayers, which I open and close with hope, like a book of common prayer or, for that matter, a menu.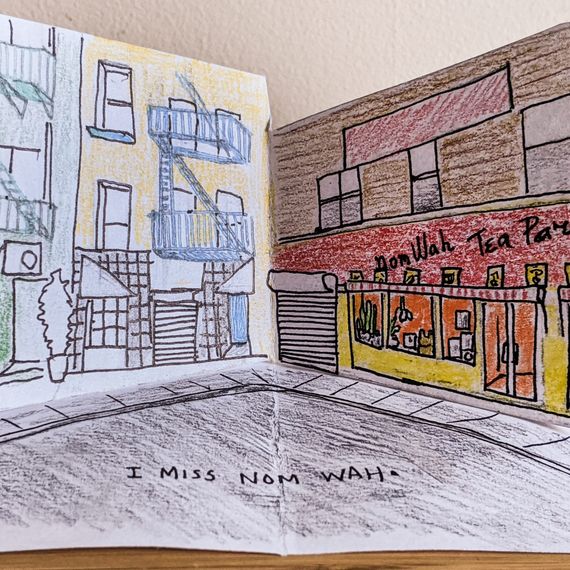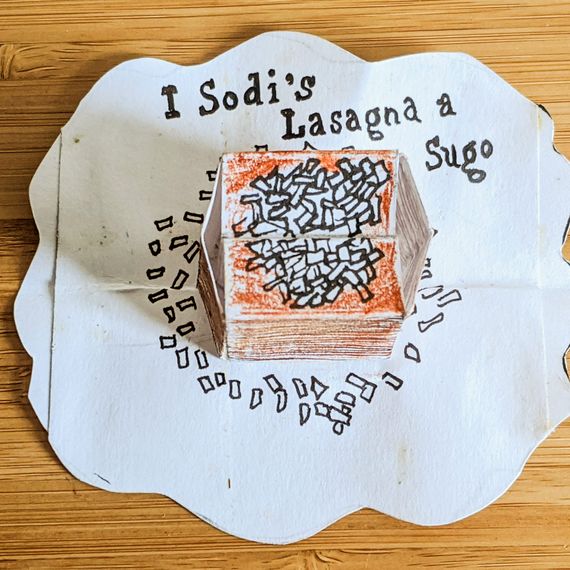 How to Make Your Own Restaurant Pop-up

1. Cut out your smaller tab. Make three folds: two near the edges for your gluing tabs, and one in between, which determines the lengths of the pop-up's sides.
2. Align the middle crease across the spine of the base. Lightly mark the positions of the end creases.
3. Now flip the pop-up piece around (the crease will no longer be aligned with the spine of the base) and carefully glue tabs to base.
4. Fold the base closed, and press to glue.