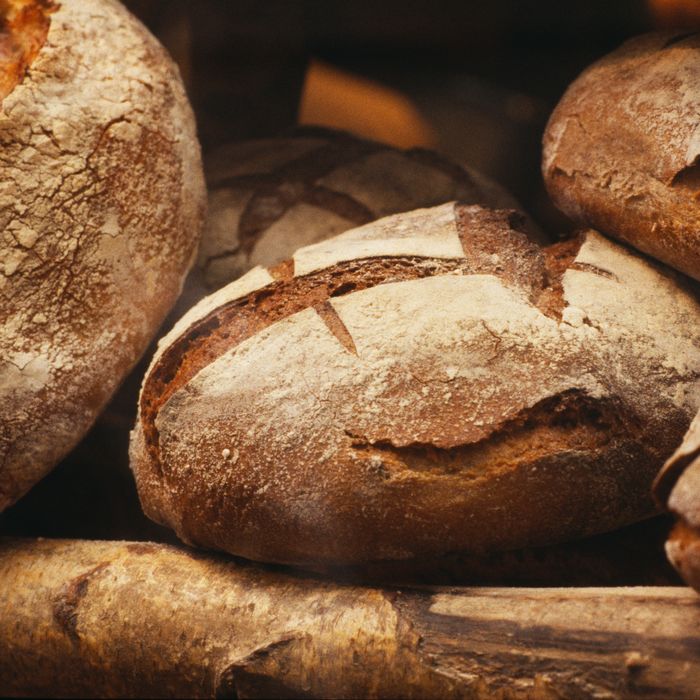 Just some of the bread available to purchase at Poilâne.
Photo: Jacques Pavlovsky/Sygma via Getty Images
I still remember when my mom bought a bread machine. I must have been around 12 years old, and I didn't see the point. Don't get me wrong; my mother is a talented baker. Jeanne Ann's apple pies and chocolate chip cookies are in high demand. But bread seemed different. Growing up in suburban Clifton Park, New York, the only loaves we consumed were of the sliced Freihofer's variety, and we were perfectly satisfied with them. After the family made our first white, sandwich-style loaf, my opinion was sealed: This was not worth the time and effort. The grocery store alternatives were easier to acquire and tasted better than what came out of the bulky eyesore of an appliance. I think my mom agreed because the bread-maker's fate would be the neighborhood garage sale.
Now, two decades later, home is no longer upstate New York, but Paris. It is arguably the bread capital of the world, and I am its most loyal citizen. I worship at the yeasted temple daily, never missing a stroll to my local boulangeries. Yes, plural, because I do not discriminate based on form or flour, and the best baguette tradition and best pain de campagne are not necessarily made at the same address.
When France announced its lockdown several weeks ago, certain businesses were deemed essential. Besides pharmacies and gas stations, we also have access to grocery stores, tobacconists, wine shops, and bakeries. It is the perfect French ratio: two parts food, one part wine, and one part cigarettes (though, to be fair, French tobacco shops also sell items like government payment vouchers and newspapers). Regardless, it was a genuine reassurance. We Parisians would still have access to one of the more delicious and constant parts of our routines: our daily bread.
But shortly after the lockdown was announced, one of those aforementioned go-to boulangeries, Ten Belles in Paris's 11th arrondissement, announced it would give away its levain, or sourdough starter, to the first takers. Though they would remain open during the lockdown, slashed hours of operation meant they would need less starter. I blurted the news to my French partner, a food lover who firmly claims that Ten Belles makes one of the best sourdoughs he's ever tasted, and he immediately rushed over on his bike. He proudly returned 20 minutes later with two small containers of thick goop in hand. And so our sourdough adventures began.
We have two starters — Wallace and Avril Levain — that we nurture with the utmost care. The bread-making process is time consuming; we're clocking 26 hours from prep to cooling. We could, of course, walk to Ten Belles and have all our sourdough needs met in a fraction of the time; it's within the allowed radius (France's residents are currently allotted 60 minutes of outdoor exercise time per day, which must happen within a one-kilometer radius of our homes). But we continue making our own bread every few days, two loaves at a time, to the point that our French-sized freezer (about half the size of a modest American version) is brimming.
I can't help but wonder why we were doing this. I'm lucky enough to still have work, so the days aren't empty and the time passes at an almost-normal pace. I bought new paints and canvases with every intention of rekindling another forgotten hobby; they have yet to be touched.
I work in communications and run a small English-native agency here in Paris. I'd be lying if I said I feel useful right now. Sure, we're helping a handful of our loyal clients share fun content that we hope will make this period more palatable for people. But we're not saving anybody; we're not providing necessary equipment or services. At the end of the day, even if we have work to do, we are nonessential. But we all need a way to express and process this new reality, and it's comforting to feel useful, like we can provide for ourselves in some small way.
Despite the unceasing onslaught of COVID-19 news, the virus still feels enigmatic. There are so many unknowns: When will we get to hug our families? Will we get to see graduates walk across their university or college stages? Will that fall wedding happen? These kinds of occasions feed our happiness. Without them, what do we have to look forward to?
Bread, at least, gives us a moment of accomplishment and, yes, even a thrill: After rising, shaping, scoring, baking, and cooling, we can saw into the crusty boule to discover the crumb structure and enjoy its inimitable acidity and bouncy texture.
Yet we simply can't eat or store this much bread, and we've both been sick, thus avoiding all contact with others. In a normal world, we would give it to friends, family, neighbors we barely know … everyone!
But, when we can do that again, will our sourdough exploits continue as life inevitably becomes busier? Will all the new bakers out there begin sharing their starters and loaves with neighbors, friends, and family? I know I will try. After all, bread, like most great things in life, is best when shared.