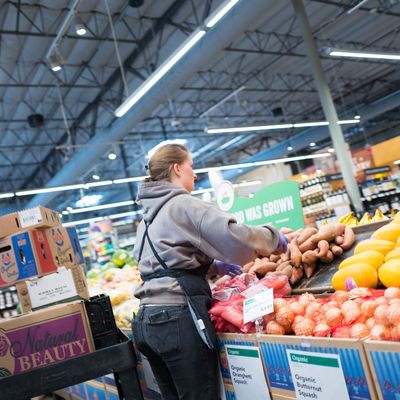 Photo: Smith Collection/Gado/Getty Images
As the coronavirus outbreak continues to kill thousands across the United States, grocery workers are becoming increasingly nervous about putting their lives on the line as essential workers.
The Washington Post reports that at least 41 grocery workers have died from the novel coronavirus, including a Trader Joe's employee in New York, and that another 1,500 across the U.S. have tested positive for the virus. As a result, thousands of grocery workers have had to quarantine themselves, while others are opting out of the grocery business entirely.
A representative for ZipRecruiter tells the Post that job postings for grocery workers have jumped by 60 percent, with many employers saying they have an "urgent need" for staff who can start immediately.
But as the Post points out, grocery workers, who on average make just under $12 per hour nationally, aren't being paid enough to risk their lives or their family's lives every day — even as chains like Walmart and Kroger provide masks, gloves, and other forms of protection.