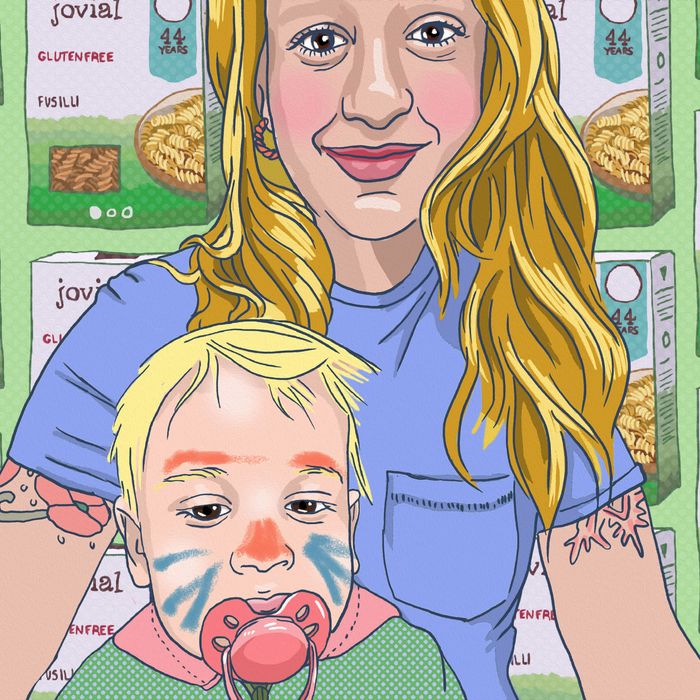 Emily Gould, her son Ilya, and the only brand of gluten-free pasta, Jovial, that she'll accept.
Illustration: Margalit Cutler
Emily Gould has been dealing with all the stresses of having a very young family under quarantine, while also figuring out what exactly to do about publishing her second novel during a pandemic. "We talked about not having the book come out," Gould says of Perfect Tunes, which will, in fact, come out on April 14. "But I ended up coming from that feeling like it would not necessarily be a better time, you know … ever." The author (and Cut contributor) is an enthusiastic cook and consumer of recipes — she's hosted a YouTube cooking show, reviewed cookbooks for Eater, and has a "decade-plus old" cookbook club — but the joy of cooking under quarantine is not quite the same. Still, she's cooking things she loves: simple luxuries like fresh salmon and buttered rice, plus a favorite meatball recipe (but with "a bunch of weird shit"). Read her Grub Street Diet below.
Thursday, March 26
We hit the last of the groceries that we bought at the beginning of quarantine; time to actually break out the dried beans. When we moved to our friend's house we're staying in for the moment, we brought our entire pantry with us. That was most of what we packed. We had four bags of food, but I didn't have a huge stash of dried beans. It feels like sacrilege to say this, but I don't really like dried beans that much. Our usual diet is a lot of meat, a lot of fish, and a lot of this mediocre but still pretty satisfying gluten-free pasta. I can't seem to open my heart to beans. For me they're a once-in-a-while thing. I mean, they were. I hope they can remain so.
I made a giant pot of chickpeas in the morning and fed them plain to the kids for lunch, then served them again for dinner in a chard/chickpea/carrot sauté from the Ottolenghi cookbook Plenty. Actually following a recipe made me feel good, because I had someone else to blame for this dinner's blandness and banality.
I don't actually like chickpeas, sorry. I think what happened was I was a vegetarian from when I was 9 to 21 and I really OD'd on hummus. I can't even look at prepackaged hummus now. It sends a chill down my spine. I'll totally eat freshly prepared hummus — it's a different animal — but the stuff in a tub at the grocery store is like garlic Spackle. It's so foul.
I remember when Jerusalem came out, it was during another stockpiling-groceries moment because I was locking myself in a friend's beach house on the Jersey Shore but off-season, to work on the line edit of Friendship. It was March, so there was nobody there, and it was actually really creepy. I had just the groceries I had bought for the week and that cookbook and I was cooking my way through it. I remember eating a lot of slightly weird solo meals, all of which had yogurt in them. Yogurt and lemon juice and olive oil and a handful of fresh herbs on pretty much anything. It doesn't really matter what's underneath it. I have a friend in London who is very dismissive of Ottolenghi's actual prepared-food restaurants, like "oh, here's a pile of vegetables with a large amount of olive oil."
Friday, March 27
We're in this bizarre situation at the moment. In my real life I live in an 800-square-foot apartment. But we have these friends who wanted us to house-sit for them, and they live in this beautiful, perfect, dreamy brownstone in Crown Heights. So now we have a backyard and space, for the time being. It's unclear how long we're going to be able to stay here.
I've been hoping we'll be able to ride it out for the rest of April, maybe, because they don't seem like they're in a hurry to make it back to the city. It's a weird, precarious situation, but I'm treasuring every moment.
Anyway, our lunches and breakfasts are pretty much the same every day. Also I'm just eating random handfuls of whatever's around, because of feelings. In normal life, we usually make our kids a real cooked breakfast before school. I'm not sure why, it's just this habit we've gotten into. We like it and they like it and it's not actually that much more effort or cleanup than cereal or oatmeal. But now that we're in this situation where there's lunch and dinner and two snacks every day, plus the cleanup, I have just been feeding the kids cereal because I can't handle the idea of doing another round of that. Especially the cleanup part. So, usually the kids now eat some disgusting kids' food for lunch, and my husband, Keith, and I will just eat leftovers. Or, if there aren't any and I feel extra motivated I'll make myself an omelet.
We ordered dinner from Lula Bird. We got a chicken, collards, rice, and cornbread. I went to pick up the food, which was a big special treat adventure. It was the second time since March 13 I had left the house without my entire family and the first time since then that we would eat any meal I had not prepared.
Leaving home to go on errands is now this wonderful thing. The other time I left the house without my entire family, I went to the pharmacy, but I had to trek all the way back to my real neighborhood to go. So it was like a two-mile walk each way and it was glorious. I guess I could just do that but I spend every minute I'm not taking care of the kids trying to work. Somehow needing to go to the pharmacy legitimized taking the four-mile walk through Brooklyn.
I had noticed Lula Bird was open on my previous excursion, and filed that away. I had wanted to get takeout from MeMe's Diner, because I love their food and it would've entailed a long walk over to pick it up, and I was excited to spend an extra half-hour away from my children. But they ran out before I could even get my order in. It's good for them. That's one of my favorite restaurants, and one of the ones I'll be the most heartbroken if this crisis murders it, which I assume this crisis will murder most independently owned businesses. Especially restaurants.
Saturday, March 28
Another red-letter day because we replenished our grocery supplies.
We had pancakes from King Arthur's gluten-free mix for breakfast, with the last of our frozen blueberries. I have been feeding the kids frozen blueberries whenever they want them because it makes them not bother me for ten minutes, and they're healthy, I guess, at least compared to the other foods that produce the same result. But I'm glad the blueberries are gone because I was always having to swab everyone down to prevent them from smearing blueberries all over this beautiful borrowed house, which contains a large white couch.
For lunch I had a weird sandwich comprised of all the Lula Bird leftovers plus cheese and some chili-garlic sauce. I got really into hot sauce the week before when Keith and I had what we really hope was COVID-19. It was the only thing I could taste at all. It was horrible for the five days that we were there and actually quarantined, because we were sick and we weren't leaving the apartment at all — not even to go out into the hallway. And, I've sort of blocked it. It was really dark. It felt like a production of No Exit, but starring members of my immediate family.
The thing is I like spicy food, and no one else in my family does. Keith always jokes that the only spice Russian people accept is salt. Which is not true across the board. There are definitely Russian people who can get into horseradish or pepper vodka. But it is kind of a bland-ish cuisine. Raffi has been known to reject food for having pepper on it. If he can see specks of pepper on food he will be like, "No, I won't eat this." That's what we're dealing with here. It's a little sad for me.
We picked up a bag of meat, fish, and fresh vegetables from Greene Grape Provisions. Driving back to our real neighborhood, Fort Greene, was jarring and I felt the magnitude of what was happening for the first time because of how unfamiliar our familiar stretch of Fulton felt. It solidified my sense that an iteration of the city is over, that we will never "go back to normal."
But then we also did something unethical and got groceries delivered. It sucks to get groceries delivered under any circumstances. But especially now because the conditions for workers are so bad. But the other option is to take every member of our family to the grocery store because we need more stuff than one person can haul or carry, and I can't drive and Keith doesn't know how to grocery shop. I mean he does okay, but he'll do inexplicable things like buy low-fat cheese. The stakes are too high right now to trust him with something this important.
After we got home our dry-goods and kid-snacks grocery delivery arrived. I forgot a lot of stuff the kids love, or the store was just out of it — I didn't even check to see which it was. The kids are incredibly spoiled and are a long way from being able to understand that they may have to forgo yogurt in a tube at some point because there's a global pandemic happening. I heard myself explaining this (in somewhat child-friendly terms) to Raffi, who will be 5 in June, and felt like I was hearing some mom in a really hackneyed disaster movie doing expository dialogue.
Ilya (who is 21 months) and Raffi live mainly on milk, eggs, cut-up carrots, cucumbers, apples, oranges, bananas, box mac 'n' cheese, and frozen chicken nuggets. Ilya will sometimes eat other foods but Raffi, for the most part, will not. I used to feel various ways about this, but even pre-pandemic it had started to seem like a real waste of emotion. A hopeful development Raffi-wise is that he has started to eat school lunch, which has exposed him to exotic new foods like canned corn and "yellow meat cakes" (Jamaican beef patties). I hope he goes to school again sometime so he can continue this culinary journey.
We had a very plain but luxurious dinner of fresh salmon, blanched and sautéed asparagus — which is super cheap right now, possibly because all restaurants are closed — and buttered rice. Having really delicious, good-quality fish that wasn't previously frozen felt like something really special and exotic after two weeks of eating down our pantry staples and refrigerator supplies.
Sunday, March 29
The weekends are better than the weekdays because we're not trying to simultaneously work and take care of our too-young-to-do-anything-independently-even-screentime kids. They're still pretty bad, though.
I put a chicken smeared with garlic, olive oil, and smoked paprika on top of all the remaining root vegetables and also some cabbage in honor of Helen Rosner in the oven at 325 in the mid-afternoon and left it there to slowly cook while we went to Prospect Park. It was rainy and cold and the kids were not really into it and we struggled to stay away from other people, but I was still really excited and happy to not be indoors.
I don't know what the prevailing wisdom is about outdoor exercise at this point. I went for a walk the other day wearing sneakers, and got a lot of dirty looks. So I'm not sure what people are supposed to be doing this at this exact moment. You're just not supposed to unnecessarily leave the house for any reason, I think. Now we're supposed to wear masks, but who has masks? I mean, we weren't supposed to wear masks. But now we're supposed to be. Especially with the kids, taking them to a pretty deserted park and not letting them play on the playground, but also you can't prevent kids from touching stuff. I don't know. It's all bad.
The chicken, however, was good. But the vegetables got a little scorched. The kids refused to eat any of the vegetables because of the paprika. I defrosted them some nuggets so they wouldn't bother us while we ate. Chicken nuggets are Raffi's favorite food, he says. With ketchup. Everything else, there's some margin of error. There's a 10 percent chance that it won't get eaten. But chicken nuggets, you know, the thing about feeding your kids semi-garbage foods is the main thing that matters at a certain point is that they're consuming the calories that will keep them alive and not in a grumpy mood. Or, not in a crazy mood.
Monday, March 30
I had planned to make an enormous batch of Julia Turshen's turkey ricotta meatballs, but the ricotta had been waiting around too long and when I opened it it was fizzy — not a good sign. I took a bite to confirm my suspicion, which I still regret. I still made meatballs, but without the cheese as a binding agent, I was forced to substitute a bunch of weird shit. I don't eat wheat because I have celiac, so I love this recipe because it makes very light-textured meatballs without any starch as a binding agent.
I had been more ambitious about food writing as a thing I wanted to do more of, and getting diagnosed with celiac really curtailed the amount of stuff I can write about. I still love reading cookbooks and end up writing about food a lot, but I just can't do it the way I had once dreamed of. It's actually really a bummer. I feel like I'd have to make eating gluten-free food my thing, and it's such a boring thing. I think everyone who succeeds at it, there's that really great Flavor Flours book, it's like, "Oh, these are really recipes good on their own merits and the fact that they're gluten free is incidental." And I'm like, "Isn't it pretty to think so? Gluten is fantastic."
I was diagnosed so late in life that I can remember really vividly what food is supposed to taste like. Foods that are naturally gluten free are great and wonderful, I'm totally very happy to eat Vietnamese food everyday. But mostly the thing with not eating gluten is that it's really sad and a bummer and I wish that I could eat it. I do hold out a tiny, tiny, tiny bit of hope because it is an autoimmune disease and they are doing research about, you know, curing it. It may be possible if I live long enough that someday I'll be able to be treated for it and eat an actual pastry again. And, seriously, that's my bottom-of-the-barrel, the sun-will-come-out-tomorrow thing, like, "Emily, you just have to stay alive because there's a tiny chance that someday you'll be able to eat a slice of actual bread." A cheeseburger on a bun that's actually capable of absorbing meat juice, you know?
Anyway, for the meatballs, I substituted a mix of labne and some whipped cream cheese I found in the back of our hosts' fridge, plus an egg. It came out … okay. I stockpiled a stash of meatballs in the freezer and served the rest for dinner with spaghetti (Jovial is the only brand of gluten-free pasta that doesn't taste like paste) and more asparagus.
I realize I've left out all the wine this week. I have been drinking like a pint of wine with dinner every night. I should probably cut it out but now doesn't feel like the time. We keep thinking this is going to be the night we take a break, but it's very hard to, at least right now, because everything, the crisis, feels so acute. Anything that is providing even momentary relief seems pretty legit, and I'm pretty sure after another couple weeks of this we'll get grossed out by ourselves. Like, "Okay, stop eating the marshmallow Peeps your mom sent for your kids." "Maybe don't go through a case of wine in three and a half weeks." Just scale it back slightly.
I definitely go through periods of extreme abstemiousness, and then what feels like more extreme indulgence with pretty much everything. One of the more annoying things I do in this realm is that every nine months or so I quit drinking coffee, which always entails a period of horrible withdrawal and then a period of feeling like a golden god who doesn't need caffeine. And then slowly, slowly reintroducing it and, I think I mostly do it at this point because that first cup of coffee after you haven't had coffee for two months is like a line of the purest cocaine. It's so amazing, and you're like, "I can have these thoughts?"