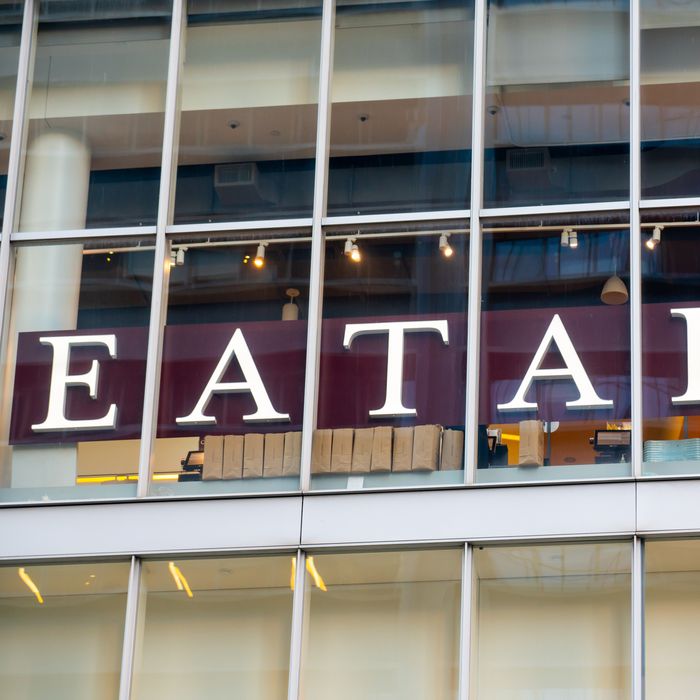 Eataly's first American location in the Flatiron District.
Photo: Alex Tai/SOPA Images/LightRocket via Getty Images
The Italian market chain Eataly, which bills itself as "the world's largest artisanal Italian food and beverage marketplace," appears to be one of a number of large companies to have secured a loan through the federal government's Payroll Protection Program. Part of the CARES Act, the PPP loans are meant to help buoy small businesses, but the law has been roundly criticized for its broad definition of what constitutes a small business — any location with 500 or fewer employees — and because the loans are distributed by banks that, the New York Times reports, "prioritized the applications of their wealthiest clients."
Eataly, which operates dozens of stores around the world, would not disclose the amount of the loan, but through a rep says that "these loans allow us to bring employees back on payroll," and that "this was the objective the program was designed to achieve." In an email to employees, Eataly North America executive vice-president Raffaele Piarulli writes, "Thanks to the Paycheck Protection Program loans we applied for and received, and thanks to the incredible work of our HR and Finance teams over the last weeks, we can now start paying a percentage of every inactive team member's regular wages for the next 8 weeks." (Several employees shared the email with Grub.)
Employees — all of whom asked to remain anonymous — also say they were presented with a choice: Receive a paycheck or, according to Piarulli's email, "continue to remain on state unemployment and permanently resign from your position instead."
"It's a mess with them right now," says one employee. "Just to even put in there that you have to resign is bullshit." This current staffer adds, "If I resign or quit my job, I'm not eligible for unemployment. So you gave me ultimatums that screw me either way."
Before the coronavirus pandemic, the company expected to increase revenues this year to nearly $800 million. Founder Oscar Farinetti told Italian newspaper Corriere della Sera, "Eataly does not need to rake up pennies on the market, it is able to finance its growth easily with its cash flow."
Founded in 2007 in Turin, Italy, the company made a splashy landing in the United States in 2010 when it opened its first store in Manhattan, alongside chef Mario Batali (with whom the company severed ties almost two years after the celebrity chef was first accused of sexual assault). The American locations are registered under the Eataly USA LLC, which was founded in June 2008.
Each location is a kind of fantasia of an Italian market, where you can shop for your groceries, buy freshly made pasta, get a coffee and cannoli, or have a meal at one of several restaurants. The company even bought its own pasta brand in Afeltra, which was founded in 1895, and which it bought, as one former employee put it, to have its own proprietary pasta.
Eataly has been on an expansion tear in this country since 2017, the same year it was reported that the company was planning an IPO in Italy. Former executive chairman Andrea Guerra, who remains with the company in a nonmanagement role, told the Financial Times the company wants to "have a store in every world capital." During the last decade, it has expanded across Europe, South America, the Middle East, and East Asia, with more locations planned worldwide.
It's unclear how the chain would even qualify for the loan. In North America, Eataly operates locations in New York, where it has two stores; Chicago; Las Vegas; Boston; Los Angeles; and Toronto. (A Dallas location had also been scheduled to open this year.) Of those locations, only the Las Vegas one is currently closed, while the others remain open for business in limited capacity. All of the open locations are still selling groceries, wine, and limited food menus for delivery and pickup, and you can still shop in store at some of them.
According to a former employee, the Flatiron location alone has in the ballpark of 625 employees (another suggested 700 employees); an equivalent amount or more in L.A.; and between 400 to 550 at each of its Downtown Manhattan, Chicago, and Boston locations.
Managing partner Adam Saper appeared on Fox Business earlier this week to discuss PPP loans. "Obviously it was a huge shock to the business, about 50 to 60 percent of our business is restaurant and quick service, which we have to shut down" he told Mornings With Maria anchor Maria Bartiromo. "Now we are, quite frankly, doing better than others because we have a grocery side to our business."
Other large restaurant businesses have been criticized for taking these loans, including burger chain Shake Shack and Ruth's Chris Steakhouse. Both companies are returning their loans, though a rep for Ruth's Chris initially told Grub Street the chain would keep it. On Wednesday, the New York Times reported that a Dallas asset-management firm, Ashford, Inc., has received $53 million in PPP funds.
"This is supposed to be a small-business loan, is it not? I don't think it's fair," one Eataly employee tells Grub Street. "Even as a worker there, I have to understand just because I'm in a certain situation, that doesn't make it fair for other workers."
Another employee did not mince words: "They can afford to pay our insurance for a couple more months and for us to be on unemployment. They don't fucking need it. They should just give it up, like the hamburger place — they don't deserve it."