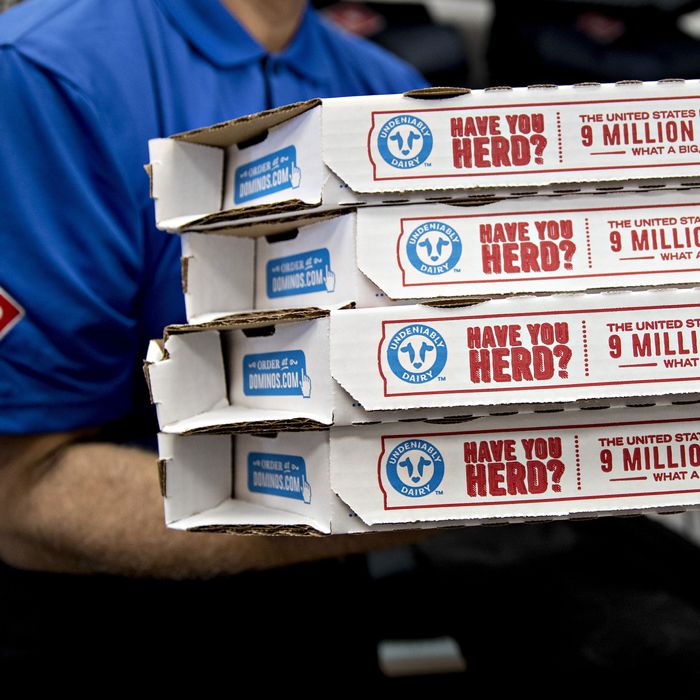 At fast-food chains around the country, workers complain that not enough is being done to keep them safe.
Photo: Andrew Harrer/Bloomberg via Getty Images
Along with health-care professionals, online delivery workers, and others, workers at fast-food chains have been deemed "essential" employees. They must now put themselves at risk in order to cook, deliver food, and keep their stores up and running. But workers' concerns about workplace safety and their health, the lack of proper precautionary measures, and the necessary protective equipment have led to strikes at locations of McDonald's and Domino's. Grub Street spoke to one delivery driver, who works at a Domino's location in the Midwest and asked to remain anonymous, about conditions at his store and what isn't being done to keep staff and customers safe.
I've worked for this Domino's store since last October, and before that I worked for a different franchisee for a year and a half. I never would've anticipated something like this happening or being deemed "essential" in the middle of a global pandemic. But here we are.
Nationally, Domino's is in the process of hiring 10,000 new employees, with no indication that stores will close unless ordered to by the government. As of a day ago, stock was up over 13 percent. Clearly, business is going well, yet there has been no discussion of hazard pay, paid time off, or even job security in the event of voluntary self-quarantine. As far as I know, when you voluntarily go into quarantine, you're kind of on your own.
It's really telling. A lot of it comes down to the way the system is built. We all still need to pay our bills. You have to decide what puts you more at risk: being evicted or eventually being affected by COVID-19? It's a personal decision that everybody has to make. Take this with a grain of salt, but many of my co-workers around the country are warning on Reddit that their jobs may not be waiting for them if they choose to quarantine.
I understand these jobs are going to be helpful for people who were laid off. But at the same time Domino's is taking that money it's making right now, and it's not putting it toward keeping its employees safe. It's incredibly frustrating. I get that businesses need to keep the lights on, but for corporations like McDonald's and Domino's there's no reason not to offer employees some kind of financial safety net.
After talking to our district manager, our store reduced its operating hours by an hour in the morning and at night starting March 27. We also closed our lobby to carryout orders and started offering no-contact delivery by customer request. Those are the things that this franchise, itself, is doing correctly.
We are doing just enough to stay compliant with the state and county directives, and nothing beyond that. It does seem like the way we're doing things — the bare minimum — is a national thing, which is concerning. It seems like for every one store that is doing things right, there are another dozen or hundred stores that aren't.
In terms of scheduling shifts, there has been no response from management. Nothing's been done in terms of how we group employees together. We have a sanitizing checklist that is supposed to be completed every hour. It is very rarely completed. We are still accepting and changing cash and coins, and most of our deliveries still require person-to-person interaction with the customer. No-contact delivery is at the discretion of the customer, not the driver.
We have a no-contact protocol, but many customers are irritated that they have to pick their food up from their porch. One customer threatened to call the Health Department on a driver because she thought it contaminated her food. Most customers simply open the door when I'm approaching and don't give me the chance to do no-contact. We're getting tons of pushback.
Our lobby is closed for carryout and to walk-ups. All orders are supposed to be prepaid so that cash and cards aren't handled in person, and the customer is supposed to stay in their car until we place their order on the hood or roof of their car. None of these rules are being followed consistently. Managers not only ignore the rules but also break them. We are accepting payment at the time of customer arrival, card or cash. Customers are refusing to follow directives to stay in their cars, and our managers are continuing to serve them and order us to do the same. Walk-ups are still being accepted. Since the lobby entrance is closed, customers try to walk into our kitchen.
The thing that possibly unsettles me the most is how casual management is. I'm just a delivery driver. I have been confronting my managers, but ultimately any storewide changes are on them, not me. I can tell people next to me to wash their hands more and wear gloves and all that, but I don't have any power to enforce it. I have been very direct with my managers, and they are acknowledging that this is a threat to our health and our customers.
We also have little to no access to PPE to keep ourselves safe. We had a box of disposable gloves that my general manager purchased. That's gone, even though I was the only one using them, so now I'm supplying myself with PPE. For weeks, we had no way to order any sort of PPE from the company commissary, aside from anti-bacterial hand soap and hand-sanitizer refills. Masks were impossible to get; they're now available in the commissary, though there's not anywhere near enough. We still have to order gloves ourselves, which the store will reimburse, but the ones I've gotten are only 25 to a box and I can do 20 to 30 deliveries a night.
One of our drivers entered self-quarantine in mid-March, after a co-worker at another job tested positive for COVID-19. After he relayed to us that he was self-quarantining, I told my management staff that we needed to shut the store down for at least half a day to sanitize the whole place. Like, every inch of the store. That didn't happen. There weren't any additional steps taken after. Concern is too light of a word, knowing we're serving hundreds of people a day and not taking necessary steps to prevent our customers from being potentially exposed.
Especially during those two weeks, I could be taking food out to a customer, and who knows? We don't know that this store is not contaminated. We're delivering to older people, younger people, people who might be immunocompromised. We couldn't say for sure, and there aren't any steps taken to make sure we're being as safe as possible.
We've had two people leave the store temporarily to shelter at home, the first has a family member who is immunocompromised and another has family members who may be higher risk. There's been some pushback from managers, who say they understand these decisions but then make comments showing they don't take this seriously.
Late in March, my county put out a new order that all workplaces still open need to screen each employee at the start of their shift for symptoms, including fever. I was screened the first day after the directive came out, and since then they haven't been screening anyone who comes into work. I haven't seen it happen, at least. We don't have any kind of log, and I'm not being asked when I come into work if I have any symptoms. It's a failure from the top down, going all the way to the franchise owner. They have been very slow to respond, and that casual attitude is trickling down.
I can't at any point in the future expect any sort of financial help from the franchise if I were to decide to self-quarantine. And I can't rely on the owners to take the right steps to keep people safe. Every shift that I work is hazardous in my mind because of the ignorance of people around me and above me who are making decisions. But I have to pay my bills, and I'm probably going to work until things get worse.
One hundred percent, I wish I weren't deemed essential. One hundred percent. I would love to be involuntarily self-quarantined. Even if I knew I wasn't getting paid. I would almost prefer that the decision be taken out of my hands. But I am afraid that if I do self-quarantine, either my hours will be reduced or I won't have a job after this is over. I feel like they wouldn't understand why I was doing it, and then think I don't need a job when this finally cools off. That's the main reason why I'm still working.
Editor's note: Grub Street reached out to Domino's to ask about its policies. In response, a rep for the company writes:
All drivers and other hourly employees in our corporate stores are eligible for COVID-19 paid sick time and are also provided paid sick time for those situations in which someone is advised to isolate or self-quarantine for 14 days by their health care practitioner, public health authority, or the Company […] We have been very forthright with our franchisees about the benefits we are offering to our corporate store teams. We know that many franchisees are providing a variety of benefits and other measures to support their store teams. However, franchisees are independent business owners and we cannot dictate the compensation or benefits they offer their employees […] We encourage team members to stay home if they are sick — for their own safety and the safety of other team members and our customers. For our corporate stores, we have made COVID-19 paid sick time available as well as 14 days of quarantine pay.