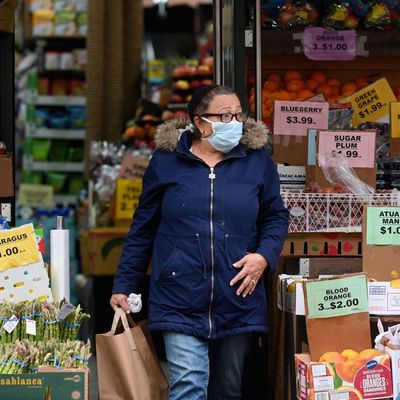 Photo: Angela Weiss/AFP via Getty Images
In a press briefing this morning, Mayor Bill de Blasio called on grocery stores to make wearing masks mandatory for customers to further prevent the spread of the novel coronavirus.
"I'm asking every store to put up a sign that you're required to wear a face covering," de Blasio said, adding that store owners could call 311 if customers refuse. "This is another one of the things we have to do to protect each other."
The decision comes after various reports, including one in the Washington Post, that dozens of grocery workers have died from COVID-19, including a Trader Joe's employee in New York. Yesterday, the New York Times reported that police officers have been forced to break up large crowds outside grocery stores, including one at the Trader Joe's near Union Square.
According to the Times, an employee told customers on line that they would not be able to enter the store without a mask. When once woman admitted that she didn't have one, the employee asked her to pull her T-shirt up to cover her mouth while shopping.
Meanwhile, grocers, including Kroger and Albertsons, and unions that represent grocery workers, are calling on officials to deem grocery workers first responders, according to NPR. Such a measure would mean that these workers would get priority when it comes to testing and protective equipment, including masks and gloves.