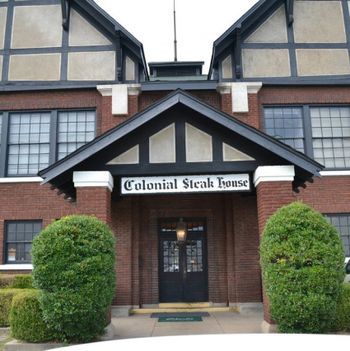 The Colonial Steak House.
Photo: Colonial Steak House/Facebook
Regulars of an Arkansas restaurant put their stimulus check to good use, throwing the whole $1,200 to staff as a tip for a single to-go order. The tip was given at the Colonial Steakhouse in Pine Bluff, a small city, and enough, owner Dana Gateley tells a reporter from Nexstar Media Wire, to give each employee $100. Unsurprisingly, it's providing some much-needed relief: General manager Allison Hall says "it came at a time that most of our staff really needed it" and that "things have been barely getting by."
This tip is a kind gesture and statement of solidarity. Record numbers of people are filing for unemployment, while many can't even file because state systems are so clogged or they are undocumented, and others have faced significant loss of income. Employees of restaurants, meat-packing plants, grocery stores, warehouses, and other industries are dealing with hazardous working conditions. Independent restaurants and other small businesses around the country are facing an uncertain but bleak future, while chains like Ruth's Chris tap into government loans meant to help small operators.
While it's a kind gesture, it also speaks to the reality that workers have had to depend on the generosity of individuals during this crisis. Restaurant relief funds were well-intentioned and set up to help those put out of work overnight, including the many undocumented workers who aren't eligible for benefits. They were seen as necessary, because in this country, you can't count on the government to help people in need. Many restaurant workers were already living in poverty or close to it.
Workers are being immiserated and getting paltry support compared to those in other countries, while Amazon tycoon Jeff Bezos has seen his wealth grow by $24 billion during the coronavirus pandemic. While his fortune has grown, Amazon warehouses workers continue to raise alarm bells and protest the lack of protections to ensure their health and safety. "We are essential workers, but we're not receiving essential protection," one worker tells Intel. The fact that a customer gave their whole stimulus check to people in peril is commendable and kind. But it is only necessary because these workers are being failed, and have long been failed, by their government.