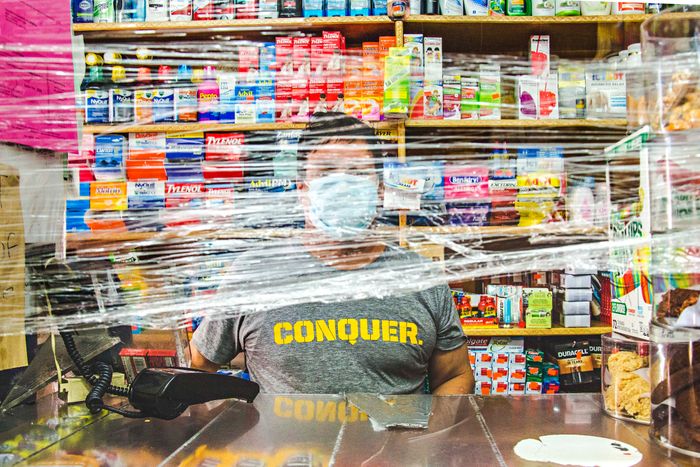 Felipe Jose at Elia Deli and Grocery in Bushwick on April 6.
Photo: Michael Schwarz/Redux/Michael Schwarz/Redux
Hakim Mubarez, 23, works at his father's bodega near Times Square. Once the coronavirus hit New York, Mubarez took over, fearing that his father would get sick.
Times Square is really empty. My customers used to be 20 or 30 percent tourists but mostly people who worked in offices, hotels, theaters. But right now everything is shut down. There used to be ten of us employees working, but now it's down to four. My sales have gone down by two-thirds, but the landlords don't care. They just call, asking, "Where's the rent?" It's almost $50,000 a month.
There are a lot of homeless people out here, and they used to be able to ask tourists for money. But now I'm seeing a lot of robberies in my store. People come into the deli and they spit, they have arguments, they threaten me, they want free stuff. When they grab food and run, I've been letting them go. Then there's other people, who are selling drugs outside, yelling, "I got sour [marijuana], I got coco [heroin] …" But the cops say they can't do anything about it because they need to do social distancing. All they can do is try to de-escalate the problem. If it continues like this, I'm going to have to shut down.
I still have some paying customers, mostly people who live in the buildings nearby. They come in looking stressed. I'm selling a lot of cigarettes — some of them buy three or four packs. Some customers, when they see that there's another customer already shopping, say it's too crowded and leave. Others come in with a bottle of disinfectant and spray everything they touch. I try my best to change my mask every six hours and my gloves more often than that. If a customer who looks sick hands me money, once they leave I take off my gloves, wash my hands, and come back to the front of the store. And I try to say to my men, "You need to wear masks and gloves as much as possible" — but masks are sold out everywhere. I have begged regular customers to give me masks, and there are some nice ones who have come in with a pack for me. I also wish I had more disinfectant spray. I buy alcohol and mix it up with Windex. I spray the door. I spray the door handles. I try to take care of the customers. I don't want them to get sick.
*This article appears in the April 27, 2020, issue of New York Magazine. Subscribe Now!