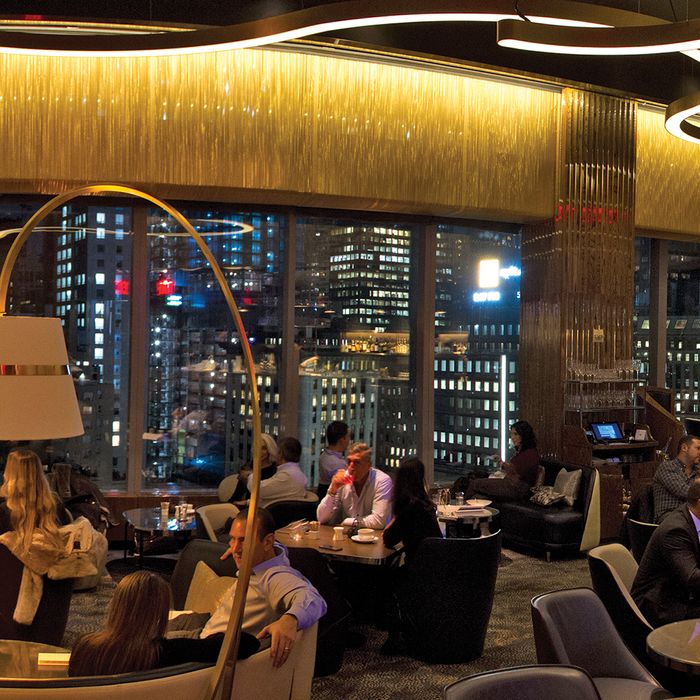 The Aviary — from the team behind Chicago's Alinea — will close permanently.
Photo: Jemma Hinkly/New York Magazine
When we're allowed to return to bars and carouse within six feet of one another again, the New York City bar scene will be missing three truly excellent watering holes.
This week, the city lost Coogan's — the iconic Washington Heights Irish pub — which will permanently close as a result of the coronavirus. According to the Times, where journalist Jim Dwyer penned a moving obituary to the bar, the owners were unable to keep up with the cost of the leases on their restaurant equipment, even with a rent moratorium from their landlord.
"Coogan's was the promise of New York incarnate: multiethnic, friendly, welcoming, smart," Dwyer writes. "The premise of the business was the opposite of social distancing."
Further downtown, and much higher up, The Office and The Aviary — high-end cocktail bars from the team behind Chicago restaurant Alinea — will also close permanently, according to Eater. Apparently, plans to close the bars were set in motion before the coronavirus outbreak. In typical Alinea-esque fashion, the bars earned great acclaim for their outlandish offerings, like a Scotch-and-green-Sichuan-pepper-spiked Old Fashioned that had to be cracked out of a ball of ice and a pork rind the size of a human torso, the like of which we may never see again.