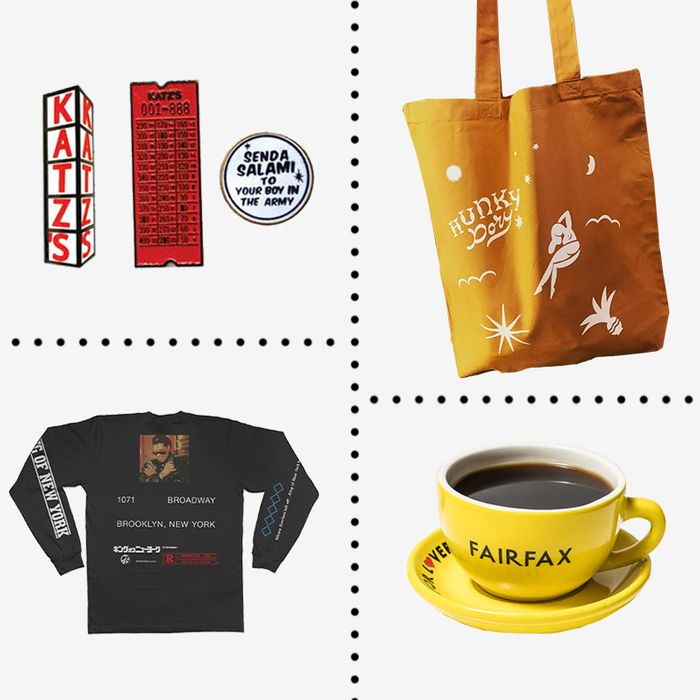 As the coronavirus quarantine in New York wears on, restaurateurs are getting creative about keeping their staff afloat in the face of an unprecedented shutdown. That means pantries, to-go cocktails, and, of course, merchandise. The last few weeks have seen one-of-a-kind items hit the web with sales going to support the industry. Grub combed the internet and pulled together a guide to the merch you'll definitely want to cop.
Photo: This T-Shirt
This expletive-filled shirt is not only a loving ode to the Thank You plastic bag, but part of a larger initiative from a team based at DS Projects, a New York City creative agency. In addition to more general quarantine-themed merch like this shirt and "C U in the New World" hats, shoppers can buy T-shirts directly in support of favorite restaurants like Ernesto's, Grand Central Market, Regina's Grocery, and Her Name Was Carmen. One hundred percent of proceeds go to restaurant partners and U.S. manufacturers.
Photo: inHouse
If you're looking for merch that requires zero shipping, this e-cookbook in support of Relief Opportunities for All Restaurants New York (or ROAR) is perfect. The book, which is available for presale now, features 45 "easy, pantry-friendly" recipes from some of New York's finest restaurants, including King, Momofuku, Charlie Bird, Llama Inn, and more. One hundred percent of sales will support ROAR and Robin Hood, a nonprofit that provides cash assistance to unemployed restaurant workers.
Photo: Kat's Delicatessen
You know those enamel pins people collect at Disney World? These are the same, but way more local and way more New York. There's an enamel pin version of the iconic Katz's ticket, a Send a Salami pin, and then a pin version of the deli's corner sign. The only thing missing is the matzo ball soup.
Photo: Chez Ma Tante
If you're both a fan of the original Aunt Viv on Fresh Prince and the insane pancakes at this Greenpoint restaurant, then this T-shirt may be for you. If you're neither of those things, then perhaps you'll buy this out of appreciation for the double entendre: Chez Ma Tante means "my aunt's place" in French.
Photo: Cervo's
For about a month now, the team behind Hart's, The Fly, and Cervo's have been running weekly pantries at all three restaurants. In addition to food, there is some nice merch, too, including a baby-pink Cervo's baseball cap, Hart's classic diner mug, and if you can consider booze a type of merch, then plenty of that as well.
Photo: Estela
Anyone who feels a way about New York City and about this Ignacio Mattos restaurant will want to grab this shirt. It oozes LES coolness plus it features the Statue of Liberty, everyone's favorite beacon of hope.
Photo: Merch Aid
The first round of T-shirts and tote bags from Merch Aid — which pairs professional designers with small businesses like Punjabi Grocery & Deli, Court Street Grocers, and Keg & Lantern — sold out in record time. Yesterday, the first item from a second round of merch dropped with a "Support Your Local Bagels" shirt and poster from Black Seed Bagels and artist Gabi LaMontagne. Collabs with Di An Di, Wu's Wonton King, and more are also on the way.
Photo: Dimes
Dimes owner Alissa Wagner was among the large contingent of authors whose book releases were impacted by the coronavirus quarantine. But you can still support the LES restaurant by grabbing her cookbook. Plus, there's never been a better time to cook your way through all 144 recipes in this quirky ode to healthful eating.
Photo: Merch 4 Relief
Whether or not you've seen the 1990 crime thriller this sweatshirt is based on, who wouldn't want a shirt with Laurence Fishburne and Christopher Walken's faces on it? Plus, you'll support the staff at Bushwick dive bar Marco's in the process.
Photo: Next Door Space Brooklyn
This James Murphy–owned venue (a sister to the café Daymoves and restaurant Four Horsemen) has put together what may be the single most useful quarantine care package you'll find in the city. There's a "The Great Disco Nap of 2020" long-sleeved shirt, coffee beans, a batched cocktail, a Disco Nap button, high-end hand soap (wash your hands!), and then a bag of Spanish-ham potato chips for good measure. If that doesn't do it for you, there are plenty of other options here.
Photo: Hunky Dory
If you've hung out at this Crown Heights bar and restaurant then you've likely fallen in love with their colorful, dreamy coasters. That design is available in tote form online now.
Photo: Happy Cooking Hospitality
If you miss the now-foreign pleasure of sipping coffee in nice porcelain at a local café, here's a chance to re-create that feeling at home. Gabriel Stulman's Happy Cooking Hospitality is selling these mug-and-saucer sets (including a white version for the Jones) so you can sip your only slightly burnt cup of joe in style.
Photo: Nom Wah
Here's another key product for people who love New York as much as they love its restaurant scene. For its 100th anniversary, the folks at Nom Wah created this trio of T-shirts featuring illustrations of Chinese food by legendary designer and New York magazine co-founder Milton Glaser.
Things you buy through our links may earn us a commission.