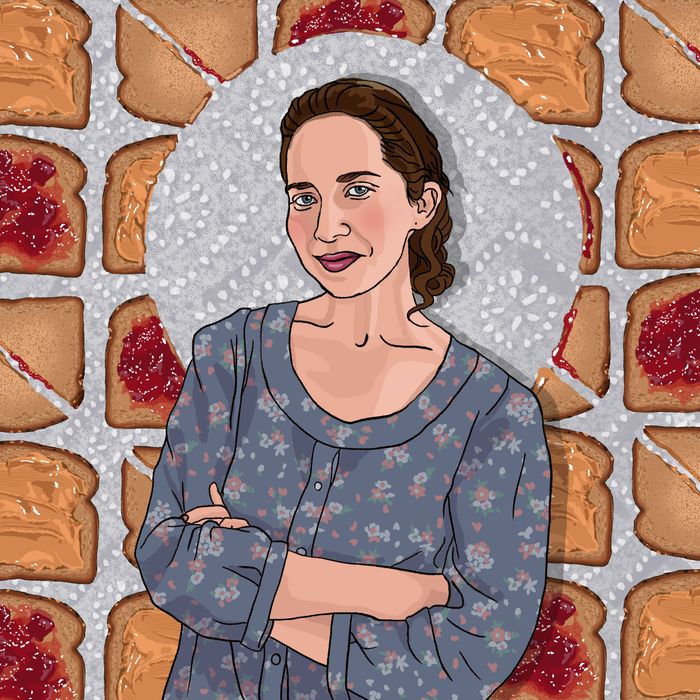 Bess Kalb with the classic American dish called peanut butter and fancy jam toast.
Illustration: Margalit Cutler
Over the last month, the writer Bess Kalb has found herself navigating some tricky territory that included promoting her first book, Nobody Will Tell You But Me , while the country quarantines. "We were doing a kind of premature funeral for it," the screenwriter and former Jimmy Kimmel Live! writer says of the as-told-to memoir documenting her grandmother's life. "I read every single reply about the book and every single person who has reached out to me being like, 'I have read your book, I cried at your book,' I have tried to thank." These days, she's also found herself navigating the unexpected change of becoming someone who cooks — and enjoys it! — for the first time. So, while she's home in Los Angeles, Kalb is re-creating the salads of her youth, experimenting with viral recipes, and exploring the possibilities of quick breads.
Wednesday, April 15
French toast with challah that my cousin Zoe Komarin made and dropped off at our front door. She's a gifted chef who does a pita pop-up in Highland Park, and she's a very big deal out here. She had an L.A. Times profile written about her. She's been on Eater multiple times. The only cool thing about me is, I am related to her. She used to live in Tel Aviv, where, as our grandma Judy will tell you, she had the No. 1 restaurant on Tripadvisor in Tel Aviv.
My baby is probably 10 percent Zoe's pita.
Now we are unfortunately quarantined away from each other, but we do backyard hangs. We have a patio — that's a huge patio brag — and so she'll stand on one side of it and I'll stand on the other. For Passover, she made our grandma's matzo-ball soup recipe and dropped it off at our doorstep. So we had a social-distance, grandma matzo-ball Seder. Just like the Torah instructed us.
I also drank decaf coffee with oat milk. When I got pregnant with my son, I stopped drinking coffee because I wanted a chill baby, but I still needed the taste. Decaf was sort of my way to taper off regular coffee, and then, after I had the chill baby, two things happened. Only two. One is that I get very drunk off of a very small amount of wine, and the other is that caffeine is basically meth. I've lost my tolerance for both alcohol and caffeine because I'm a sensitive little amoeba. So now I'm too scared to go back on the sauce. I used to drink coffee all day, and now I am an embarrassment.
Ate a clementine.
I keep trying to re-create the salad at the old Upper West Side restaurant Popover Café. It's called "Frank's Florida Salad." I loved that salad, and I loved Popover Café, but now neither exist anymore. The salad was not something I made before this, because I would never make a labor-intensive salad before I absolutely had to.
I had barely any ingredients, so I did my best.
Washed the romaine lettuce from our farm box. (Remember when we all thought romaine was going to kill us? Turns out it's bats!) Shredded baby carrots, which was harrowing and labor-intensive, but I was committed to making this salad. Diced some Applegate turkey into ribbons and then little squares. Fried our last piece of bacon and crumbled it.
Made dressing with a whisk like a French lady. If an actual French person hears this, they'll become upset with me and deny me entry to the country. It's not French at all; it's just red wine vinegar, Dijon mustard, and then I whisk in a little bit of honey and some minced garlic, which in this case is unfortunately from a jar. I'm going to be honest with you: I didn't freshly cut garlic. Then you slowly add the olive oil. This is the world's easiest dressing.
No tomatoes. Considered using salsa but realized that was insane.
I recently became allergic to dairy, and I miss it every day. I think about cheese like an ex. I sometimes look at pictures of pizza online. I want cheese back even though it will hurt me. I briefly thought about adding some vegan "cheddar" to the salad but I did not, because I have not lost the will to live entirely. A week ago, I tried to convince my husband vegan cheese is just as good as real cheese, and I made him a grilled cheese to prove it, and he took one bite, swallowed it, and looked at me with an ocean of sadness. Whatever.
Snack: The remainder of zucchini bread I made a few days ago. It was very good, and you can print that in New York Magazine.
For dinner, I made the Ottolenghi turkey meatballs. A great recipe by a great chef for people who are neither great chefs nor great people.
I should say that the Ottolenghi meatballs are my one party trick, to the extent that people who come over our house twice have eaten that twice. I also knew if I could do this, truly everyone could. If there's someone else who only ever cooks this dish, that person and I should never meet, or at least become close enough to go to each other's houses. It would be like the Spiderman meme. It would totally be us pointing at each other, with our meatballs.
Cooking is something I've been trying to do now that I can't leave my house. I was not a home cook before this. I am someone who really existed on takeout. And when I made dinner, it was just pasta with frozen peas and maybe olive oil, salt, and pepper if I was feeling fancy. I just didn't have it in me. There was every excuse. I just started relying on delivery multiple times a week, which is extremely expensive and just a bad, unsustainable thing to do. I knew every time I did it that it was bad, but I couldn't stop. Every time, Postmates was like, "How would you rate this app?" I was like, "Bad. I don't like it. See you tomorrow."
Now that I don't have that option, I'm a gung-ho chef. It's been an unexpected journey. I realize that this daunting, intimidating prospect is something I can do. Even I, an idiot, can do it. So I feel really empowered by that.
Thursday, April 16
Toast with Miyoko's vegan butter (IT TASTES LIKE REAL BUTTER!) and jam from Little Dom's we got from a friend as a holiday gift. I love Little Dom's. We used to live right around the corner from it, so it was our fancy Monday night dinner when they used to do a $20, prix fixe, three-course menu. They have the best spaghetti and meatballs in an eight-block radius of our old house.
Miyoko's was the first one I tried. I was very skeptical, and I loved it, and I've never looked back. I can say I like this butter as much if not more than regular butter, to the extent that my husband puts it on his toast, even though he has the option of eating regular butter.
Ate some of my son's sweet-potato mush because he didn't finish it. I know he's done eating when he starts rubbing it in his hair.
Soup! I have started making soups, and I am extremely connected to my ancestors through this process. Some of our root vegetables started to become sad, so I looked up a New York Times recipe for potato leek turnip beet onion soup, found nothing, and cobbled one together myself. It was fine! I was confused and intimidated by "tie a bouquet garni with a few sprigs of thyme and a bay leaf," so I just dumped a bunch of dried herbs in the pot then skimmed them out with a coffee filter before I blended it. Like Thomas Edison would have done. I am now a woman who makes soup from scratch, and two months ago, if you told me I'd use our blender for anything other than smoothies, I would have laughed and then quietly feared you.
For dinner, I made white-bean pasta with sausage and kale and white wine.
We had wilted kale and some cans of white beans and a box of DeCecco rigatoni, so I was feeling very smug about having all of the ingredients to actually make something. I kept saying "I'd make this even if we weren't in quarantine" out loud to no one as I drank alone in my kitchen.
I followed a recipe from Bon Appétit. I cooked white beans and shallots with the dregs of a white wine from the back of our fridge I had forgotten about. It definitely was "off," but look who's still alive to write this! Also what's the worst thing that can happen to wine? It becomes more alcoholic? I am not a scientist. The recipe called for crumbled sausage out of the casing, but we only had un-cased chicken sausage, so I did what the pioneers did and crumbled it with my hands, then fried it in olive oil, and voilà.
Friday, April 17
Sautéed the stems of last night's kale until they were edible. I would not necessarily recommend doing this!
Toad in the hole with two eggs and the last of Zoe's challah. Sad. I tried to poach an egg once. It tasted like vinegar, and I haven't attempted it since then. If you fail at something once, just hope nobody was watching and never try again!
Split the last clementine with my husband, for he is my one true love.
Leftover, cold sausage pasta. Our microwave broke a few weeks ago, so this has been a series of cold leftovers. We are very brave!
Reheated some soup on the stove. We're going to keep living without the microwave while this goes on. I think the slight inconvenience of having to use the stove is not enough to justify the purchase of a whole new machine. To be clear, I'm an extremely good person.
UH-OH THIS BASIC BITCH MADE THE ALISON ROMAN #THESTEW.
I knew of this recipe because I had seen everyone make it on Instagram and then there I was staring at our eight pounds of canned chickpeas. I just said out loud to myself, "It's time." Every millennial woman in possession of two cans of chickpeas will hear that calling at one point or another, and it was my time. My burning-bush moment.
Was it good? Yes.
Did I Instagram it? No.
Did I wish I could put a cooling heap of labneh or yogurt on top of it? Of course.
It takes an hour, and it's a lot of anxiety at first — don't burn the onions! Don't add the wrong amount of turmeric! Don't crush all the chickpeas — you have to set half of them aside! Don't eat the chickpeas you set aside as a snack because you are already drunk! But once you dump in the coconut milk and chicken broth, you're made in the shade. You can relax, have another glass of wine, and eat all the chickpeas you set aside. It's a stew, baby.
I changed up the ingredients and proportions a little — I like my stews a little more thick than runny, so I only used one can of coconut milk to two cans of chickpeas, but this is still the intellectual property of Alison Roman and I am not unique. I ate my stew without a single original thought in my head.
WINE.
Saturday, April 18
Oatmeal with almond butter and pears and oat milk. Decaf coffee with oat milk.
#TheStew Part Deux. Heated leftovers in a pot because you really can't have cold stew until you've truly given up hope there will be a vaccine.
Snacked on rolled-up turkey because it says "consume within three days of opening" and this was day five, which I'll call a "quarantine day three."
I made pear bread while my baby was napping.
We bought a bunch of pears, and they were going bad, so I modified the olive oil zucchini bread recipe from last week and grated the pears into eggs and brown sugar and olive oil and VERY expired vanilla extract, added flour and baking soda and salt, and somehow a slightly underbaked pear bread came out. I think if baked goods don't taste a little like batter, there is no point. Sorry, PAUL HOLLYWOOD.
If I were ever actually on The Great British Bake Off, I would start hyperventilating at the first technical challenge and leave.
The contents of our refrigerator were spartan, so I made kimchee fried rice for dinner. We got a traditional clay donabe rice cooker before the lockdown, and it has served us very well recently! I'm going to start off by saying I do not know how to make fried rice, but I know what I like in fried rice, and I know it is cooked together in a hot pan, so here's how I went about it: My husband cooked the rice in the donabe.
I realize I just bragged about having a donabe, but the truth is, I am too intimidated to use it. It looks like a beautiful piece of ceramic pottery that I will break.
He cooked the rice. Then I diced up the remaining sausage in our freezer and cooked it in sesame oil. Then I stir-fried carrots and peas and onion and rainbow chard in sesame oil. I deglazed all of it with kimchee juice. Until recently, I did not know what "deglazed" was, and now that I do (pouring liquid on hot things in a pan? I think?) I can't stop talking about all the stuff I deglaze. I honestly could deglaze all day.
So once the deglazing was done, I added the kimchee and rice and some coconut aminos because we are a household with a soy allergy. Sliced some green onion from our windowsill garden on top. It turned out very delicious. I even sprinkled sesame seeds on top because it turns out I have all the time in the world?
On the side, I used the last of our purple cabbage to make a quick cabbage slaw with old rice wine vinegar and sugar. I realize now this was too much cabbage for one meal, but I come from shtetl people, so in a sense, it was the right amount of cabbage. I don't even like cabbage a little bit, but I do like kimchi. That wasn't the star of the dish. But, again, my ancestors were psyched.
Sunday, April 19
Pear bread!!!! So good!! Or maybe it's not and that's it's just the taste of pride.
I'm weirdly competent at what Mary Berry would call quick breads. I found that it's very relaxing and easy to do a one-bowl baking recipe that doesn't involve any heavy equipment. As soon as something like a mixer comes into the equation, I'm out.
Decaf coffee with oat milk.
Lunch was leftover kimchee fried rice with a fried egg on top.
Then more pear bread because I got writing done that morning while my baby napped.
Steak night. It's a rare thing in our household to have steak — maybe two or three times a year — but when we have it we call it steak night. I don't know why. I think I like saying "I'm going to take you out for a steak dinner" like I'm rewarding my husband for landing the big Nabisco account or something. I started eating red meat when I was pregnant. It's bad for the world. It's cruel. It's delicious. I am not a good person!
We had two steaks in the freezer left over from when we made steak on New Year's Eve (we are very fun!!) so my husband made them in a cast iron skillet at a very high heat, which is exactly how you should make them. I think you can do it nicely on the grill, but to me a searing-hot cast-iron pan is a fool-proof way, and we are fools.
Then I had to open all the windows in our house so the smoke detector didn't wake the baby. Minutes later, thinking I'd avoided a crisis, the 8 p.m. howl started. This is the L.A. version of the 7 p.m. cheer. The howl came roaring through our opened windows and immediately woke the baby. So we joined them.
I brought the crying baby to the window and cheered alongside him, which disoriented him into calming down. One day I'll tell him he got woken up because people were expressing gratitude for those who risked their lives to save humanity from a plague and he dealt with it like a freaking baby.
I put the baby back to bed and ate steak in our smoke-filled home.
For all of it, I am extremely lucky.