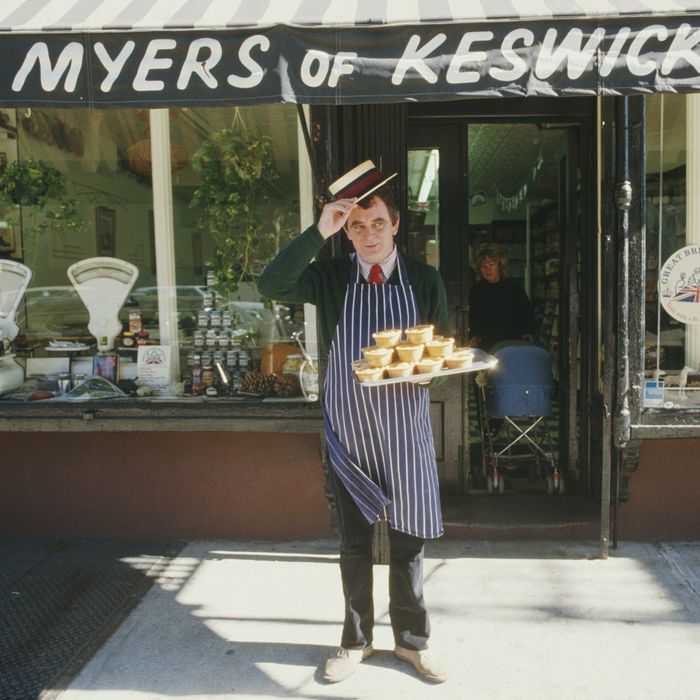 Peter Myers, outside his store in 1986.
Photo: Michael Brennan/Getty Images
"Sorry, all the beans went ages ago," said Irene from behind the counter at Myers of Keswick, the estimable West Village institution, which for three decades now has trafficked in the kind of stout, durable British cuisine upon which the queen, ages ago, built her empire. The famous banger sausages and housemade pork pies were gone, too, Irene said, although there were still a few sausage rolls left in the larder, along with large, cannonball-size Scotch eggs that, it occurred to me as I browsed among the jars of palace-approved marmalades and boxes of tea, could be used in a pinch as deadly projectiles.
Like everywhere else in the city, these are tough days for grocers in our neighborhood. The Korean delis have mostly closed up, the big stores (Trader Joe's, Whole Foods, Gristedes) are fraught with all kinds of social and health issues, and even the famous Greenmarket in Union Square has turned into a weird kind of twilight, no-go zombie zone.
But Myers of Keswick has always been a little different from your average neighborhood grocery store. It was opened in a wee space on Hudson Street on July 4, 1985, by a homesick Englishman named Peter Myers, after his attempt at running a pub had failed. He'd come from a family of butchers in the town of Keswick, in Cumbria, up by the Scottish border. Old-fashioned butchers in England used to have their own closely guarded pork pie and sausage recipes, the way Italian grocer families produced their own sweet sausages and ragùs. Peter's father's pies and bangers had sold well at his failed pub, so he decided to build a little grocery operation around them, along with an inventory of the haute-hoarder, mid-twentieth-century delicacies of his youth, much of which tended to be powdered, or packaged in rainbow shades of cellophane, or come from the inside of a can.
Over the years, the store became a hit among assorted Village eccentrics, and anglophiles from faraway places like New Jersey, Connecticut, and even London. It became a hit with our family, too, for the one-pound pack of small-size breakfast chipolata sausages (dad), for the antically named candies (the girls), and for the jams and bottles of clotted cream for tea (Mrs. Platty). So when the news went out that it would be shuttering for the time being, I decided to brave the blustery pre-Easter weather, dressed in my gloves and papery thin COVID-19 mask, to scavenge for a few last packets of Yorkshire pudding mix, mushy peas, and several jars of the queen's favorite strawberry jam.
"Dad says he likes the pork pies best. Hands down, he's a pork-pie, Cumberland-sausage man," says Peter's daughter Jenny Myers, who runs the store now and has decided to close it down at least through April. Her dad retired back to Keswick a little over a year ago, she told me from her apartment in Battery Park City where she was attempting to homeschool her three restive young daughters, though he still offers advice on sausage quality control and which products to stock. She compared their store to other idiosyncratic, endangered immigrant-family operations around town, like the last of the old Ukrainian butcher shops along lower Second Avenue, or the Russian grocery stores out in Brighton Beach, many of which remained — with their ancient sausage or pierogi recipes, their stocks of pickle products, and their sawdust-covered floors — a snapshot of the kind of local neighborhood store that hardly even exists anymore back in the home country.
Most of these venerable landmarks are closed up tight, of course, and like many other mom-and-pop establishments around the city, more than a few probably won't reopen after this calamity is over. But on this last day of business, the windows of the Myers family store were filled with chocolate bunnies and brightly wrapped Easter eggs by Cadbury. Inside, the shelves were still stocked with jars of Parsons pickled cockles and little tubs of lime marmalade, which, according to the fruit-embroidered label, had been produced by the Rose's Company since 1865. There were cereals with names like "Shreddies" and "Farley's Rusks," bottles of a substance called "chicory & coffee essence" emblazoned with a kilted Scotsman sipping coffee by the campfire, and crimson cans of "premium quality" haggis made with Highland beef.
I didn't purchase any canned haggis for the family larder, although I plunked down a few dollars for a pot of Marmite, which my brothers and I used to choke down when we were growing up in Hong Kong, spreading it for breakfast on pieces of burnt toast. I bought orange marmalade tinged with malt whiskey emblazoned with the royal seal, and a strawberry jam flavored with Champagne. I bought a shiny box of Yorkshire Gold tea, and, for the road, four sausage rolls wrapped in a lard-rich pastry crust. "Happy Easter, be well," Irene called out brightly as I readjusted my coronavirus mask and gloves and shuffled out the door onto the empty street. "Come back in a month and we'll have plenty of bangers and fresh pork pies, God willing!"