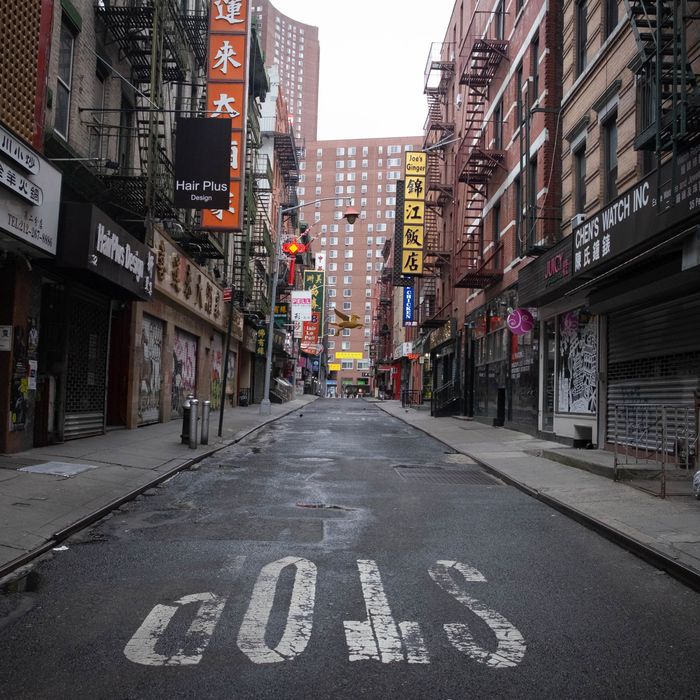 An empty street in Manhattan's Chinatown on March 31.
Photo: Braulio Jatar/Echoes Wire/Barcroft Media via Getty Images
Standing in the middle of a sparsely populated Pell Street — home to barber shops, massage parlors, and the first Manhattan outpost of Joe's Shanghai, which helped catapult xiaolongbao, or soup dumplings, to a citywide obsession in the 1990s — cookbook author Grace Young addresses the camera: "I'm Grace Young. I'm known for my expertise in wok cooking. But today, I would like to tell you what's happening in Manhattan's Chinatown because of the coronavirus."
This is the first in a series of YouTube videos she has quickly produced along with photographer and videographer Dan Ahn called Coronavirus: Chinatown Stories. The duo met when Young posted to her Instagram account on March 14, asking followers to suggest a videographer to help out her mission to bring business back to the mom-and-pop shops and restaurants that define Chinatown. The following day, they recorded interviews with several restaurant owners — mere hours before it was announced that all New York restaurants would need to cease operations excluding delivery and takeout.
"A lot of these restaurants — they don't have a PR company," Ahn says. "I volunteered because I thought it was a great way to amplify their needs, their voices — and I just felt like it was the right thing to do."
Now, COVID-19 has inspired a multidisciplinary coalition of professionals-turned-activists who are working around the clock on a shared mission: to save the beloved institution of independent Chinese restaurants, a severely affected sector of the hospitality industry that has seen sales steadily decline since January. These activism efforts — which have been underway since before initiatives to save all restaurants — are now ramping up to provide a badly needed infusion of cash.
"Everyone's talking about how the restaurant industry operates on razor-thin margins, but in Chinatown it's even more so," says Young, who earlier last month wrote an essay in Food & Wine that helped explain why Chinatown small businesses depend on high-volume sales, and are therefore especially susceptible to sudden declines in business. "When you see that Le Bernardin has started a GoFundMe for its employees, it tells you how bad it is." Young adds, "these Chinese employees have even less."
"I noticed Chinatown was definitely quieter on Lunar New Year, but I feel like the media coverage has been kind of sparse," says Jennifer Tam, who works in corporate communications at Foursquare and co-founded Welcome to Chinatown along with her longtime friend Victoria Lee, a corporate strategist at the Estée Lauder Companies.
Both women live in Manhattan's Chinatown. Lee grew up visiting her grandmother's apartment there every Saturday, shopping throughout the neighborhood before dinner. And, even before the COVID-19 pandemic hit, Tam had been on a mission to buy all her food and everyday products from the neighborhood's mom-and-pop shops.
"We thought, how can we show our community that we support them and that we care?" she says. There is also a cultural and generational component that might contribute to the problem. "Chinese people are also really proud, especially the older generation, they don't want to ask for help," Tam explains.
The strategy behind Welcome to Chinatown is twofold. First, they collect funds to pay restaurants for bulk meal orders that will be donated to essential workers. Second, Welcome to Chinatown offers an online hub for restaurants that are still open for takeout and delivery, and for gift cards. They admit it has been challenging to engage with older restaurants that do not have the technology to sell gift cards, or even modern point-of-sale systems, especially now that social distancing limits the ability to have face-to-face conversations.
The immediate goal is to build trust by creating cash from meal orders for essential workers, which everyone can help fund. This week, they plan to deliver 600 meals to nine hospitals in every borough, with friends volunteering to help call restaurants and make delivery runs.
In Bensonhurst, the restaurant Win Parkway has seen success with this bulk order strategy, after partnering with members of the Homecrest senior center. According to Don Lee, a community activist who has been facilitating the exchange, the restaurant has already hired three more staff members and, thanks to this regular business, can now accept takeout and delivery orders from other customers — something that was not worth their while before the initiative.
"Seamless is not what they would sign up for, because the cost of getting on Seamless is what their profit margin is," Lee explains. "I'm hoping we can replicate this model to help keep small restaurants working."
"This is the critical moment," says Wellington Chen. Chen is the executive director of the Chinatown Business Improvement District and Chinatown Partnership. He has consulted with Lee, Tam, and pretty much everyone I spoke to for this story on ways to help the neighborhood survive. "They're looking at four months of rent or mortgage, property tax, and staff wages," he says, "and we don't want them to walk away and give up."
In mid-March, Moonlynn Tsai, the co-owner of Kopitiam in Manhattan's Chinatown, launched Table to Table with her partner Yin Chang, an actor and founder of the media platform 88 Cups of Tea. The idea was to leverage their existing platform to help out neighboring Chinese restaurants, partly with a series of food tours to help bring about business and awareness.
They still plan on holding those tours, at a later date when it's deemed safe, but now they have partnered with the Chinese-American Planning Council to deliver hot meals to residents in need. They found out from this organization that many seniors in their neighborhood were running out of food because domestic aides could no longer assist them, due to coronavirus social distancing precautions.
"We grew up with immigrant grandparents, so that hit a soft spot for us," Tsai says.
"It's hard for them to ask for help," adds Chang, noting the cultural taboos around older people asking for help.
Table to Table also makes meals for the staff of Chinatown Partnership's Clean Streets initiative, whose staff have been sanitizing the streets as well as serving as de facto watchdogs in the neighborhood. Kopitiam also recently joined Rethink Food NYC's Restaurant Response Program, making meals for essential workers.
In many ways, these activists only want a return to business as usual. But they're also responding to an increased threat directed at Chinese restaurants and Asian-Americans around the country, which has been both dangerous and dispiriting.
"All that xenophobia and racism," Chang says. "People saying that you can get the virus from an Asian person or eating their food, that's so false and so harmful."
Nobody feels exempt from the danger. "Just walking back from a gym, someone walked by and said, corona! and spit on me," says Victoria Lee, of Welcome to Chinatown. "But I really worry for the large elderly population in the neighborhood — are they going to speak up?"
In episode three of Coronavirus: Chinatown Stories, Mei Chau, the chef-owner of the Malaysian-French restaurant Aux Epices lays it out in plain terms: "Our workers are afraid for their safety," she says. She then takes a long, measured sigh before going on with the rest: "Because — still — we have this xenophobia. And they have to take the subway, and finish work at ten or eleven, and they fear — their family is really worried about their safety."
Wellington Chen lives off the last stop on the 7 train, in Queens — one of the most populated lines still operating. He says he can see all the hardworking folks riding it each day, and he worries for the health and safety of the Chinese restaurant workers. He also worries about the spirit of hope and encouragement that's necessary to see the light at the end of this particular tunnel.
"You need to inspire hope because that's the most important thing," he says.
Chen warns the road to recovery for these small businesses will be long, and once they return, they will need more support than ever. But for now, he likens the needs of mom-and-pop Chinese restaurants to a ventilator, except everyone can chip in. "A pair of socks might not mean much to a person, but if you are a person who is homeless, it means the world," he explains. "So that's why I say even if it's a $12 gift certificate, it will be meaningful for somebody."