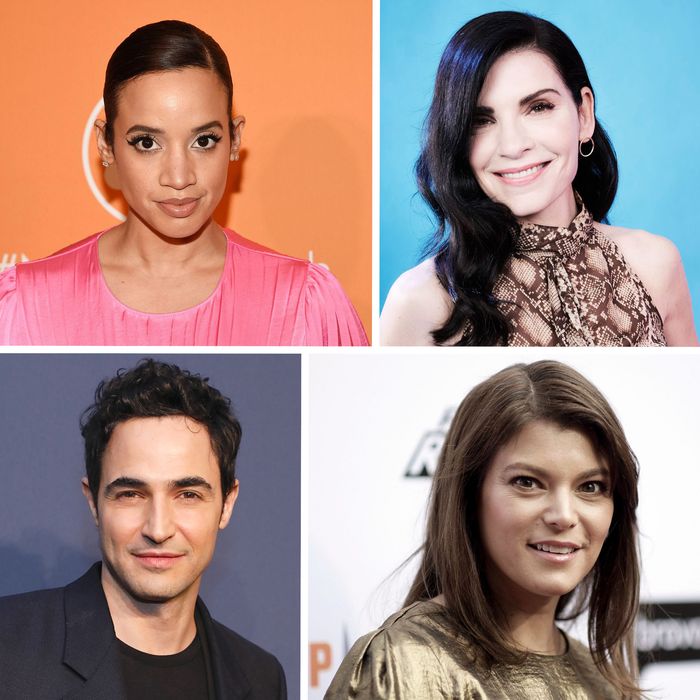 Photo: Getty Images/Shutterstock
It's still hard — so hard — to see a light at the end of this tunnel. And even when the shelter-in-place order is lifted, the restaurant world will likely look very different. But we also can't stop thinking about how good it will feel once things start to get back to the way they were — and it feels very good to at least dream about it right now. So we asked 21 of our favorite New Yorkers about their food fantasies: What will you eat? Where will you be? Who else will be there when this is all over?
Billy Eichner, actor
My dream right now is to be running late to a Broadway show, as I always am. There will be no time for dinner so I'll have to order an enormous bag of peanut M&M's at intermission to hold me over. Then at 10:30 p.m. we'd all have dinner at Joe Allen's until my gay friends and I ditch the handful of straight friends that have joined us to go to gay bars. I miss all of it.
Dascha Polanco, actress
Once quarantine is over, I plan to spend the weekend right; for those who don't know me, I'm a party heiress. I love food, a two-piece, jumpsuits, heels, and sneakers. I want to play dominoes on my block with my sun-kissed skin wearing a romper and sneaks, eat some shaved-ice and a Mister Softee, while enjoying some coconut water with a splash of whiskey. I will beat all the dudes from my hood until dawn and order fritura from the store on St. Nicholas. I'll wake up the next day and get myself together. I'll show off my quarantined bod with a lime-green jumpsuit, a wig by Hair Galore on Nagle, and get my nails and feet done at my regular place, Ardelys, in the projects. After I'm did, I'll visit my Brooklyn family and take them to lunch at Cafe Luluc and end my night at Osteria Morini to fully indulge and fall in love. It's now Sunday. I wake up and throw on my extra-large sunnies, jumper, and some jelly sandals and head to Uva on the Upper East Side to indulge in some pancakes. Then it's time to shake my booty and get lit at Mamajuana in Queens. I finally end my punch-drunk-love day at a chimi truck, of course, in the Heights.
Gail Simmons, food authority and Top Chef judge
When I travel for work, I have no issue going to multiple places in a night to see and taste as much as I can in a limited time. Well, for my first meal back I want to eat my way through a "Ladies of Brooklyn" food crawl in the same way. Is that too much to ask? I want a little bite from all of these amazing women-led spots I miss and crave so much:
Leyenda: fresh and herby tequila cocktails.
Saint Julivert and La Vara: briny raw bar and crispy fried tapas.
Tanoreen: fragrant, lusty meze and dips.
Lilia: all the little fishes and beautiful spring veg, maybe just a bit of pasta.
LaRina: lots more pasta, on the patio.
Insa: spicy fried chicken, smokey kimchee stew, and karaoke.
Ample Hills: ice-cream sundaes, obvs!
I'd bring a gaggle of girlfriends, anyone up for a party. We would rent a bus or maybe even an old-school stretch limo to get us around. I don't think an UberXL would cut it. So many of my close friends work in or adjacent to the restaurant industry and this would be a night to celebrate them.
Julianna Margulies, actress
The first restaurant I am going to the moment I can is Keith McNally's Pastis at 52 Gansevoort Street. I was thrilled when it reopened not so long ago, and so impressed by the attention to detail poured into every part of the place, making it even better the second go-round. The golden light inviting you in from the sidewalk, the red leather booths surrounding marble tables, the bustle of waiters rushing by with trays overflowing with charred steaks and perfectly crisp fries. This is the part of the old New York I have always been drawn to: familiar faces at the door, impeccable service, food that never disappoints. When this nightmare is over, and it will be over, my husband and I will round up our friends, as many of them as we can to celebrate. I will order what I always do when I am at Pastis. First a bottle of rosé for the table so we can make a toast to the heroes on the front lines and say good-bye to social distancing. To start I will order the artichoke with green-olive tapenade followed by moules-frites with white wine and garlic sauce. I look forward to the baskets of Balthazar bread they will bring to the table so I can dip it in the buttery sauce (I salivate as I think of this!). Whenever I am there I bump into friends I haven't seen in a while, I can't wait. I will wait, but when the time comes I will be the first one in the door, and my hope is to see Keith McNally, sitting at his regular booth, so I can give him a hug and thank him for reopening.
Sally Hershberger, celebrity hairstylist
When this horrible crisis is over I'm meeting my friends Jae and Teresa at my new favorite Italian spot Portale. I love the coziness of the restaurant and the food is crazy delicious. I'll start with a Clase Azul tequila cocktail with soda water and lime, and then the homemade ricotta cavatelli pasta and rib-eye steak.
Just yesterday, I was fantasizing that I was wandering down a New York City street on one of those balmy spring nights that you don't mind walking 20 or so blocks to your dinner destination. I've never been able to stay monogamous to just one restaurant (trying new spots is half the fun for me), so I'd be happy to sit across from the sushi chefs at Shuko, Sushi Inoue, or Sushi Ishikawa. I can close my eyes and imagine the host bowing as we enter (and I, of course, bow right back beaming with excitement of the ritual to come). In my dream, I'm with my husband, my favorite dining partner, who will eat anything and understands that I don't like to talk while I'm eating, especially during a sushi omakase. I can't; I won't. I need to concentrate on every pristine piece of raw fish that is placed in front of me so pridefully and methodically. I love the surprise; the unpredictability and subtleties of each piece placed before me. Some wrapped by hand, à la minute, in perfectly crisp seaweed, others laid bare on the plate without a morsel of rice, while others melt into the warm rice beneath it. I miss sipping cold sake in beautiful, handmade glassware and the hot soba tea I like to linger over at the end of the meal.
While learning to prepare and cook vegetables in over 25 ways has been a proud accomplishment, a beautiful environment with friendly faces, great staff, and delicious food is hard to replicate at home. I miss Polo Bar and Blue Ribbon Sushi on 58th Street the most!
I'm thinking it will be La Esquina with my boyfriend for a spicy frozen margarita, good guacamole and plantains, some good old-school disco from the DJ, and cheap and cheerful food and that slightly rude New York attitude at the door.
Patti Murin, actress
I would choose Kashkaval Garden, a tiny Mediterranean tapas and wine bar in midtown. God, I hope they survive this. I would go with my husband, Colin Donnell, and our four great friends, Michael, Aaron, Salli, and Patrick, whom we've been texting nonstop during this pandemic. That group text is my lifeline some days. The restaurant is super cozy and candlelit, very hygge. It's comfortably crowded and tiny, so people have to sit close together, which is honestly a dream at this point. It has the best cheese fondue in the city. So I would order endless cheese fondue, its chicken skewers, and the biggest meat plate it has to offer. And wine. My God, white wine. I'm assuming this will take place after I give birth at the end of July, so I'm going to be in desperate need of wine for multiple reasons. (Don't worry, baby girl is home with both sets of grandmas and grandpas, who are just dying to give as many baby snuggles and kisses to their newest grandchild as they can dole out.) I haven't been able to drown my sorrows in wine this entire time, so I want the best dry white they have to offer. And an amazing sparkling rosé to toast our survival and friendship.
There will be some happy crying right when we greet each other, tons of laughter and cry laughing during the meal, and then probably more crying as we get a little tipsy and start to discuss the more serious aspects of the pandemic and how it has changed the world, for better and for worse. And then more (probably drunker) crying over how much we mean to each other, and how this has brought us all closer, even though it kept us apart for months. We'll shut down the restaurant, and probably even have a digestif with the staff, as we all simply revel in being around other humans, both familiar and new.
Cat Marnell, author
During this messed up corona crisis, my friend, the legendary graffiti writer SAME, a.k.a. Chris Johnson, died. It's been really hard for me and my downtown creative friends, so it will be amazing when I can sit with all of them in real life after such a harrowing time. My location for this dream meal is somewhere dope that everyone can afford: Scarr's on Orchard Street in the Lower East Side. It's so unique because it's a spot for pizza by the slice (plus the most amazing vegan Caesar salad — you must try it), but there's also a DJ and a bartender. I always get a glass of white wine. The lighting is low and the spot has got that hot-spot energy: When you walk in, you know you're somewhere cool. I can't wait to go back.
Carson Kressley, style expert and TV personality
I cannot wait to get back to Cafeteria in Chelsea for brunch with a bunch of my friends. We'd need to get Champagne, which goes great with the truffle mac 'n' cheese. Bring it on!
Zac Posen, fashion designer
I can't wait to eat at Kajitsu in NYC, which specializes in vegan cooking that originated in Zen Buddhism. The restaurant is set up in a small brownstone in Midtown East. There's a matcha bar on the ground floor as well as a Japanese confectionery store that is perfect for tea. Upstairs is the restaurant, open for lunch and dinner. You can either have a small bite to eat or a full multiple-course dinner. It's a wonderfully magical place. I am so looking forward in all respects but especially to having a meal with my whole family and giving them all a big hug!
Christina Tosi, chef and founder of Milk Bar
I will invite all my pals to meet me at the park. (I always have a bag with blankets at the ready this time of year.)
The assignment will be this: (1) Bring [blank] food (a different cuisine per person), and (2) carry it out from your most-missed spot.
Me? I've got my assignment figured out. Burgers and dessert, two of my favorite food groups, and though I am always plenty fed on dessert, at-home burgers just don't taste the same. First I'd grab Shack burgers. Then head a few blocks south to pick up a whole log of raspberry slices from Ole & Steen. Then I'd grab some more burgers (with eggs, obvi) from 4 Charles, then Bar Sardine, then Minetta, then Emily.
I don't have the best table manners, and am wildly impatient when I'm hungry, hence loving park dining where the food shows up with the company.
As much as I miss dining out, I miss the company that dining out comes with, the camaraderie, the bad jokes, the low blows, the catch-ups, the chatter, the sharing of life hacks. I miss my friends. I miss the little moments.
Taffy Brodesser-Akner, author
Two years ago, I was looking for a place to take my husband for our anniversary. All we wanted was linguine and clam sauce. I asked on Twitter where the best place to go for that was, and Kurt Andersen said Carbone. So I've been trying to get in since then. Thirty days before my anniversary this year, I finally, as a result of waking up at 7 a.m., and some active and intentional hovering over the online scheduling, got in. A 10 p.m. reservation was the best we could get, but I was still so excited. And then … the quarantine happened. So, that's the first place I'll try to go. I'll start the process all over again. Up in the morning, hovering over that keyboard. We'll get that linguine and clam sauce. We'll go at any hour. We'll go for breakfast even. We'll be so happy.
Jonathan Waxman, chef
After quarantine, other than getting Barbuto back up and running, I'd love to head to King restaurant and let Jess and Clare cook while Annie provides the magic.
Leah McSweeney, Real Housewives of New York
When we are out of quarantine I'm rounding up my group of closest girlfriends and going to the Odeon. The red-wine-braised meatballs, fried calamari (sometimes not on the menu but it always has them), and warm doughnuts. I'm salivating thinking about it. We will cry, laugh, maybe get wasted, and revel in the joy of being together.
Once this is all over I really want to take my wife, Lucy, and older son, Charlie, to Gage & Tollner. I went there for its preopening the last night we were allowed to have nice things, and it was remarkable. Felt like Boss Tweed would saunter to the corner table at any minute. And the food was excellent for a restaurant not even open yet. Charlie will have oysters and lemonade, Lucy will have crispy mushrooms with a glass of sherry, and I'll have too many highballs. I can't fucking wait.
Eating at restaurants is pretty much my favorite thing in the world to do. I'm looking forward to a date night with my husband (I'm not tired of him yet, thank goodness) at Estela, but what I'm most looking forward to is seeing my group of girlfriends. We call ourselves the "Monday Night Dinner Girls," although we're not girls anymore. We've been getting together at my dear friend Michelle's house every Monday night for almost 20 years. We've gone through marriages, births, deaths, career ups and downs, and so much more together. They are my kitchen cabinet and my sounding boards and my shoulders to cry on.
In recent weeks we've been doing Monday-night-dinner Zoom calls, but to celebrate being able to get together in person, we'll go out to dinner at Via Carota and get a ridiculous amount of food to share. I'll start with a Negroni or two, and definitely have the amazing insalata mista and whatever crostini are on offer, hopefully with burrata. I'll drink too much and eat too much and cry too much, and be grateful for friends and delicious food and the joy of coming together over a good meal with the ones you love.
Greg Baxtrom, chef
Over the past few months, my business partner Max Katzenberg and I have been working endlessly with so many friends and colleagues through the IRC to figure out how our industry is going to successfully bounce back. After texting, calling, and FaceTiming so many people, I'm really looking forward to finally seeing everyone face-to-face. I want to round everyone up: Max, Mashama Bailey, Kwame Onwuachi, Tom Colicchio, Sam Kass, Katie Button, Edouardo Jordan, Amanda Cohen, Ashley Christensen, Julia Sullivan, Rick Bayless, and so many others — and then we'll rent out Ernesto's, a new spot that has been high on my list for months. We'll do what we do best: eat and drink for hours. We'll drink wine, get that mountain of chips with jamón, try all of the desserts, and most importantly, finally get to spend solid face-to-face time with each other.
After a full evening of eating and drinking, I always love to stop for a nightcap, so I'll grab a seat at the bar at Henry Public, and order a Negroni with a side of fries. No better way to end a night.
Paul Liebrandt, chef
Blue Ribbon Sushi is my go-to — and I miss it. The fried oyster roll and shio miso soup would be my order! I would take my dear friend who is a doctor on the front line with COVID-19 to say thank you.
Brooke Baldwin, CNN anchor
When this is all over, where am I dying to eat? My go-to celebratory "special" place in NYC is Cote. It's Korean BBQ: I take my brother there every year for his birthday in December. But after this isolation and my coronavirus … life's too short. Why wait? The steaks, the sides, the staff … oh, and Undercote, the bar downstairs, for that one naughty after-dinner drink. It's the best.