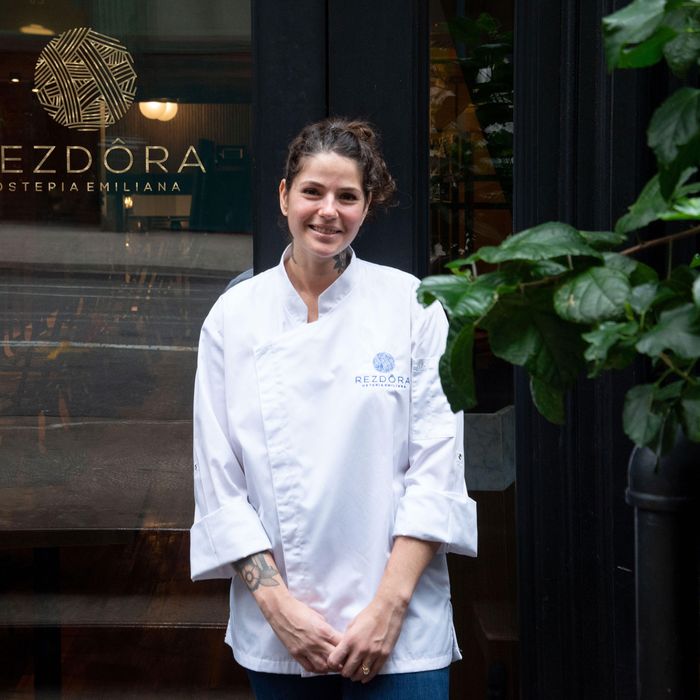 Jessica Quinn is the pastry chef at Rezdôra, in the Flatiron District.
Photo: Courtesy of Jessica Quinn
If you had told me, even three weeks ago, that I would soon be spinning gelato into to-go pints and packaging agnolini into takeout boxes, I would have laughed out loud. It's been almost exactly a year since we opened Rezdôra, the restaurant where I work as the pastry chef, and we've been really fortunate because we've been incredibly busy. On a typical night, we would have 180, 190 people on the books. It never slowed down.
Now, because of the COVID-19 crisis, we've been ordered to close, just like every other restaurant in New York. Our guests have disappeared, and so have our egos. We can only sell food for delivery and takeout. We put the same amount of care into our cooking as we did before, but there's a new desperation for it. Our guests no longer feel like our business — they're our lifelines.
My day still starts a little before 8 a.m., but now the L train — which is usually packed — is hauntingly empty. Anyone who is on the train takes social distancing seriously. I listen to podcasts and try not to touch anything.
After I get off the train, I walk past the Devoción coffee shop next to the restaurant, wishing I could go inside for an iced latte. Instead, I just keep walking. I open the restaurant, turn on the lights, change into my whites, and make an espresso. Normally I'd turn on music, but the first day I stood in silence, looking at the empty dining room. I had to tell myself not to cry.
We had our final service on the same Monday that everyone else did. The majority of the people who were let go have already left the city, and I don't blame them. There are only four of us left now, and everyone who stayed took a significant pay cut. I probably would have stayed here even if I'd been told I wouldn't get a paycheck at all.
On the first morning, one of my cooks texted me, telling me that the unemployment site kept crashing and she didn't know what to do. I told myself, again, not to cry.
In the kitchen, I gather my mise and start making family meal. It's usually a pretty rigorous production schedule. Now my current prep list is lighter, so I spend the extra time making incredibly indulgent and gluttonous treats for the remaining staff and anyone who comes in for a pickup order. Even though I'm alone in the kitchen, I have a feeling I'm not the only person trying to offer these small acts of comfort to the people around me.
There are people who could have come in to work, but they chose not to because they wouldn't have felt safe. Of course, you aren't going to make someone come to work if they don't feel safe. For me, the concern comes from home. My wife also works in restaurants. She was laid off, so she's at home, and she worries about me.
I start to spin gelato while chef Stefano and our sous-chefs, Anthony and Daniele, simmer stocks, roll pasta, and stir sauces. They're assembling lasagnas for pickup.
At 3:45 p.m., it's time for family meal. Normally, the line to eat would be backed up to the door with servers, prep cooks, dishwashers, and bartenders all holding plates. Now it's just us. One day, Peter, another line cook, showed up. So did Antonio, our porter. We let everyone know that if they needed a family meal — if they wanted one — we'd have it for them. We want to make sure people know we're here to support them in some small way. We don't have the answers, but it doesn't look like anyone's stepping up to help us, so we do what we can to help each other.
By 5 p.m., the kitchen is so silent it hurts. We get stoked every time an order comes in. Someone yells out, "Okay: three gnocco, two grandma, four spag!" We jump around, pretending to be in the weeds. I yell "spingy, spingy — ragazzi!" which is Stefano's usual line. Everyone laughs. I laugh until I cry.
I'm trying to enjoy this moment, when everything feels more nurturing and less highbrow, but I also know it isn't sustainable.
Now we're on Caviar, and we have seven delivery drivers out at one time. The first day, we only had takeout, and we got a handful of orders. Now nights are starting to feel hectic, like an actual dinner service, except everything's getting boxed up.
Friday was the first morning that I was completely out of everything. It was the first time I'd written a production list in days, and it started to feel normal.