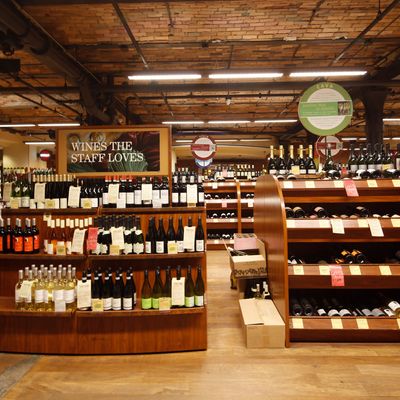 Astor Wine & Spirits
Photo: Melissa Hom
Since last fall, a sign has hung inside Leon & Son, a boutique wine shop in Clinton Hill. It reads "Say No to Wine Tariffs," and it has been up since two separate tariff proposals justifiably shook the wine world.
The biggest, which you've probably heard about, was part of a long-running trade dispute over airplane subsidies — a rejoinder to E.U. subsidies for Airbus that violate World Trade Organization rules. The proposal was a 100 percent duty on all European wine.
"It was a 'holy shit' moment for the industry," says Leon & Son owner and wine director Chris Leon. "It made you feel a little scared and helpless."
The wine "industry" is in reality a bafflingly complex network of producers, distributors, importers, wholesalers, retailers, and sommeliers, and they managed to fight the proposal effectively. "It was a beautiful thing that we did come together and mobilize," Leon says. "It made me really proud."
Even though there was a collective sigh of relief when U.S. tariffs on E.U. imports of French sparkling wine were delayed at least until the end of 2020, there remains a 25 percent tariff on still wines from France, Spain, and Germany. The tax has actually been in place since last October, but we still haven't seen the full impact on prices — and, in the wine world, plenty of uncertainty remains. The biggest problem is that nobody really knows what's going on.
"When these tariffs went into effect in mid-October, most importers had already brought in the majority of their wine for the holiday season," explains David Hitchner, owner of Alphabet City Wine Co. on Avenue C. Some importers stocked up on large orders in anticipation of taxes, although most were not able to since it is expensive to store wine, especially when basically hedging on a bet.
Of course the simplest option is just to pass along the higher costs to their customers, but everyone we talked to says they try to exercise caution when doing so. "If we pass on the cost to our customers, we sell less wine," says Frank Shobe, CEO of Golden Ram Imports, a small wine importer based on the Upper East Side that sells to shops and restaurants.
Lorena Ascencios, a wine buyer for Astor Wines & Spirits says she, too, doesn't simply raise prices across the board, even as so many factors affect prices. "It's painful to see small growers in Spain not only dealing with the export market in Spain, but also dealing with these tariffs, the coronavirus, and Brexit — it's a really a crazy time for international business." When debating how much to charge her own customers, though, she says, "It's a case-by-case basis."
Christopher Barnes, who owns the Grape Collective on the Upper West Side, calls price increases a juggling act. For a certain type of wine buyer, even a substantial bump in cost is no big deal. "If you have your heart on a Crus Beaujolais or a Bordeaux," Barnes says, "you're probably going to buy it regardless."
Leon agrees that "in New York City, where the cost of living is so high, people are more likely to just accept a bump in price." But in much of the rest of the country, customers are more sensitive to even small jumps in cost. Leon & Son also has a shop in Grand Rapids, Michigan, and an online business, and Leon has observed that "elsewhere, every dollar matters more."
There are exceptions: Wines with more than 14 percent alcohol and large-format bottles are exempt from the tariffs, as are sparkling wines, but it's unrealistic to think that customers are going to just start drinking double magnums of high-grade Châteauneuf-du-Pape. Experts also say that just because the tariffs only affect certain bottles of wine, the entire network gets hurt as a result. "The wine industry is built on a crazy network of distribution," Leon says. "Importers, distributors, and warehouse people all rely on this structure, including American winemakers." That means that what's bad for European wines is ultimately bad for everyone.
"At the end of day, the tariffs are going to destroy jobs," Shobe warns. Truckers, dock workers, and restaurant employees will pay the price. Oftentimes, it's the people at the bottom of the industry's food chain who feel the squeeze the most.
The U.S. Trade Representative said they will review the tariffs every four to six months, and so for  now, the uncertainty remains. Most believe that an end of the Trump presidency will mean an end to the tariffs, although it's impossible to predict, which means for now, everyone in the wine world has to adjust on the fly. "We can't plan for what we don't know," Ascencios says. "I'm not going to live in fear — I need to run a store."