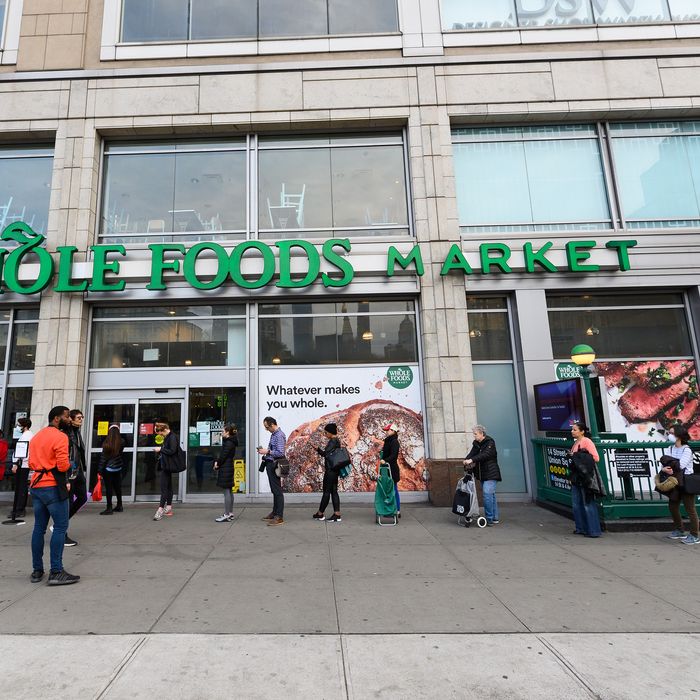 The Whole Foods on 14th Street in Manhattan.
Photo: Noam Galai/Getty Images
Following strikes by Instacart "shoppers" nationwide and Amazon workers in Staten Island, Whole Foods employees across the country are planning a sick-out on Tuesday. The strike, which is being called for in an online petition posted by Whole Worker's National Organizing Committee, was moved up from its originally planned date of May 1 because, the organizers write, "Whole Foods employees are already getting sick. We must act NOW." There have been reports of employees of Whole Foods — which is a subsidy of Amazon — testing positive for COVID-19 at locations in California, New York, and other states.
Since the coronavirus pandemic, Whole Foods has raised hourly pay by $2, started offering two weeks of paid sick leave to employees who test positive for the coronavirus, and announced it will not punish workers for calling out sick. A Whole Foods worker who has helped organize the strike tells Motherboard that they are asking for increased hazard pay — "We're asking for double pay," they say — and that some of those still working have no choice because of rent and bills. A Whole Foods employee from New England tells Motherboard that after her doctor told her to quarantine for two weeks because she showed symptoms of the coronavirus, Whole Foods would not accept her doctor's note or provide her with sick leave.
Along with increased hazard pay, the organizers behind the petition are demanding paid leave for workers who isolate or self-quarantine, health-care coverage for part-time and seasonal workers, increased FSA funds to cover testing and treatment for all team members, a commitment to adequate sanitation equipment and procedures, and the immediate shutdown of any location where a worker tests positive for COVID-19. They are asking for workers to be paid during any such shutdowns.
We're committed to keeping our readers informed. 
We've removed our paywall from essential coronavirus news stories. Become a subscriber to support our journalists. Subscribe now.