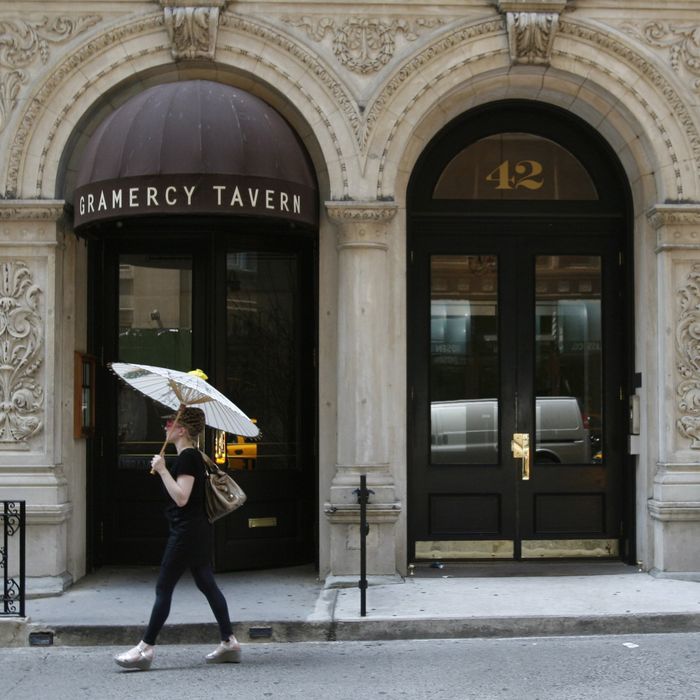 Gramercy Tavern is one of New York's most famous restaurants.
Photo: Carmen E. Lopez and AJ Wilhelm
Today, Union Square Hospitality Group became the first major restaurant group to announce that it will shutter all its restaurants, 19 total, in the wake of the coronavirus outbreak.
"We have decided to close our USHG businesses temporarily and until further notice to ensure the safety of our people and our guests during the COVID-19 crisis," reads a letter shared with employees and obtained by Grub. "As set forth below, we are not terminating your employment and we hope to re-open and re-call you as soon as possible."
According to the letter, employees will be paid through March 18 at the paid time off rate and then allowed to use any remaining PTO. Once they've exhausted their PTO, they will be placed on "unpaid leave" and may be eligible for unemployment. "We are focused on making tough and prudent decisions now in full hopes of a return to business when the current health emergency permits," the letter continues.
With such a massive footprint, USHG is uniquely positioned to weather this storm in a way that most small restaurants cannot. USHG employees will still receive health insurance through April 11. Meanwhile, dinner reservations for Friday night have been canceled and the restaurants will remain closed until further notice.
Other restaurants that have announced temporary closures include Oceana, Virginia's in the East Village, and dim sum destination Jing Fong.
We're committed to keeping our readers informed.
We've removed our paywall from essential coronavirus news stories. Become a subscriber to support our journalists. Subscribe now.