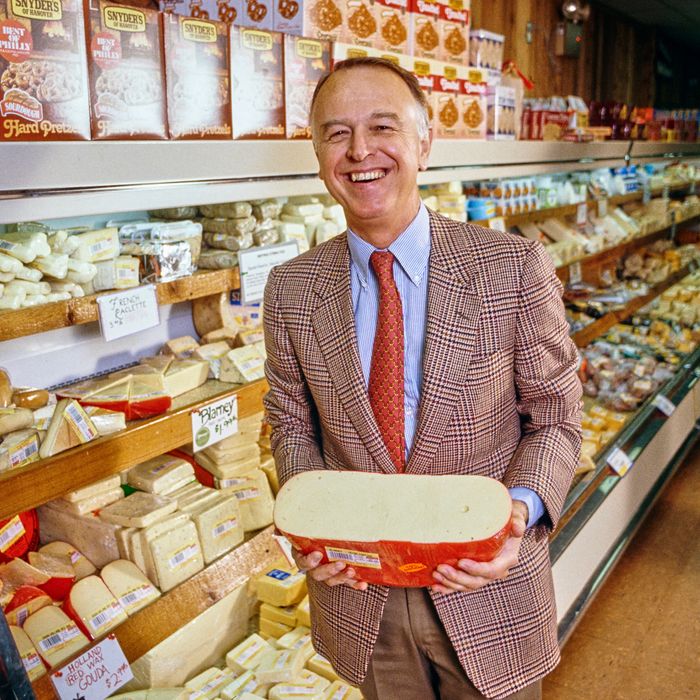 Joe Coulombe, at one of his stores in 1986.
Photo: John Blackmer/MediaNews Group/Orange County Register via Getty Images
On Friday, Joe Coulombe passed away after what was reported to be a long illness. If the 89-year-old's name doesn't immediately ring a bell, perhaps you know him better as the "Joe" in Trader Joe's. The affordable, hippie-meets-tiki grocery chain that Coulombe founded in California in 1967 has, of course, become an American institution, and frugal grocery shoppers around the country have come to rely on the store's low-cost items.
His big idea, one that went on to influence generations of food lovers, was to stock a store with food that would appeal to emerging tastes. As he once told the Los Angeles Times, "I have an ideal audience in mind … This is a person who got a Fulbright scholarship, went to Europe for a couple of years and developed a taste for something other than Velveeta by way of cheese." Over the decades, his store managed to keep up with those trends, giving shoppers access to organic, high-quality foods, gourmet snacks, and, of course, cauliflower gnocchi.
He also, and this is important to note, stocked his stores with lots of booze after, as the New York Times reports, he "read somewhere that the more education people had, the more alcohol they drank." He would go on to make Charles Shaw wine — lovingly referred to as Two-Buck Chuck — one of the most popular names in the wine world.
Trader Joe's is one of those stores that inspires deep loyalty among its customers, and fans took to social media over the weekend to pay their respects to Coulombe and his business — even if some people had never even realized that there was, in fact, a real Trader Joe: