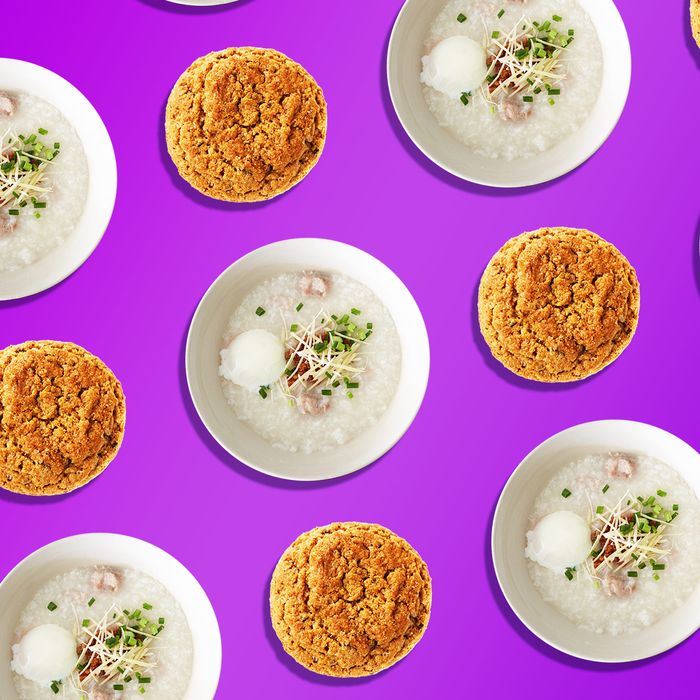 Photo-Illustration: Megan Paetzhold. Photos: Getty Images
Last week, New York and Grub Street asked some of our favorite past Grub Street Diet subjects to keep one-day diaries of what they eat while self-quarantining, which we'll be running over the next few days. Here, the author, chef, and host Samin Nosrat walks us through the way she spent Monday, March 23.
The truth is, I haven't been eating the way I usually do since the stay-at-home order started. I haven't zeroed in exactly on what is different, but I don't have the same sort of appetite as I normally do, and I am craving a lot less sugar and fewer snacks than I normally eat. Even though I spend a lot of my time thinking about what I want to cook later in the day, or the following day, I don't really feel all that excited about eating.
Upon waking up, I took my antidepressants — always crucial, but especially so these days!
I wasn't very hungry for breakfast, so I made a milky, cardamom-y cup of coffee, sat in my heated garden chair, and watched a pair of titmouses — titmice? — work on the nest they've been building in my garden for a few weeks.
I came in and continued to sip the coffee while I listened to the first draft of Home Cooking, a new podcast I'm working on with my friend Hrishikesh Hirway, and found myself pleasantly surprised by how little I hated my own voice.
After some puttering in the garden, I walked a few blocks to see my friend Elazar Sontag, who just got back to Oakland from Brooklyn. He'd posted on Instagram that he had made cookies and had left them out for neighbors on his stoop. My pup, Fava, foraged for treats on the steps, I sat at the bottom, and Elazar stayed at the top while we had a nice check-in, and I grabbed a cookie to eat at home: gluten-free oatmeal raisin with a big melty piece of chocolate on top. Perfectly baked, so nice!
I caught up on email, talked to Hrishi, took a nap, tried to watch St. Elmo's Fire (good music, bad movie), and finally decided to heat up some of yesterday's baked beans (which were essentially half-bacon). I spread them on a piece of toast and ate a Persian cucumber and drank a huge glass of water alongside it all.
I worked in the garden some more — mostly weeding — and then, as it started to get cold, I came inside and made myself a pot of soba tea, which is so warming and delicious. I finished reading, for the second time, my friend Jon Mooallem's beautiful new book, This Is Chance, which left me with a warm and fuzzy feeling inside, and I decided to start a pot of congee for dinner.
I mixed chicken stock I'd made the week before with Kokuho Rose short grain rice in a pot with some sliced ginger, a few cloves of garlic, a generous pinch of salt, and a splash of fish sauce. I let that simmer for about four hours. In the meantime, I realized I was out of peanuts, so I took Fava for a walk to the corner market to get some.
When it was time to eat, I realized I hadn't had any vegetables all day, so I boiled a bunch of broccolini from the farmers' market and ate that alongside my congee, which I topped with cilantro, chile crisp, and chopped toasted peanuts. I also fished a sparkling passion-fruit drink out of my fridge. My friend Greta Caruso sent it to me. It's a slightly evil, very delicious prototype she is testing for a premixed cocktail (I couldn't tell there was any booze in there!). I drank that alongside my porridge while Fava ran zoomies around the living room.
*This article appears in the March 30, 2020, issue of New York Magazine. Subscribe Now!