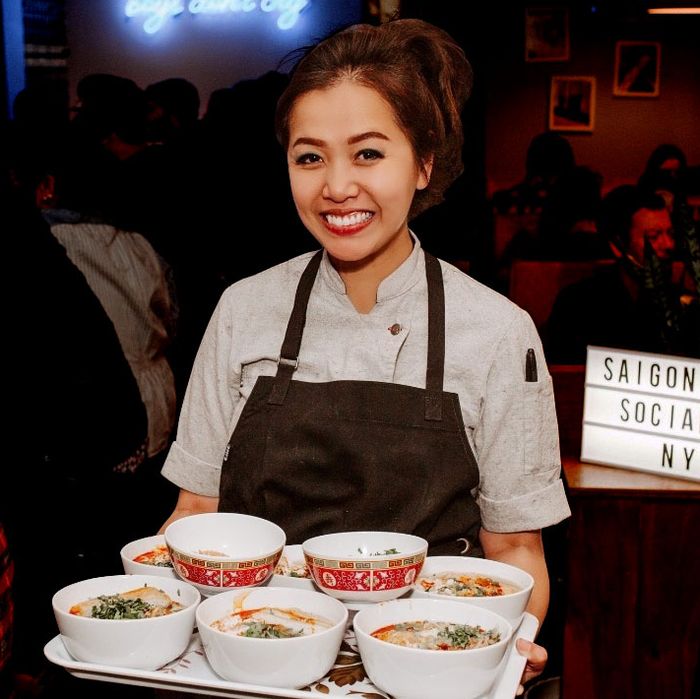 Helen Nguyen at event where she served Saigon Social soup.
Photo: Pat Dunford/Saigon Social
Last week, Helen Nguyen was gearing up to open Saigon Social, her Vietnamese restaurant two years in the making. Her menu was finalized, after testing dishes through pop-ups; the space was ready; staff was hired; and the gas was finally on. Then, as concerns over coronavirus started growing and more broadly affecting the industry and those who work in it, she took a step back and hit the brakes. Nguyen spoke to Grub Street about where things stand now.
I moved to New York City to work in restaurants. I grew up in California, and had been living in Seattle. My plan was to open the restaurant in June of last year. I'd been working on it for two years. It took about a year to find the perfect location. Then for the last 11 months, I'd been battling Con Edison to get the gas on. We had to bring in a new gas line. The projection I had for opening the place was about $600,000. Thankfully I've been able to stay within budget.
Two weeks ago, I finally got the gas line installed and was able to move forward. We had finally found a group of people who were on board with what I'm trying to do. So we were like, "okay, this might be sudden, but we have a staff that's in alignment, so we're going to push for a very last-minute open." We were going to open very quietly, so we could fine-tune things but also at the same time ease into it. And then the news broke out, and I had to take a step back and rethink things.
I was really devastated obviously, because — from fighting with the city to the whole 11 months fighting tooth and nail with Con Eidson — just getting this restaurant up and running was difficult. Then it was like, oh, finally we went through that really, really big hurdle, the landlord has been really supportive, and it was finally coming to life. But I sat there and realized I've never experienced anything like this. I talked to a lot of people in the industry who said the same thing, who said to maybe open and limit hours. But I had an inkling that this might get a lot worse. I decided the best thing to do was to hold back.
I've been very fortunate to have a landlord who has been supportive — I know that's very rare in New York City. They told me they wouldn't charge me rent until the gas is on. From what people share with me, I understand landlords here tend to be very unforgiving or, quite frankly, don't really care. But my landlord was like, "I can't in good faith charge you for a place that doesn't have gas. We didn't realize this was going to be an issue." Then, as we started talking about rent, this happens, and my landlord, thankfully, told me, "now is not the time. We'll revisit this when things settle down." He's took his family upstate.
At the same time, I just learned that one of my really good friends in Seattle's father was staying at this nursing home and got sick. The center of the outbreak in that city has been this nursing home, and I just learned that's where my friend's father was staying.
When the first sickness there was reported, my friend and his siblings were really paranoid. But my friend said the people at the nursing home said they couldn't get him tested "because he isn't showing any symptoms, so it is against protocol right now." Then there was a second person who got sick, and they were like, "okay now it's really time." But they were told, again, that they couldn't because he wasn't showing symptoms. Then three days later he caught a fever, and they had to move him to a hospital, and they're like, "unfortunately because we can't protect everyone we can't let you say your good-byes." The whole family were told that they had to say their good-byes from the window. He passed last night.
I have family in San Jose, California, and Seattle. My mom is in Seattle right now, it's really tense. I wanted to go home when I realized we weren't going to be opening the restaurant. But if I come home, I could catch something. I realized the best choice was for me to stay. So, we had some stock leftover at the restaurant, and I figured I might as well cook for people who need food in the community and this building. A lot of my colleagues are like, the only place we could really eat was work. I'm trying to give as much as I can.
I know a lot of people in the industry don't have the leniency I have. They have landlords who are very strict and like, "this is what the contract says." I'm in a little better of a position, but with the way we budget things, our budget is our budget. We had a concession because of improvements made on the property, and now it's time to talk to my landlord. We haven't had time to because everyone is panicking about the uncertainties that lie ahead. We don't know when we're going to come back, because we want to keep our staff safe and until they are we're going to halt all conversations. But it's just a matter of time.
When I think about running the business, the two things are labor and food. I can control those costs, but how can you really control the labor when you don't have any hours to offer without compromising yourself as a responsible business person? That just forced me to be like, "you know what, I'm already 11 months in. I'm going to have to carry this burden by myself for a couple more months." I told them, "I want to keep you employed, but I can't, and if you're able to find another opportunity elsewhere that keeps you afloat by all means." We're all struggling.
It's just very sad. We were just so ready to go. I had to tell myself that I don't have a job for these people — that conversation was the biggest heartbreak for me. A lot of times in this industry, people are living paycheck to paycheck. Even if they aren't, they all have financial obligations and families to support. I think about it every hour: how's my cook doing? How's my dishwasher? How are my front of house staff? You have these conversations with them when you're going through the hiring process, these things you take to heart and continue thinking about. I still do hourly. Even as I sit here and stare at a very empty dining room. It really breaks me. They've been understanding, but at the same time I know they've been shy about acknowledging they're out of a job or might not be able to make rent next week. They are in a lot worse situations than we are, and I don't know how to help them.