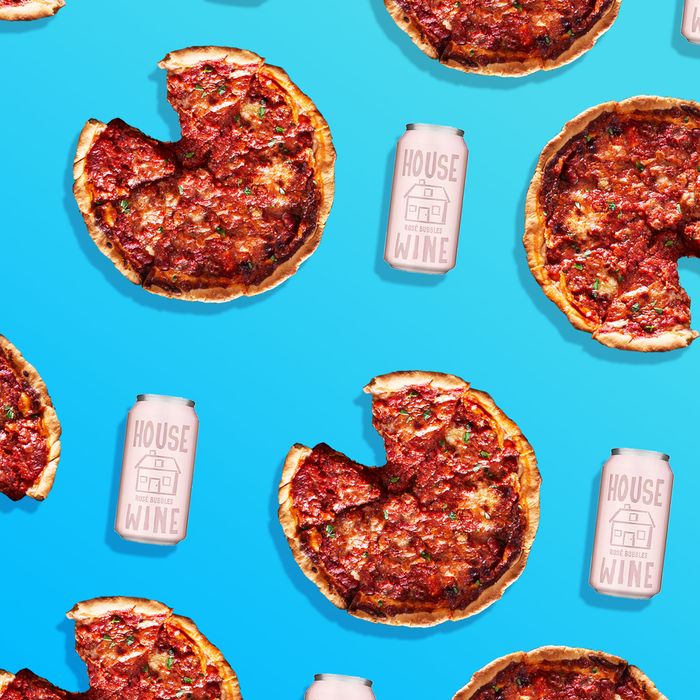 Photo-Illustration: Megan Paetzhold. Photos: Getty Images/Courtesy the Vendor
Last week, New York and Grub Street asked some of our favorite past Grub Street Diet subjects to keep one-day diaries of what they eat while self-quarantining, which we'll be running over the next few days. Here, Black Monday actor and comedian Paul Scheer walks us through his Monday, March 23.
What are hours? What are days? Is it a weekend? I don't know! I've been self-distancing, a.k.a. quarantining with my wife and kids, for ten days. It feels victorious, but I also know it probably means nothing. I'm kinda using my own Groundhog Day analogy to see how much time we have left: If Dr. Fauci touches his face during a press conference, that means we have at least two more weeks of quarantine. If he's not at the press conference, I assume that means we have at least a month or more.
I'm not going to lie. This is a challenging time. We want to follow the rules, we want to stay safe, but it feels like we aren't doing anything, even though we are doing the most important thing, which is STAYING THE FUCK AT HOME.
The best way that I can feel good about my social distancing is by supporting local restaurants, servers, and bar staff. My go-to taco place Homestate is serving up curbside quesadillas and giant jugs of margaritas. It was amazing to drive away with a half-gallon of margs and vegetarian breakfast tacos. I bow down to the restaurant owners and staff that know the comforts we need to take the edge off in these times.
Anyway, I'm waking every day at about 6:30 a.m. and then watching American Ninja Warrior Junior with my 5-year-old. It's good. I'm always surprised to see 9-year-olds with better abs than most Marvel movie stars.
After a lovely leisurely morning of TV and Lego building — we are working on the Disney Castle; it's going to be epic — we go to breakfast. This is around 8:30, which is a welcome relief from when we had to drop my oldest off at school by 8 a.m.
I can't properly homeschool if I'm not adequately caffeinated. I'm a big iced-coffee fan. You might remember my ode to Coffee Bean and Tea Leaf in my last Grub Street Diet. When I can't get that, I enjoy the best Cold Brew on the market, and that is Califia XX Espresso Cold Brew Coffee with Almond Milk. I know it should be Oat Milk, but this is a pandemic. I'm doing the best I can!
My sons ate frozen Mickey Mouse waffles (thank you, Eggo), and on this morning I checked on my big breakfast experiment. The night before, I made chia-seed pudding. Hold on, let me correct that: I made a delicious vanilla-infused, milk-chocolate, chia-seed pudding for breakfast, and it was G'damn tasty. I'm now part of the chia-seed revolution. Dessert in the morning. I need it!
We embarked on a morning of homeschooling, chores and a walk — or should I say skateboarding and scooting around the block. I walked behind my kids. I'm not cool enough to be a dad who skateboards with my kids.
Soon it was time for lunch. I knew I was recording my meals for Grub Street, so my wife let me crack into the Lou Malnati's that we keep in the freezer. I'm a New Yorker,, and this might be offensive to you all, but I love these deep-dish pizzas. These home-delivered Chicago treats were first given to me by Harold Ramis as a wrap gift on Year One. They come fresh in this freezer box packaging, and you heat it up and it feels like it's coming right out of the kitchen in Chicago. It's perfect. The crust is buttery, the cheese is gooey, the tomatoes are ripe and tangy. Eating two of these slices can literally make you have a better day.
We continued our day as my wife and I switched off responsibilities and made time to work out. I hosted a virtual big-kid talent show for June's new digital business Jane Club. Parents from all over logged in as every kid from their homes showed off a skill, and it was amazing. My son literally climbed the wall (that Ninja Warrior is paying off), and he killed it. But I'm biased.
Then it came time for dinner. Like I mentioned, we are trying to support our local restaurants and small businesses. So we went to All Time, a restaurant that has taken Los Feliz by storm. Not only are they doing takeout, but they are doing community outreach and giving free essential grocery boxes to those who were laid off and even running a makeshift supermarket and wine store. They are amazing, and when you go to curbside to pick up your order, the attendant puts on a plastic glove to pass you your bag. They are prepared, safe, and awesome.
I had the BIG ASS SALAD, a personal fave. I also ordered a delicious piece of salmon over crispy sushi rice (their term, not mine) and sautéed bok choy. I felt whole again.
Now, let me let you in on a little secret. I don't normally drink, but I enjoyed this meal with canned wine. I'm not ashamed. I absolutely LOVE IT! I'm addicted to House Wine: Rosé Bubbles. I picked up a box of it during the supermarket shopping panic. They were out of everything else, and I figured I'd get a win if I brought back something that could last for days — I thought canned wine would do the trick.
We finished dinner with a treat because, hell, we made it through 14 hours with two kids. June and I ate the best ice cream ever: Ben & Jerry's Netflix & Chill'd. It's peanut butter ice cream with salty pretzel and fudge brownie swirls. It's the best thing I've ever eaten. Food scientists, you have figured it out!
After my kids were in bed, I sipped on a malt whiskey from Michel Couvreur, a gift that was given to me by Jordan Cahan, the co-creator of Black Monday. He's a whiskey connoisseur, and this is a special one. It's made by a winemaker, which accounts for its wine cork. It's a rare bottle and my favorite bottle in my bar. I only have it on special nights, which this was because I'm sharing this day with you at a time where I feel like everyone is in a pod. I needed to celebrate the good stuff. Stay sane. Stay healthy and be smart. See you on the other side.
*A version of this article appears in the March 30, 2020, issue of New York Magazine. Subscribe Now!