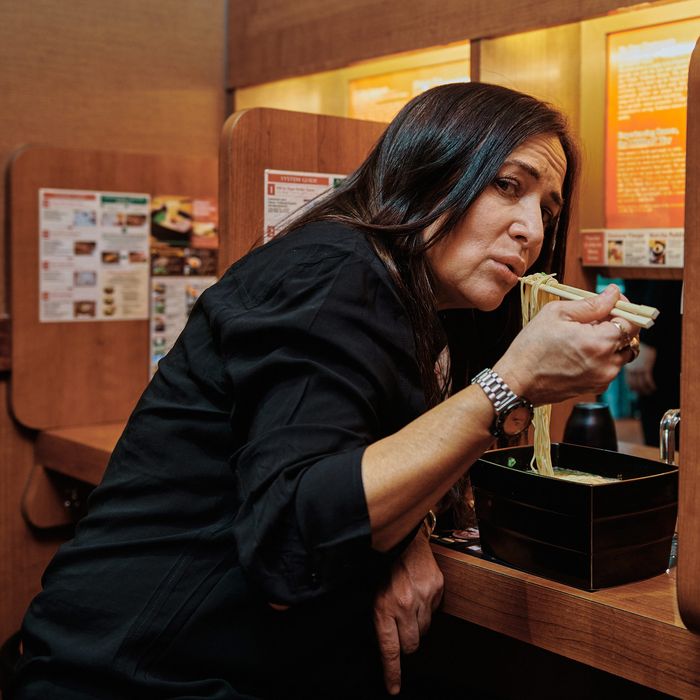 Pamela Adlon and her ramen at Ichiran.
Photo: Christian Rodriguez
"Everything to me is condiments and citrus," says Pamela Adlon. "If I was bringing a Mary Poppins bag with me, of anything, it'd be condiments and citrus and sardines." A restless cook — "I make every different derivation of chicken" — who says she has too many cookbooks, she didn't spend as much time in the kitchen the last week as she'd like, since the former New Yorker was in town doing press for the fourth season of her show Better Things (our friends at Vulture call it "magnificent," with "four episodes that are stone-cold classics."). But she did sneak in some favorite foods and drink, including pumpernickel toast, her house cocktail, and tonkotsu ramen and some matcha beer at Ichiran. Read all about it in this week's Grub Street Diet.
Friday, February 28
Coffee, black. I always make my own coffee at home. I always make a French press. I'm not a coffee-throughout-the-day person. Not at all. I just drink coffee in the morning — and I'm also a take-it-or-leave-it coffee person. It has to be hot, it has to be fresh, it can't be weak, it has to be strong. Hot, fresh, and strong! 
And I would never in a million years put cold milk into coffee. I think that's the most disgusting thing in the world. One time years ago, I tried my coffee with almond milk — I almost jumped off the top of the building, it was the worst thing ever. It's so gross!
For lunch, I had an Impossible taco salad from Mendocino Farms. I also snacked on Newman's Own ginger mints during the afternoon.
Dinner was fusilli with bacon and shallots, that was something my assistant made. You've caught me in the last of my editing and during my press tour. Normally, I'm cooking a lot — when I'm in the writer's room, I stop writing and go home and cook dinner. A year ago, my daughters were all still living at home, and I cooked almost every single night. Now that my daughters are a little bit older, it brings us all together. Mom cooks on Sundays, we're all there. I remember sending my oldest daughter to preschool and I would wrap stuff in seaweed and her friends would make fun of her and say, what are you eating? I've been chopping up salads for her since she was a baby.
Really, I've been cooking for kind of my whole life. I had a book when I was a little girl called Many Hands Cooking and it was a cookbook for kids, and I remember I got a tape recorder when I was 12 years old and I read all the recipes out loud. I used to cook all the recipes from it. For me, when I was growing up, my dad and I kind of locked horns quite a bit, from the time when I was 11 until when I moved out when I was 18. Then we started having a relationship and laughing and talking together, and he came to my house and I would cook for him. Actually, the last meal I cooked for him was a roast, and he loved it so much and he went on and on about it.
Saturday, February 29
I'd been intermittent fasting for the last seven months. But I had to go pick up stuff because I was traveling, and everything this week was so unusual for me, so I was like, fuck it, I want to have breakfast. And I went to just a Jewish deli, Art's in Studio City. I was so happy to have pumpernickel toast. I got it with eggs over easy and turkey bacon.
You know, my favorite sandwich in the world is pumpernickel toast with cream cheese, sardines, raw onions, olive oil, and salt and pepper. If you're on the road, if you're stuck in a hotel room, if you can just get yourself a can of sardines, a lemon, salt and pepper, come on.
Later, I went to Bluestone Lane for an espresso — they have this gorgeous coffee. For dinner, I just went home and had this regular canned tuna that we're obsessed with. I added lots of chopped onions, paprika, and salt. I don't know what the fuck the name of it is, but it's dolphin-friendly and comes in a nice, solid-white can.
That night, I also drank a vodka highball with lemon-lime soda. This is my favorite drink. I have a soda machine, we make our own club soda at home, and I have a Breville citrus juicer, which is the best thing in the world. It's unbelievable. I'll just juice a shit-ton of limes and lemons, and I'll make a pitcher of lemon-lime soda. Whoever is coming through can have it either spiked or virgin. You can throw a piece of mint in there, or a piece of basil or something like that, and it's like you're a mixologist. But it's the simplest thing in the world. You're warding off scurvy, you're getting vitamins, and it's easy and delicious to drink, and it doesn't fuck you up.
Sunday, March 1
I was traveling. Had a coffee, black.
At the airport, I had two shots of vodka and half a Philly cheesesteak from Jersey Mike's that I split with somebody from my office. I was starving to death. I'm telling you, it was probably better than anything we could've gotten on the plane.
Plane food is terrible. It's such a bummer. But it wasn't so bad on this flight, because the guys from Jon & Vinny's were the "guest chefs" on that plane and I kind of freaked out. Because Jon & Vinny's is the shit. I had meatballs and a salad.
In New York, restaurant downstairs in the hotel. They have good food. I got the grilled king Ōra salmon with scallions and ginger and chives, and steamed broccoli with olive oil and sea salt. They have this really good cauliflower, too, that's crispy and comes with scallions, Calabrian bomba sauce, and parmigiano. I like all different things they're doing with cauliflower right now. I'm obsessed with cauliflower crust for pizza — it's so good.
Monday, March 2
I ate porridge, some banana slices, and a cappuccino for breakfast. I was stuck in my hotel. I'm literally doing press from 6 in the morning on — I did Good Morning America, Good Day New York, the AP. So I've just got to get something in. This is not something that's usual for me. But they had these beautiful steel-cut oats with almond milk and fresh berries, it was great.
I also ate a Nature Valley granola bar. I'm talking all day and putting all this energy out, you need some steam for your engine.
For lunch, I had tonkotsu ramen with chashu at Ichiran in Midtown. I've been making ramen, and my girls have been making ramen since they were babies. Just the shitty stuff kids eat at college. Lately, I've been making this soba noodles with greens, shrimp, and my own dashi. I love it so much. That kind of stuff is not that hard, it's about putting the time in. It's really extremely satisfying.
What I had at Ichiran that was so great, though, was the matcha beer. Oh my God, if you haven't had it, you have to go there now. You're up! You're down! You're just getting your vitamins and your barley.
Food is a common human necessity and a way to share love and show love. It's a great thing. It's almost like you don't want to eat something delicious by yourself. Ichiran is almost the opposite, because they have these phone booths, and I talked to them about it. Japanese women want to have the time and freedom to chow down and not be looked at. Sometimes you do just want to chow down and not worry about what people think about you. I've been known to do that.
Back at the hotel, I sat at the bar and had popcorn shrimp with wasabi aïoli and tuna tartare tacos with sesame aïoli, breakfast radishes, and guacamole. I also drank a glass of port.
I had a conversation many years ago with my friend David Berman, who did King of the Hill with me. We said we would rather not eat if we were just eating to get food in. We wanted every meal to count. My attitude is: Skip a meal if it's not going to be good. Don't kill yourself. Get the protein. Throw some sardines in a bowl with lemon and olive oil and salt and pepper. I found out I was pregnant right when I started doing that show, and I was starving to death in the mornings. I was like, "What the fuck is this hunger deep inside of me?" I confided in Stephen Root, who was a very dear friend of mine from the beginning, and he would say, "What can I get you?" And I said, you can get me two grilled cheeses with tomato immediately. Then he would go to — because we would record that at Fox — the Apple Pan and get me a hickory burger for lunch.
Tuesday, March 3
Had porridge and a cappuccino again at the hotel. I love good coffee. I don't want to waste my coffee on bad coffee. I love any coffee that's delicious and made the right way.
We got to an interview early, so we went to Irving Farm and I had my team with me and split this brioche bacon, egg, and cheese four ways. It was absolutely fucking delicious. I also drank a matcha latte. I really do love the stuff. I used to make a matcha for myself with brown sugar, almond milk, and cayenne pepper. I love that. Love that.
We had lunch at Jack's Wife Freda. I hadn't been. I actually bought the cookbook last year and was obsessed and really wanted to go. And now I've finally been. I ate the peri peri chicken wings and a side of arugula.
At night, I ordered room service: chicken broth and a cobb salad. I also had one of those turmeric shots. I love those, but there are these juice bars that do these and sell them in these little single-use plastic containers. And you're like, "I'm such a fucking asshole." I'm literally doing a shot of turmeric and ginger with lemon and I'm supposed to throw this away? How is this happening still?
Look, I'm dying without my kitchen. I need a hot plate or something. I read cookbooks like they're pornography. I just go through them like the way I used to read comic books and magazines and now that's a comfort for me. I have so many cookbooks, I started to get rid of them. It's the only thing I read if I'm reading books, or if I'm going down a rabbit hole, like how to make the best this or that, how to grill Halloumi or zucchini. How to make carpaccio. It's like I'm a stalker. I creep on ways to make food that will work in my life. I just love learning about food. The most satisfying thing is when you can make the food and realize it doesn't have to be so complicated. You don't need to be in the kitchen for four fucking hours.
I like looking at recipes, and reading recipes, and I know how to do modifications to make it my own. It took me a while to learn that — it becomes your recipe.
I go to old grocery stores, like old Russian grocery stores and all of these different ones all over town. I'm not a dummy. When I see an old Croatian lady putting giant tubs of margarine in a cart with other things I don't recognize, I'm gonna ask her what she's cooking.