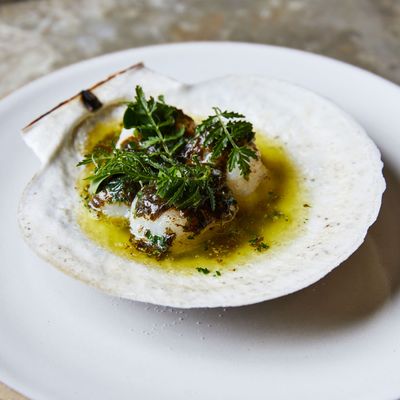 Dame's grilled scallops with seaweed butter are an ode to coastal Britain.
Photo: Rachel Vanni
After three years of eating their way through New York City, Ed Szymanski and Patricia Howard have an incredibly strong idea of what they enjoy in restaurants. "A playful atmosphere and not taking oneself too seriously is a big part of it," Szymanski says. "The restaurants we like also tend to be run by people who are young and irreverent in their style."
It's one thing to have a vision of a perfect restaurant, though, and quite another to build that vision. Enter Dame, a modern British pop-up from Szymanski and Howard that is all of the above. For starters, they're operating out of a Lower East Side coffee shop, Round K, Monday through Wednesday and only through the end of March. But with experience at restaurants like Spotted Pig and the Beatrice Inn, where Szymanski cooked and Howard was an executive assistant, they're hardly novices either.
This time last year, Szymanski was the executive chef at Greenpoint bar and restaurant Cherry Point, where his "smart British cooking" — fried lamb ribs, pheasant, leek and bacon pie, and pigs' food croquettes — earned the under-the-radar spot a two-star review in the New York Times. For most chefs, a successful review and the subsequent spike in new diners act like an anchor, signaling that they're where they need to be. But three months later, Szymanski departed.
"Nothing dramatic or bad happened at Cherry Point," he insists. "I'd worked there for a long time, and it was time to branch out on my own."
A year later, Dame is the result. Szymanski works the binchotan-charcoal grill and induction burner; Howard handles hosting and wine-pouring duties. (Howard's list is divided into "James Bond" and "Austin Powers" categories — "Powers is the pét-nat to Bond's Champagne," she says.) Szymanski does all the prep work out of a commercial kitchen and Howard's Chinatown apartment, and then delivers a ten-item menu. (On the days they're not working on the pop-up, Szymanski cooks on the line at Ernesto's, and Howard helps run Red Gate Bakery in the East Village.)
"It's the happiest we've ever been," Howard points out.
"It's a little rough around the edges at the moment," Szymanski says, "but the menus are going to change very, very frequently. And you get to be the guinea pigs for this project."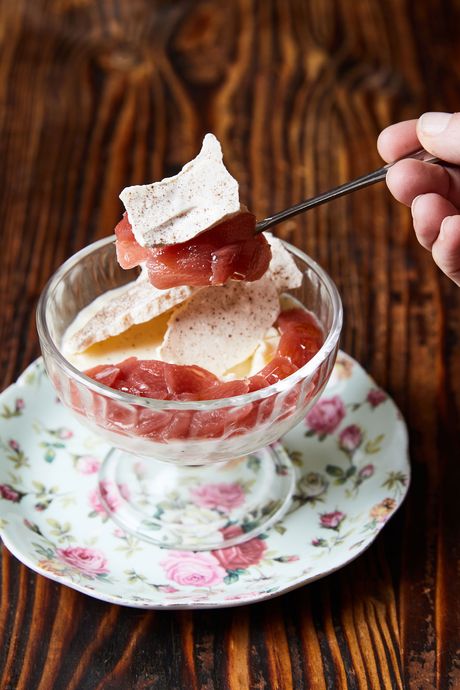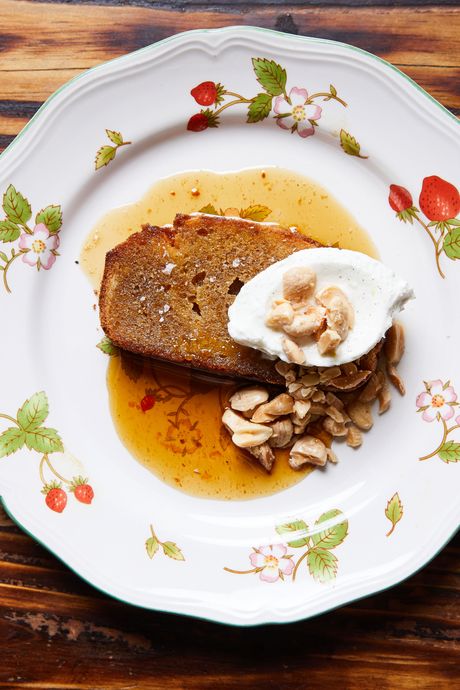 The duo is insistent that, despite the project's "modern British" label, this is not another gastropub. "I don't think a lot of restaurants are exploring English food here in New York beyond the gastropub label," Szymanski says. "Hopefully, we can expand the perception of what English food can be."
A $12 grilled scallop with seaweed butter, for instance, is a nod to the U.K.'s strong coastal culture and the region's ancient practice of making and preserving butter in peat bogs. A skewer of grilled duck offal, meanwhile, is an ode to the legendary nose-to-tail destination of St. John. "We age the ducks for a week, and then turn the cured leg and the livers into little meatballs," Szymanski explains. "The hearts get soaked in buttermilk and those are on the skewer. The skin from the neck with the fat attached is rendered and that goes on the skewer." To finish, they "make sauce from the bones that goes on top of it."
They both wear the work-in-progress label with a bit of pride. "We wear T-shirts every day and we want places that we can go eat at in a T-shirt and not make a reservation and not pay for a full tasting," Howard says. "Dame is fun and we're young and it's not fancy service, but you're going to leave stuffed and feeling like you ate somewhere fancy."
Dame at Round K, 99 Allen St. nr. Delancey St.; no phone; reservations via email