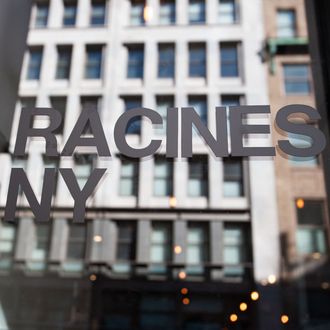 Signage at Tribeca's Racines NY.
Photo: Konstantin Sergeyev
The Tribeca restaurant Racines NY will significantly reduce seating capacity in an effort to create more distance between customers. This precaution is being taken in response to the spread of coronavirus, including, chiefly, practicing social distancing. It's not as drastic of a step as being taken by Seattle restaurateur Tom Douglas, who on March 15 will close 12 of his 13 restaurants and layoff many employees.
Partner and sommelier Pascaline Lepeltier announced the step in an Instagram post, writing that the restaurant will remove 40 percent of tables and 30 percent of bar stools. It's a move at odds with normal practices in New York's competitive restaurant market, where owners have to squeeze in as many seats as possible into small spaces.
Restaurants are struggling with how to respond to the pandemic, and facing uncertainty as business drops and leaves workers and owners in the lurch. Racines NY chef Diego Moya spoke to Grub Street about his concerns, including that cooks at small restaurants don't necessarily have health care or adequate health insurance. Of business at the restaurant, he says, "we have seen that the numbers have kind of gone down this week, but overall we've been kind of picking because it's a big wine week." That being La Paulée, the Burgundy festival.