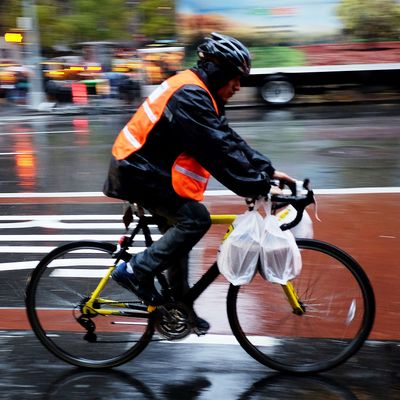 A food courier in New York.
Photo: Jewel Samad/AFP/Getty Images
For several days, the city's bar and restaurant owners have had to navigate an increasingly complicated business reality, deciding whether to stay open in the face of mounting pressure to close. Tonight, Mayor Bill de Blasio's office announced that, starting Tuesday, New York City's thousands of bars and restaurants will be closed, with any service limited to food delivery and takeout only.
According to a statement posted by press secretary Freddi Goldstein, de Blasio will sign an executive order tomorrow that will go into effect on Tuesday morning at 9:00 a.m. The statement continues, "This is not a decision I make lightly. These places are part of the heart and soul of our city. They are part of what it means to be a New Yorker. But our city is facing an unprecedented threat, and we must respond with a wartime mentality."
As of Sunday, there were more than 300 confirmed coronavirus cases in New York City. This move comes after many high-profile restaurant groups announced voluntary shutdowns late last week, aimed at preventing the spread of COVID-19 among diners and employees. However, many operators decided to remain open, even after capacity regulations were announced, at least partly in an effort to retain employees. This latest decision will instantly leave tens of thousands of service-industry workers without jobs.
We're committed to keeping our readers informed.
We've removed our paywall from essential coronavirus news stories. Become a subscriber to support our journalists. Subscribe now.