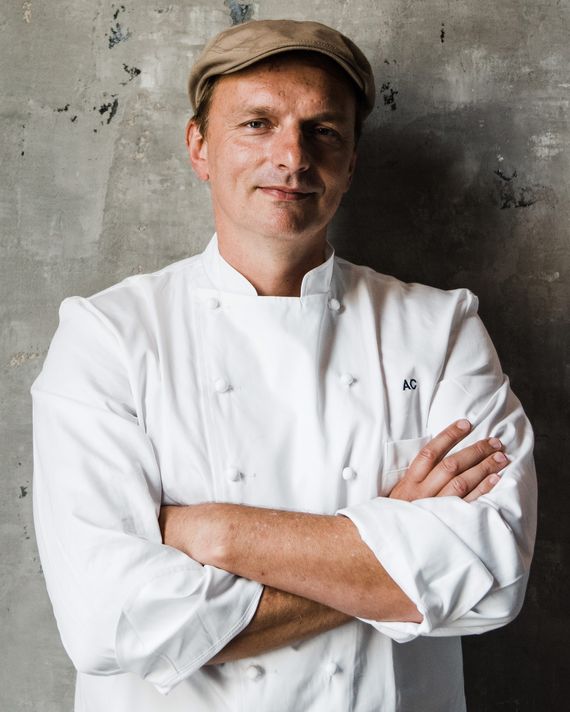 Andrew Carmellini has been one of the leading voices to help restaurants recover.
Photo: Nicholas Karlin
As the effects of the citywide coronavirus shutdown continue to ripple throughout the restaurant industry, operators have tried to find solutions to the dire financial situations they now face: selling delivery and takeout food with skeleton crews, taking advantage of temporarily relaxed liquor laws to sell alcohol for customers to take to go, transforming their restaurants into boutique grocers, and establishing crowdfunding initiatives for their employees. Regardless, the most ominous projections indicate three out of every four independent restaurants simply won't reopen.
"A lot of places are going to close," says James Kent, the chef at Lower Manhattan's Crown Shy. "It's a tough business, and those on the brink probably won't make it."
To help prevent that warning from becoming a reality, Kent and the city's other industry leaders have mobilized in an effort to protect New York State's 30,000 independent restaurants and the industry's 500,000 workers.
The most effective, fast-moving action is a three-tiered approach: A group called the Independent Restaurant Coalition, which formed just last week, works at the federal level. The newly formed Relief Opportunities for All Restaurants (ROAR) works with Governor Cuomo's office at the state level. And the New York City Hospitality Alliance works at the city level with Mayor Bill de Blasio's office. Stephanie Cutter, the founding partner of Precision Strategies in Washington, D.C., started working with the IRC last week too, helping out with its messaging. And, she says, she's impressed with the groups' efficiency: "These guys are working together. They're all connected."
These efforts got underway after Governor Cuomo ordered the state's restaurants closed on March 16. The chef Andrew Carmellini said he realized that the situation was dire when "I saw a press conference from the White House that mentioned bailouts for industries that don't employ one percent of what we do as an industry — that was infuriating." Camilla Marcus, the owner of the Soho café west~bourne, immediately began coordinating with dozens of prominent restaurateurs, including Carmellini and Tom Colicchio. One of her biggest goals, she says, is to secure financing and legislation that protects "all the restaurants across the city and state" and increases unemployment funds.
Yesterday, a widely shared Times op-ed from the groups laid out the stakes facing the industry. This morning's announcement of a $2 trillion federal aid package, which the AP reports offers checks paid directly to workers, plus "$600 per week to normal state benefits for up to four months and provides an additional 13 weeks of benefits to 39 weeks of regular unemployment insurance," already feels like it could be a big win for the groups and offers at least a glimmer of hope.
"We organized, called on Congress to act — and they listened," says Carmellini, who offered the comment while also joining his peers in mourning the sudden loss of the chef Floyd Cardoz. "The things we fought for are in this bill: loan forgiveness, changing the employment size limit so income grant relief can reach more restaurants, and ensuring restaurants that closed as early as February because of the pandemic are eligible for assistance." He adds, "There is a lot more work to do, but this is a big first step."
All told, the groups' size and community bonds work to their advantage, helping get things done quickly. ROAR and NYC Hospitality, Crown Shy co-owner Jeff Katz says, have already worked together effectively to get some tax relief to restaurant owners, delaying a required payment. "Essentially," Katz explains, "it was an interest-free loan for a few months." He adds, "It was a great action that helped a lot of restaurants."
Meanwhile, other efforts have been established to fill an even more basic need: feeding workers who need a meal and a reminder that their community is still there for them. Through grants made possible by the chef-led Lee Initiative and Maker's Mark, the Brooklyn restaurants Gertie and Olmsted will be able to offer free meals to industry folks.
Combined, these actions are still not yet enough to save an industry that was essentially eliminated overnight, but the swift progress made to date is promising, and it's a testament to the people whose careers are defined by hustling with little to no resources. "We're going to come back," Katz says, optimistically. "And we're going to come back better than ever so that people have a place to celebrate life again."