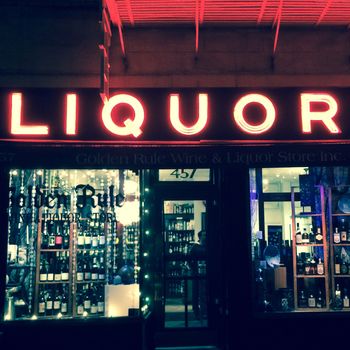 Liquor delivery apps report massive spikes in business.
Photo: Eileen O'Donnell//Moment Editorial/Getty Images
With New Yorkers spending more time than ever with family and loved ones, new data is revealing our priorities: We are ordering alcohol, earlier in the day, and lots of it. Oh, and Brooklyn's affluent parents might just be the thirstiest crowd in America.
In the last 72 hours, citywide orders on Drizly, a liquor-delivery app, have surged more than 450 percent. Minibar, another app, saw double-digit increases late last week before sales went nuclear on Monday night, shooting up 131 percent when bars officially closed across the city at 8 p.m.
"It's just been staggering to watch," said Scott Braun, chief marketing officer for Boston-based Drizly, which is racing to ensure the app doesn't crash and has hired new customer-service reps. "The situation," Braun added, "is very liquid."
On Tuesday afternoon, the scene at Downtown Brooklyn's G & I Wine & Spirits was liquid indeed. A manager, who declined to share his name, thumbed through a fat stack of delivery receipts from Drizly and other apps. He had just signed for 700 cases of liquor, but he was pushing his distributors for more supply, out of fear that they might shut down — "like what happened in Pennsylvania." Every day, he said, has been like New Year's Eve.
New Yorkers — or at least those with the cash and web savvy to horde booze online — are scrambling to buy staples. Cabernet Sauvignon and Tito's vodka are top sellers, according to Drizly and Minibar, which both shared internal data with Grub Street. Minibar also reported a run on White Claw Hard Seltzer, Oyster Bay (a New Zealand producer of quaffable, $15 bottles of Sauvignon Blanc), Veuve Clicquot Champagne, and Casamigos tequila. New Yorkers are spending more too: The average Minibar order was $88 this week, up from $71. Drizly shopping carts are 50 percent larger than usual.
Bars and restaurants are closed, but proximity to family may also be driving demand.
"As soon as they closed the schools, that's when people started drinking," a cashier at Wino(t) in Crown Heights told late stragglers on Monday night, moments after bars had closed.
Sure enough, Drizly's data confirms that stroller meccas are fueling the run on hooch: Brooklyn Heights was Drizly's top Zip Code for sales, with kid-friendly Fort Greene and the Upper West Side also in the top ten, holding their own with more expected neighborhoods like Murray Hill, Chelsea, and Hell's Kitchen. Total Brooklyn sales are up 750 percent over the last 72 hours, far outpacing the other four boroughs.
On Tuesday at Earth's Basket, in South Slope, owner Ken Patel was glued to his laptop, flipping through tabs for the delivery apps he uses to sell his robust supply of craft beer. At 2:30 p.m., he dispatched a cousin, Ashik, a 21-year-old from Gujarat, India, with a $150.76 order of IPAs from the breweries Industrial Arts, Mikkeller, and SingleCut.
A few minutes later, Ashik rang the bell of a smart home half a block from the tombstones of Greenwood Cemetery. No answer. A child's hand-drawn St. Patrick's Day poster hung in the window. Ashik telephoned. Seconds later, a sullen, mid-40s dad opened the door. Why had he ordered so much beer?
"My wife won't let me out of the house," he said, before shuffling inside. To his credit, he tipped $23.
On the way back to Earth's Basket, Ashik admitted to struggling with occasional anxiety about the coronavirus. But the $15 and $20 tips encourage him to make the long commute from Queens on deserted trains through a panicked city.
Even underground hooch slingers are doing their part. Nutcrackers, the home-brewed, candy-colored slushies, are a summertime staple that typically hit streets and subway cars after Memorial Day. But this week, Instagram sellers helped soak up demand, even in the 45-degree weather.
In recent days, one 26-year-old seller fielded an order of ten Henny Coladas (price tag: $100), booked upcoming weekend sales, and rolled out a new coconut-flavored nutcracker.
"This virus outbreak didn't stop no one from wanting to drink," he said. He welcomes the additional orders, since his new employer has delayed his start date due to the virus.
On the apps, orders come in earlier too. Minibar's customers typically start purchasing liquor in earnest around 4 p.m., when the workday is wrapping up. But with nearly 2 million daily riders shunning the subway to work — and drink — from home, orders now surge at 3 p.m., just in time for those Zoom happy hours.
New Yorkers are hoarding other substances too. Last week, the city's marijuana couriers reported sales doubling. Meanwhile, Capsule, an online pharmacy, is busy delivering a spike in prescriptions, as existing customers stock up on medication. But CEO Eric Kinariwala said he's seen no proportional increase in anti-anxiety or anti-depression drugs like Ativan and Prozac, just a slight bump in orders for inhalers. So far, what the city needs most is plain, old firewater.
Back at G & I Wine & Spirits, the manager adjusted his Gucci glasses and took a phone call from another hustler with a lead on face masks.
"Two million, yeah," he said. Perhaps there was a stray shipping container that could be tracked down. Then he hung up and shrugged.
"Desperate times call for desperate measures," the manager said.
Just then, an employee pushing a hand truck bumped into a display rack. Glass exploded, spraying wasted tannins on the floor.
"We'll just lick it up!" a cashier shouted. But no one laughed. It was one less bottle of red wine in a city that evidently needs every drop it can get.
We're committed to keeping our readers informed.
We've removed our paywall from essential coronavirus news stories. Become a subscriber to support our journalists. Subscribe now.